We are currently developing our 7s section of the website and will be available when fixtures and events have been confirmed. 
You can still find video of the tournament below. 
Thanks for your patience. 
The Rugby Europe team. 
Women's 7s Trophy 2019
The Rugby Europe Women's 7s Trophy Series is the second Tier of annual European Series contested by twelve nations. 
The competition is hosted in two different countries during June. Both the series winner and runner up gain promotion to the Grand Prix Series division. 
In 2019, after two stages held in Budapest (Hungary) and Lisbon (Portugal), Germany and Romania gained promotion to the top division. 
The two lowest-ranked teams are automatically relegated to the Conference Tier. In 2019, Israel and Switzerland went down to Conference level. 
In addition to promotion, the twelve teams competed with the objective of qualification to the Olympic qualifier that was held in Kazan on July 13th/14th 2019.
Tournament Results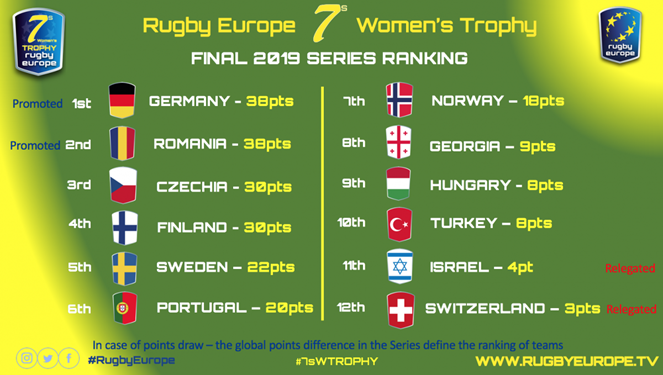 📺  Rankings and Finals - Portugal 2019
📺  Rankings and Finals - Hungary 2019
All other videos are accessible from our Daily Motion page HERE