We are currently developing our 7s section of the website and will be available when fixtures and events have been confirmed. 
You can still find video of the tournament below. 
Thanks for your patience. 
The Rugby Europe team. 
Mens 7s Conference 
The Rugby Europe Mens 7s Conference 1 is the third Tier of annual European Series played by either twelve or sixteen nations. 
Based on a single tournament organised in June, two are promoted - the winner and the runner-up - to the Trophy Series division. 
The two lowest-ranked teams are automatically relegated to the Conference 2 Tier, if a tournament is organised by Rugby Europe.
After two days of competition played in extremely hot conditions of 30 degrees, Hungary won the Men's Sevens Conference 2019 in Belgrade. 
The Magyar team successfully beat the Netherlands, Slovakia and Austria in their Pool games, before defeating Norway (QF) and Moldova (SF) to reach the final. 
Facing the Turkish team, Hungary took the lead quickly, scoring 3 tries in 5 minutes to secure a comfortable lead. Fresher than their opponents, it was to be an easy win in the end as Hungary ran out 43-0 winners. 
Both teams are promoted to the Trophy division. 
Results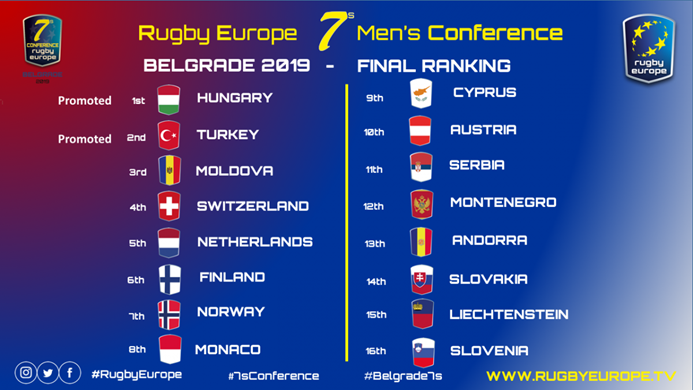 📺  Rankings and Finals Games - Belgrade 2019 
All other videos are accessible from our Daily Motion page HERE