We are currently developing our 7s section of the website and will be available when fixtures and events have been confirmed. 
You can still find video of the tournament below. 
Thanks for your patience. 
The Rugby Europe team. 
Men's 7s Trophy 2019
The Rugby Europe Mens 7s Trophy Series is the second tier of annual European Series played by twelve nations. 
Hosted in two countries throughout June and July, the series winner is granted promotion to the Grand Prix Series division. 
In 2019, after two stages held in Zagreb (Croatia) and Zenica (Bosnia-Herzegovina), Lithuania claimed the season title and gained promotion.  
The two lowest-ranked teams are automatically relegated to the Conference Tier. In 2019, Bosnia-Herzegovina and Bulgaria were the two teams relegated. 
📺  Final Leg 1 - Zagreb 2019 
Rankings Round 2 - Zenica 2019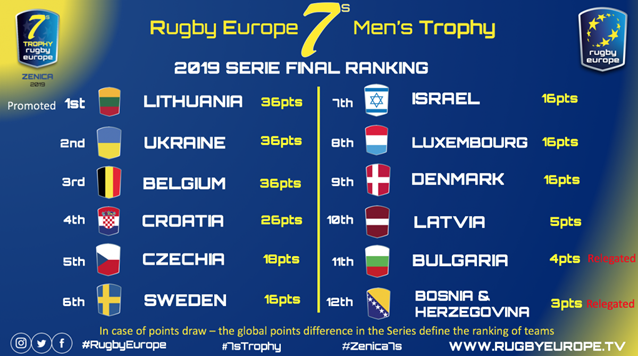 📺  Rankings and Finals Games - Zenica 2019