The fixtures and dates for the Women's Rugby Europe Championship 2022 has today been announced, featuring the Netherlands, Russia and Spain.
The Rugby Europe Championship is the top-level Rugby Europe Women senior competition gathering the three nations in a round-robin format to crown the annual European Champions.
Each team will play each other once in this year's competition, with Spain looking to defend their title, which saw them putting on an excellent showing at the European Rugby World Cup Qualifier in Italy last year.
Things will kick off in Amsterdam where last year's Champions, Spain, will open their account against the Netherlands at the National Rugby Center.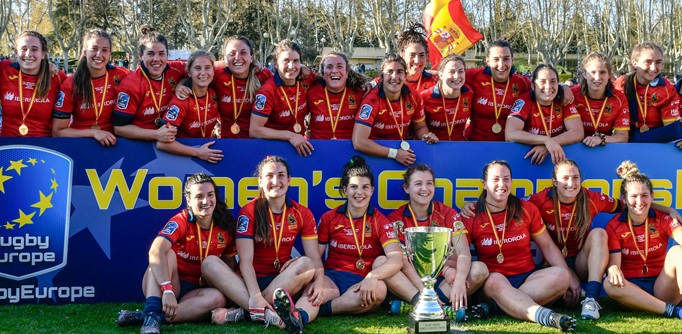 A week later Russia makes their way to Madrid for an encounter at the Campo de Las Terrazas before they host the concluding game of the Championship against Netherlands in the impressive Mordovia Arena.
The final match in Saransk will form as a double header, with the fixture being played after the men's teams take each other on in the men's edition of the competition.
19 February, Netherlands v Spain, Amsterdam (1:30pm CET)
26 February, Spain v Russia, Madrid (4pm CET)
12 March, Russia v Netherlands, Saransk (4pm CET 6pm Local)
The competition page can be found here
All games will be live streamed on rugbyeurope.tv with where to watch in specific territories being communicated nearer the time.
Image: Walter Degirolmo/FERugby - Spain celebrate winning the previous competition.