The best male rugby players from Israel are in Dubai this week and will play against their counterparts from the UAE in a historic rugby match-up on Friday.
The teams will meet at Dubai's Rugby Park in the city's Sports City in the first ever friendly meeting between Israeli and Emirati national teams in any sport. They are set to play a number of sevens matches. 
Israel and the UAE established full diplomatic relations last year as part of the US-brokered Abraham Accords, meaning that the UAE was the first country in the Arab world to recognize Israel in 26 years.
The agreement led to Bahrain and Morocco later establishing relations with Israel and it is hoped these relationships will lead to more link-ups in the sporting world going forward.
 The collaboration between Israel and the UAE was made possible thanks to an agreement signed between Kevin Musikanth, the Technical Director of Israel Rugby, and Apollo Perelini who is the Technical Director of the UAE rugby team.
"This collaboration is a fantastic example of what sports can do," Musikanth told The Jerusalem Post.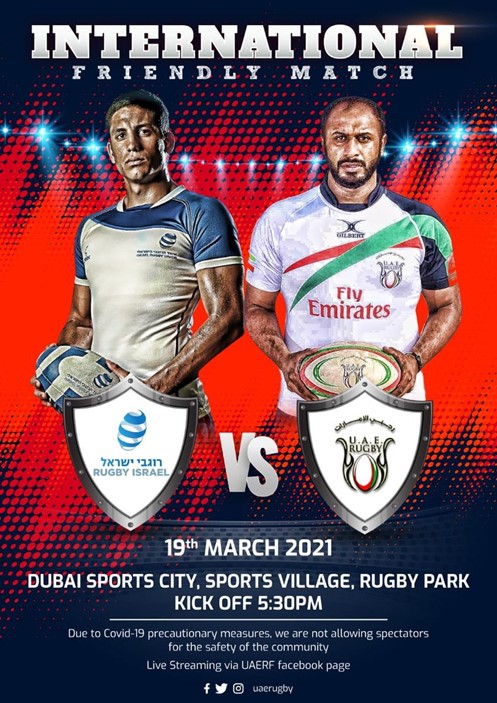 "Sport can bring people together, it doesn't know any barriers. There was no hesitation in working together with the UAE.
"Rugby is a game born around discipline and camaraderie, the ability to work together for something greater than yourself. Our team has a high level of natural ability and hopefully after this historic event the public in Israel will be able to identify the fact that we have a talented team with high aspirations. 
"With the country's support we should be able to progress."
Perelini's charges from the UAE have been training since January - including fitness sessions on the beach in Al Sufouh - and they travelled to a tournament in Egypt in February.
"We are very lucky that here in Dubai our leagues have started again and we started training again back in January," Perelini told The National News.
"We were also able to go to Egypt for the Arab Sevens and we have pretty much been training right throughout since the start of 2021.
"So, my players have been very much attuned to playing rugby in recent months and are ready for playing more sevens.
"And it is great to finally get this historical match-up with Israel over the line. It is a collaboration of culture, friendship and rugby to celebrate the values of the sport."