As well as the Rugby Europe Championship, there were also three other games played in the various tournaments this weekend.
Sweden made it three wins from three to win the women's Rugby Europe Trophy for 2021/22 in Switzerland on Saturday.
The Swedes, coached by Scot Claire Cruikshank and former England legend Tamara Taylor, put in a professional showing to beat their hosts 48-0 at the Centre Sportif des Cherpines in Plan les Ouates.
It added to previous wins over Finland and Czechia and sees them top Pool A.
An early try from No.8 Matilda Mahlberg, converted by stand-off Victoria Petersson, put the Swedes 7-0 up and they never looked back.
The second try, this time unconverted, came from centre Minonna Nunstedt in the eighth minute, showing power to go over.
A few minutes later, Nunstedt turned provider, a nice pass putting winger Minna Leijonhufvud in for try number three. Petersson converted.
Mahlberg got her second of the day in the 21st minute when a very powerful scrum saw her pick up at the base and go over. When Petersson converted it was 26-0 and looked like Switzerland had a very long 59 minutes still to come.
Credit to the Swiss, they did not buckle though and only conceded another 20 points all game to show that they are made of stern stuff as the game continues to grow in their country.
Back-row Maja Meuller made it 31-0 with Sweden's fifth try and centre Emelie Hellgren spun out of tackles to extend the lead to 36-0 at half-time.
It took Sweden until the 63rd minute to grab try number seven, scrum-half Olivia Palmgren spinning out of a tackle to bag a five pointer.
And they rounded things off in the 73rd minute when Meuller scored her second of the day with Petersson converting to put the icing on the cake.
The match was part of a double header as the Switzerland men's team took on Belgium afterwards.
The match was part of the Trophy for 2021/22 and the Swiss, who had lost two out of two before kick-off, put in a brilliant performance to win 22-18 after a close contest.
It was Belgium's first reverse of this event and leaves them a point behind leaders Poland after three games.
Switzerland will now get ready to head to Germany this coming weekend with Belgium taking on Poland in a top of the table clash.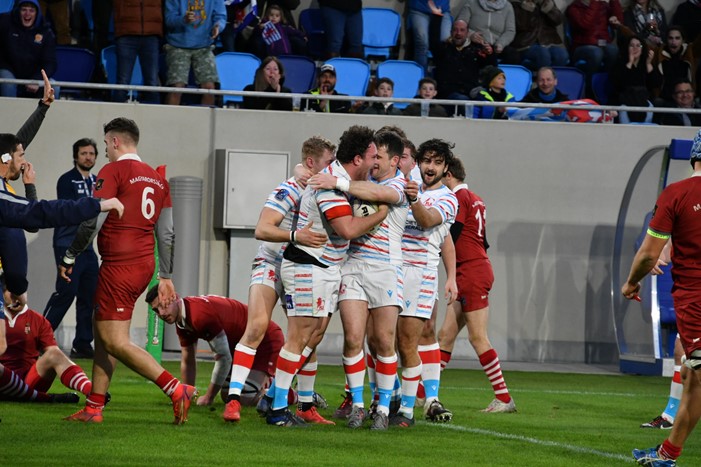 And in men's Conference 1 North 2021/22 Luxembourg got their first win in the tournament at the Stade de Luxembourg, seeing off Hungary 30-23.