Welcome to Rugby Europe's Super Cup weekly round preview piece where we explore the teams and players that we are anticipating to make a difference in their games, and we selected three areas to tell our story:

"The Duel", "The Expectation" and "The Gamechanger".
The Duel: Tomás Appleton vs Alvar Gimeno
A captain and renowned player in Portugal and bright jewel and future (or already?) leader for Spain, this is the best way to categorize Lusitanos Tomás Appleton and Iberians Álvar Gimeno. The centers made an impact on their first match, launching a very tight and intense contest, that ended with the Portuguese franchise getting a bonified victory, without having a final on the debate of who got the best of whom.
So, let's look at the stats and try to understand what Tomás Appleton and Álvar Gimeno did in the Estádio of Jamor, so we can assert where the duel can be played and won.
The Portuguese centre had more opportunities to get involved in the Lusitanos attacking platform, as comparison to Gimeno who had substantially fewer moments to push forward but got better results every time he got a shot with the ball in his hands, winning the gainline in all his 7 carries. Both were quite "perfect" while defending, with Tomás Appleton getting the better in terms of attempts/success, locking 10 tackles in 12 attempts, whilst the former Béziers player landing 11 in 14.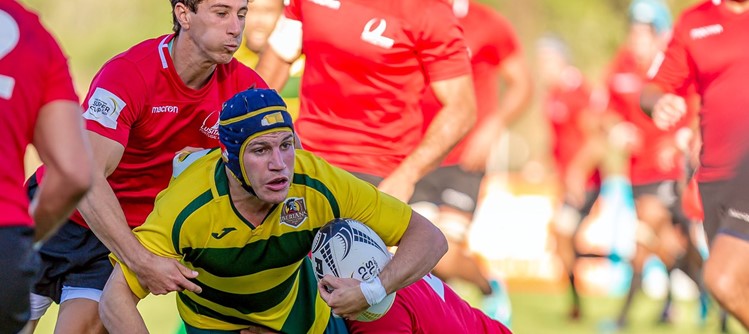 So, in conclusion, both are determined centers that try to go beyond a crash bash kind of style, making good use of their handling and passing qualities, which gives a full set of other attacking (and defensive, also) options without compromising their capacity as a solid ball carrier.
Iberians and Lusitanos will go to battle once again this weekend, and if the main action can end up in the hands of Sam Katz, Nuno Sousa Guedes, Rodrigo Marta, Federico Casteglioni (we still don't know if Tomas Carrió will be fit to play, as he is one of the standouts at the Spanish franchise), please watch the work-rate and the "invisible" job that Gimeno and Appleton do for the sake of their team's progression. 
The Expectation: Can the Devils bounce back?
In the Low Countries derby, the Dutch Delta Rugby toppled the Brussels Devils with a heavy defeat that didn't showcase the best of what the Belgians can do on the field. Overall, the Delta side was able to provide a strong collective team effort, dominating the lineout, opening good spaces out wide (TJ Campbell was the number one menace), whilst being relentless at the breakdown, mounting heavy pressure on their rivals.
But, was this a clear image of the Devils capacities? Well, we know for starts that this is a younger side in comparison with their pool adversaries, which can explain some of the flawed execution and a nervous state of mind, seen in key moments of Round 1, especially when it came down to withholding the defensive line and keeping away from committing penalties (15 in total).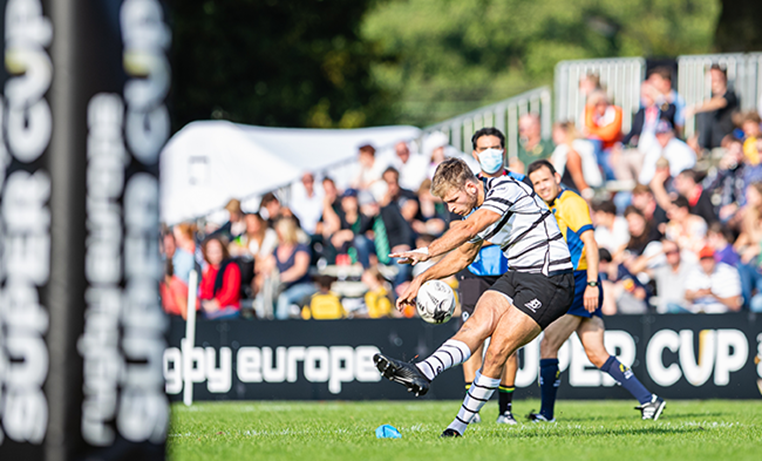 There were good moments from the set-piece action, well lead by Michael Abrahams (one of the best in the afternoon, even with a couple of miss tackles) but there was also some inability to hold on when the Delta start pressuring, losing four lineouts and three scrums, opening a pathway for a safer game platform for the Dutch side.
Playing with the "Expectation" theme, it was expected a far more aggressive – in a positive way – attitude at the breakdown, conceding six penalties in problematic moments and places, driving back and go again to a defensive stance, which would physically break the Devils in due time. So, what can Sebastian Guns men do for the "second half" of the Low Countries derby?
Make the set-piece their "home", making good ground with their forward pack without trying to exit so quickly, diminishing Delta's chances of a counterattack (two tries scored by this method), whilst empowering players like Karel de Paepe, Michael Abrahams, or Maximilien Hendrickx. For the backline, the theoretical idea was to advance by kicking possession and applying sufficient pressure, but this game plan backfired when Delta's back 3 outclassed their direct opponents, which should force in recalculation, being the most serious issue at the moment.
The expectation is high as the Brussels Devils want to overcome last weekend's defeat, knowing that their renewed side needs time to grow and become a reckoning force in Rugby Europe's competitions.
The Gamechanger: Ramil Gaisin to create scientific magic?
In the stunning and ludicrous world of the oval ball, there is a plurality of rugby "wizards" that can create something from nothing, with the help of a single side-step, call, or decision, changing the course of a match, competition, or tournament, be by the hand or boot, by running through the middle of the opposition or launch a surprising grubber that starts all the fireworks.
Ramil Gaisin, a veteran of the Russian national team, has built a reputation of being a kind of Dr. Strange persona (we stand with Anthony Mackie's character in The Falcon and the Winter Soldier debate about the difference between a sorcerer or wizard), breaking the opposition through his kicking and quick handling abilities, shown at the last Rugby World Cup or this year's Rugby Europe Championship.
Looking back to the previous Super Cup round, Ramil Gaisin was clinical for Enisei to get the 4 points (22-06) against Lokomotiv Penza, not only because of the two try assists but also for his ability to stabilize the gameplan, maintaining order within the ranks and commanding his teammates with calm and ease.
The magic deployed in both try-assists is just a small example of how he can create match-winning details in just milliseconds, making quick use of his well-placed kicks to grant a momentous advantage for Enisei, and must be seen and read as a warning for those who give enough space to Ramil Gaisin do his job.  
Even if he isn't one of those flashy nº10's that sprint over the ball and dance through a jungle of tacklers, it's how he sees the game and can fabricate something special for his side, opting to read and reflect while taking quick decisions that place's him at the "Gamechanger" level.
For this weekend, Gaisin and Enisei will have a second go against their "brothers" from Loko, and the result can (or will?) be dictated by how he can tilt the chessboard to his way.
Players to watch out for : Nuno Sousa Guedes (fullback - Lusitanos), Rodrigo Marta (wing - Lusitanos), David Costa (prop – Lusitanos); Lucas Santa Cruz (flanker – Iberians), Álvar Gimeno (centre – Iberians), Sam Katz (fly-half – Iberians); Te Campbell (fullback - Delta), Tom Van Loon (lock - Delta), Blake Nightingale (centre - Delta); Michael Abrahams (n.º8 - Devils), Hugo de Francq (fulback - Devils), Florent Lenaertz (lock - Devils); Friedle Olivier (flanker - Enisei), Ramil Gaisin (fly-half - Enisei), Nicolaas Oosthuizen (prop - Enisei); Viktor Gresev (n.º8 - Loko), German Silenko (lock - Loko), Ilia Babaev (centre - Loko).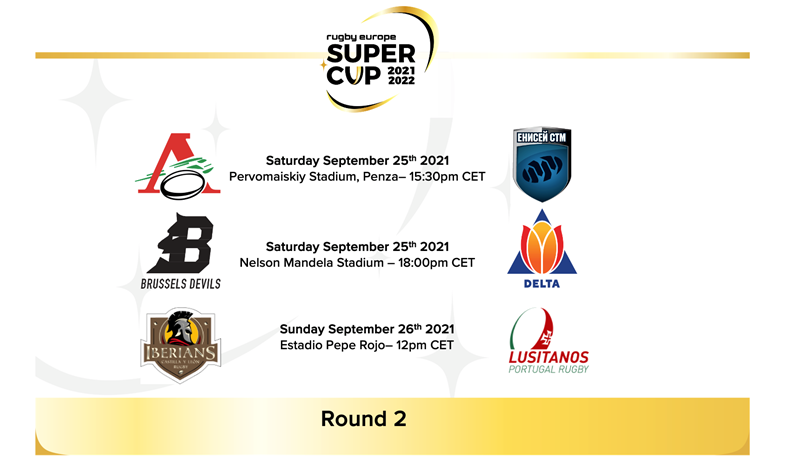 By Francisco Isaac
Images: Luis Cabelo & Dennis van de Sande