After a brilliant first weekend of Rugby Europe Championship 2022 action, three matches take place on Saturday in round two.
First up is the match between Russia and Spain at the Yug Stadium in Sochi (1pm local, 10am UTC).
Russia go into this one off the back of a 34-25 loss in Romania while Spain had a 43-0 home win over the Netherlands last week.
That means that, in terms of the Rugby World Cup 2023 qualification table, Russia are in fifth on nine point and Spain are third on 17 points, so the hosts really need a positive result here.
It will not be easy though because when these sides met in the 2021 Championship back in November, Spain won 49-12 in Madrid.
Russia stand-off Ramil Gasin said ahead of this one:  "The match against Romania was good overall, it's just a pity that we did not take our chances which we created as we caused them to make a lot of mistakes.
"We have been individually analysing the information that has prepared for us by the staff and also working on things that we can put right as a team. The Spanish team is a pretty fast team, so we must impose our game and take our chances, We are playing only to win.
"Everyone is not available, but all of the players who have come into our group are doing a great job."

Spain head coach Santiago Santos said:  "We know that facing Russia away is extremely difficult, but I believe in our group of players. We're really focused on our objective, which is get qualification for the World Cup.
"Even though we know that we won against Russia some months ago, we're not going into this game relaxed, quite the opposite. It's going to be a hard one, because both teams really need this victory."
The second match on Saturday is the Netherlands versus Georgia at the National Rugby Centre in Amsterdam (1.15pm local, 12.15pm UTC).
As mentioned, the Netherlands suffered a big loss in Spain last time out while Georgia were frustrated to draw with Portugal 25-25 in Tbilisi and not get over the line.
The visitors will start as big favourites in this one and still lead the World Cup qualification table while the Netherlands are still getting used to this level of competition in their second year in the Championship.

Looking to back up last year's 48-15 victory over the same opponents, Levan Maisashvili, the Georgia head coach, said:  "I have said many times before that I planned to experiment with these games to a minimal amount because the constant rotation of the line-up creates problems.
"Unfortunately, we had a lot of injured and Covid-infected players for the game against Portugal.
"We are going to the Netherlands for five points, however, this match is also considered as a stage of preparation for the match against Russia [on February 27]."
His opposite number Zane Gardiner said:  "After playing last year in Georgia we are looking forward to welcoming them to Amsterdam this Saturday.
"Georgia are the best team in this competition and have been for a number of years, so the challenge for our team is to embrace this opportunity to play at home against a quality opponent. It is genuinely exciting for us as a team to be tested like this week in and week out.
"We have looked at Georgia and seen they have the ability to play with or without structure while can counter attack from anywhere with their lively back three players. Their set piece is strong and is complimented with some exciting players behind the scrum.
"This week for us is about focusing on the key things that we want to get out of this game and ensuring the players are equipped with the necessary tools to have success. If we are able to achieve the targets we set, we will be very happy.
"We have a good understanding of where we currently are and where we want to go. Sticking to the process is hard right now, but as a group we believe in what we are doing and will continue to work hard to make the necessary improvements to close the gap on our opponents."
Match three on Saturday sees Romania hosting Portugal at the Arc de Triumf Stadium in Bucharest (5.30pm local, 3.30pm UTC).
With Romania second in the World Cup qualification table on 18 points and Portugal fourth on 16 points this is a massive game for both countries.
Both are coming off positive results and when they met in Lisbon last March, Romania grabbed a dramatic 28-27 victory at the end.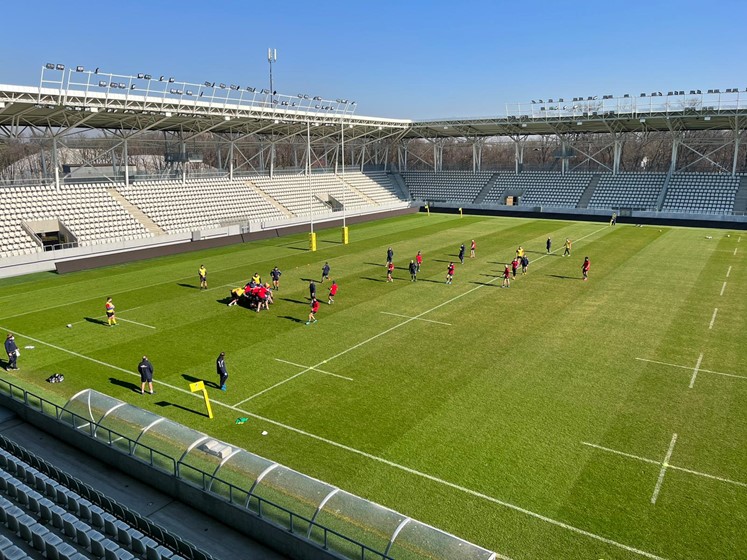 "Last weekend it was great to welcome back our superb supporters to the Arc de Triumf," Romania head coach Andy Robinson said.
"Even though it was only 30 percent capacity it sounded at times as if the stadium was full. Overall, I was pleased with the result against Russia - although probably like the players and supporters - I was disappointed to concede three maul tries and not to finish off a number of our line breaks.
"The focus this week has been to build on the Russia performance. The team understands that we need to improve in all areas of our game because Portugal have developed into an outstanding attacking force.
"They achieved a great result last week and will arrive in Bucharest full of confidence. It should be a cracking match."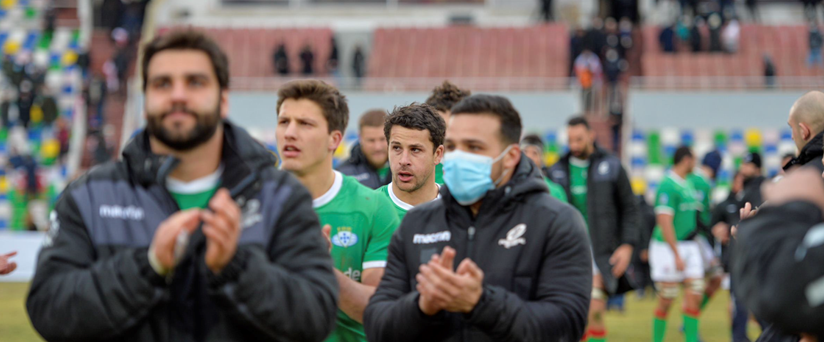 Patrice Lagisquet, head coach of Portugal, adds: "We expect a very difficult game with a very physical Romania.
"It is a decisive game for us. If we win, we have a good chance of going to Rugby World Cup 2023, so we'll do our best to play at our highest level."
All the games will be live on rugbyeurope.tv and broadcast information can be found HERE
By Gary Heatly
Images Irakli Tkemaladze/Georgian Rugby, Walter Degirolmo/Federación Española de Rugby