Spain and Romania are unbeaten after two rounds of Rugby Europe Championship 2022 action and have kept their respective Rugby World Cup 2023 hopes on course following a breathless Saturday of action.
In three matches in the competition spread throughout the day, a total of 224 points were scored and there was drama everywhere you looked.
First up was Russia versus Spain at the Yug Stadium in Sochi and they shared 78 points.
The visitors, who had defeated the Netherlands in Madrid in round one, lost a second-row to a head knock early on, but took the lead in just the fourth minute when Alvar Gimeno cut a great line to score a try. Stand-off Manuel Ordas converted.
A penalty by Russian number 10 Ramil Gaisin got them onto the board before an unconverted try from Spain from Gauthier Minguillon put them 12-3 up.
An Ordas penalty then made it 15-3 before, just as the half hour mark approached, Russia captain Viktor Gresev got his side on the front foot with a converted try.
Scrum-half Efim Riabischuk then scored a couple of minutes later and, when Gaisin converted, they were ahead for the first time.
Four minutes before the interval, Minguillon scored his second try and it was a cracker.
It was a brilliant run down the left and although Russia centre German Davydov thought he had tackled him into touch, the score was given. It was unconverted.
Just before half-time, Russia second-row Anton Makarenko was yellow carded and Spain's fourth try came from hooker Marco Pinto. Ordas missed the conversion and the visitors were 25-17 up.
Gaisin kicked a penalty for the home side in the early minutes of the second half before Ordas did the same.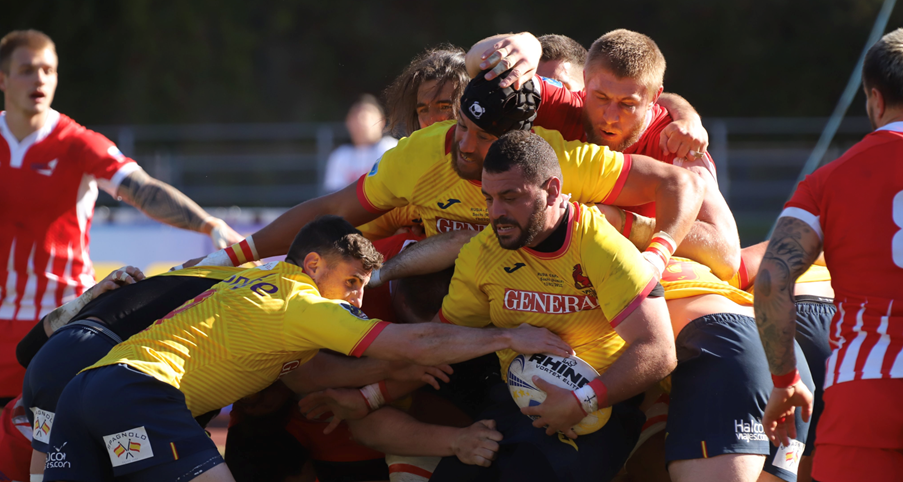 On the hour mark Davydov scored a try which Gaisin converted and it was suddenly a one point game at 28-27 to the Spanish.
Another three points from the boot of Ordas made it 31-27 before Gaisin replied in kind to close the gap to a point again.
With nine minutes to go another Ordas penalty made it 34-30. But the real drama was yet to come.
Replacement Vitaly Zhivatov went over on the left for a try and Gaisin converted to put Russia 37-324 up.
However, with the clock in the red, sub front-rower Santiago Ovejero burst over for the winning try for Spain which was converted, leaving Russia crestfallen and with just a losing bonus point to show for their efforts after a 41-37 defeat.
Spain back-row Matthew Foulds said:  "It was a very tough game, Russia came out and threw everything at us, the game was back and forth and we are just delighted with the win.
Russia winger Vasily Artemyev said:  "It was very disheartening to lose the game in that fashion because we fought back a number of times and the players gave everything in this match."
Next up was the Netherlands versus Georgia at the National Rugby Centre in Amsterdam and the visitors dominated this one to win 72-10.
They ran in some great tries to get rid of some of the frustrations of round one's draw with Portugal and this will have set them up nicely for a home match with Russia on February 27.
A highlight for the Netherlands in defeat was the try scored by captain Dirk Danen on his last game for the national team, what a servant he has been to rugby in that country.
The day finished with Romania hosting Portugal at the Arc de Triumf Stadium in Bucharest.
The teams started Saturday on 18 and 16 points respectively in the Rugby World Cup 2023 qualification table and it is Romania who are now on 22 points and in second behind Georgia in that particular table after a 37-27 triumph.
Romania were 3-0 up in the first half before Portugal centre Jose Lima scored in the 25th minute. It was unconverted, but a penalty made it 8-3 and then the visitors went over again eight minutes before the interval.
Winger Vincent Pinto and full-back Manuel Cardosa Pinto put lovely inside passes in and their back three colleague Rodrigo Marta scored.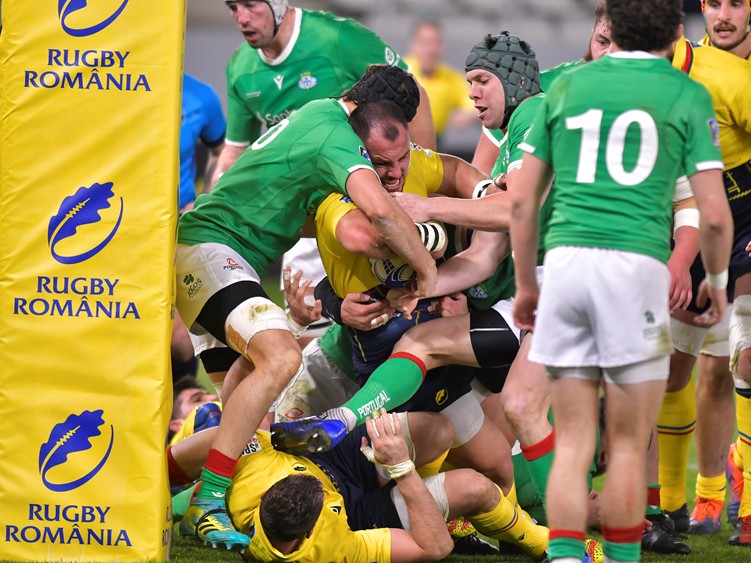 By the 48th minute Portugal were leading 22-13 and when they added another try then it looked like they might be out of sight.
It came from an interception by scrum-half Samuel Marques who then floated a great pass out to Vincent Pinto who did the rest.
However, the Romania fightback was still to come.
The home side had to score the next points and they did in the 51stminute.
Hooker Ovidiu Cojocaru was the scorer of that one and it was converted before another seven points with 18 minutes to go levelled things up at 27-27.
The momentum was with Romania and they made it count in the closing stages.
Full-back Ionel Milente kicked a penalty and, with the clock in the red, then scored a converted try after a superb 80 minutes.
There is now a two week break until the third round of action in this exciting Rugby Europe Championship 2022 event.
By Gary Heatly
Images: Dennis van de Sande, Evgeny Fedoseev, Razvan Pasarica