39 participants from 22 different unions came together at the home of the French Rugby Federation (FFR) in Marcoussis last week as in-person courses restarted after a long Covid induced break.
This was an opportunity to conclude the final part of the Level 3 course which had previously been conducted online.
There was a mixture of levels of experience between the attendees, with some being unable to take the field for more than 12 months, although they were able to take part in the four webinars in February and a workshop in June.
Things got underway with the everyone's favourite – the fitness test – on Monday morning, before getting on with the theory sections.
After the course Rugby Europe Referee's Manger Joël Dume said, "Some clever questions were asked by the participants, and I'm sure that they all learnt from each other.
"This was a really good opportunity to present the new World Rugby Trials to all, and a good start for Rugby Europe to prepare the future of the refereeing for the next very busy period of Rugby Europe competitions."

Of course, the sessions were a step back towards 'normality' for the participants, summarised by Moldovan referee Eugeniu Procopi, "It still feels surreal. No virtual course will ever beat a physical one. It has its own magic. It is all about people. This was a great opportunity for networking and creating life-long relationships, especially that most of the participants will officiate in future competitions together.
So, this was a great time for everyone to get to discover other cultures and more specifics of how the game of rugby is played in their country and what is the focus put on."
Laura Wunsch from Austria added, "The most important part of the course for me was to talk to so many other referees, whether they be the educators with their immense experience, or simply referees from another country. Rugby is a unifier, but every country is a little different, we can all learn from each other and become better."
Following on from the refereeing course was the Coaching Course delivered by World Rugby Educators. This section featured 17 coaches from 12 unions who were able to travel. The course was organised on the back of a virtual Level 3 coaching course back in January.
Gabriel Ligneres, Academy manager Servette Geneve enjoyed the coaching course and commented, "It was a great group with a great "Rugby" atmosphere and a lot of respect. The key outcomes were exchanging with other people as it's an essential part of progression to discover and share experiences."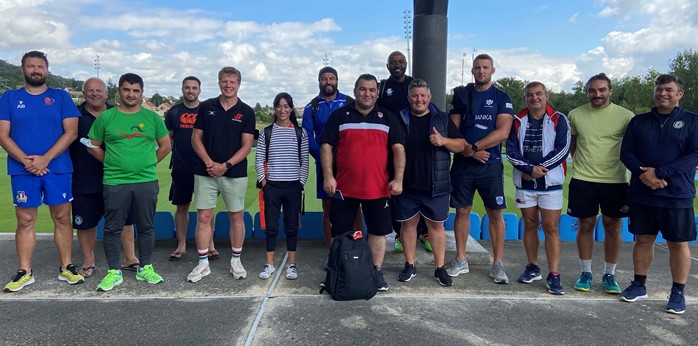 Tornike Kalandarishvili an aspiring coach from Georgia said, "I heard about the course from the Georgian union, it was really interesting, and I learned a lot and mostly to keep it simple and getting used to work in a different environment."
It was delivered by Daniel Mitrea of Rugby Europe,  Kristof Vanhout, Technical Director of Rugby Netherland and Rob Cliverd at World Rugby, with the former commenting, "This was an excellent course. The candidates worked hard and created an excellent learning environment. What came across so strongly was the collective love of the game, the values that rugby has, and the game is in very safe hands with this group of coaches.
Most of the learnings came from the group themselves- they worked very cooperatively and seemed to be having lots of fun at the same time!"
The next key focus for the Rugby Europe Development team will be the Development Conference being held in Croatia from 11-13 October 2021, which will see top Technical Directors/High Performance Managers/Training Managers experts gathering from the top European Unions to exchange best practices.