Georgia make it three away wins from three in Kaliningrad
Russia 6 Georgia 23
Stand-off Tedo Abzhandadze led the way with 13 points as Georgia made it three wins from three in this year's Rugby Europe Championship by defeating Russia on Saturday.
Levan Maisashvili's men backed up their away wins in Portugal and Spain in recent weeks with a 23-6 victory in the Kaliningrad Stadium in Kaliningrad which was even hosting some supporters.
The result means that the two countries have now met at Test level 25 times with the Georgians winning 23, Russia one and one draw.
In this most recent clash, 21-year-old Abzhandadze was given a good platform by his forwards and made the most of it, Lyn Jones' Russia failing to back up their win over Romania a fortnight ago.
Georgia got off to a flying start and thought they had taken the lead after three minutes.
Back-row Mikheil Gachechiladze appeared to have scored a try, but after he checked with his TMO it was chalked off by referee Andrea Piardi.
However, there had been an earlier penalty offence and Abzhandadze kicked the three points.
In the seventh minute Russian stand-off Ramil Gaisin tried a long range penalty attempt, but it fell short of the posts.
Abzhandadze then had a long range penalty effort himself, but that too feel short in the 12th minute and it remained 3-0 to the visitors.
The same man did kick a second penalty in the 21st minute to extend that advantage to 6-0.
Just before the half hour mark Georgia scored a cracking try.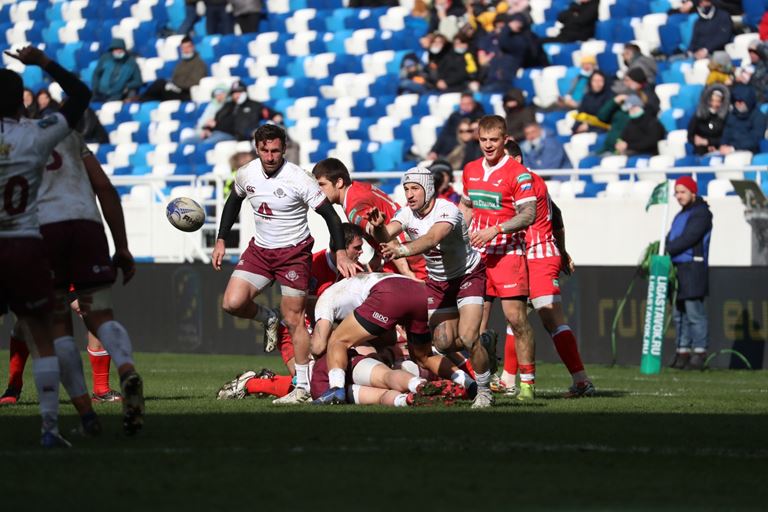 A very powerful forward drive from the pack got the team on the front foot and into the Russian '22'. The ball was then shipped wide slickly and winger Akaki Tabutsadze finished well in the corner. The conversion was missed, but it was 11-0.
Russia knew they needed a quick response and it nearly came in the 32nd minute when centre Kirill Golosnitsky went close to the try line when perhaps he should have passed wider into space. With the next phase, Russia second-row Bogdan Fedotka was held up over the line by some great Georgian defence.
The home side did get on the scoreboard through a Gaisin penalty, but just before the interval Abzhandadze ran in for an unconverted try and Georgia were 16-3 to the good.
Russia had to get the next points on the board to boost their confidence and they did that when Gaisin kicked a penalty in the 48th minute.
Georgia scored their all-important third try on the hour mark.
Teenage full-back Davit Niniashvili was the scorer this time after a sweeping move, Abzhandadze kicking the conversion from out wide to make it 23-6 and leave Russia a mountain to climb.
Try as they might the hosts could not climb that mountain and Georgia came away with a comfortable victory.
Scorers:
Russia: Pens: Gaisin (37, 48).
Georgia: Tries: Tabutsadze (29). Abzhandadze (39) Niniashvili (60).Pens: Abzhandadze (4, 21). Con: Abzhandadze (60).
Referee: Andrea Piardi (Italy).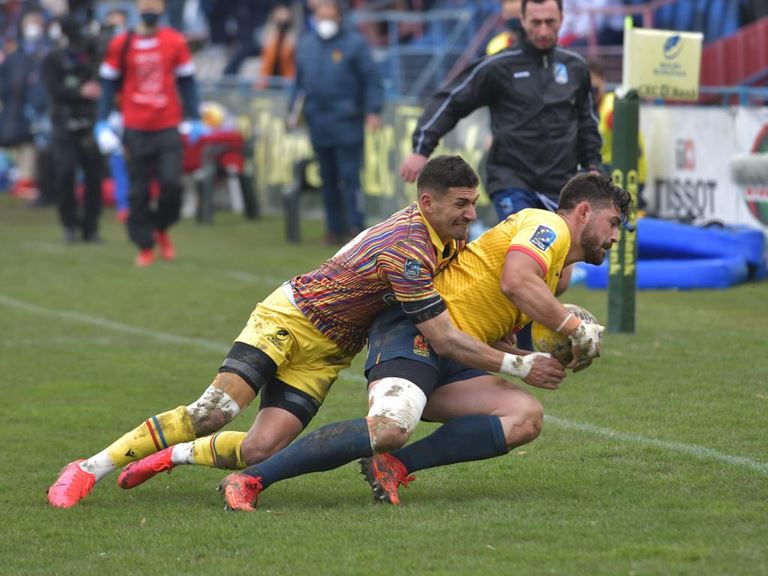 Frantic second half in Bucharest as Romania win against Spain
Romania 22 Spain 16
Romania defeated Spain in the Ghencea Stadium in Bucharest on Saturday in a Rugby Europe Championship match which burst into life in the second half.
Andy Robinson's men were victorious in dramatic circumstances last week in Portugal and this game too had supporters on the edge of their seats until the final whistle.
Santiago Santos' Spain were their own worst enemies in this 22-16 loss as although they picked up a losing bonus point they had players yellow carded and one red carded.
Spain had the first chance to get points on the board, but stand-off Munuel Ordas missed a penalty opportunity.
The same man made no mistake in the ninth minute, slotting one between the posts to make it 3-0.
Romania's first chance to score points came in the 17th minute, but centre Florin Vlaicu - who made it over 1,000 Test points last week - saw his effort drift just wide.
As the end of the first quarter of the match came and went Romania were on the front foot and in the 23rd minute Vlaicu kicked a penalty to put them level at 3-3.
Those points put Vlaicu joint sixth alongside Diego Dominguez in the record Test points scorers list on 1019
Just before the half hour mark Spain had a good attacking position, but Romania won a penalty five metres out from their own line and their forwards were patted on their heads after that.
In this cagey first half though, it was soon the Spain forwards being congratulated as they won a penalty of their own.
It was in the Romania '22' in front of the posts and Ordas kicked it to make it 6-3 to the visitors.
Ninety seconds before the interval Romania won a penalty at a lineout and looked to score the game's first try before half-time.
It did not come, but Vlaicu did kick his second penalty - and went ahead of Dominguez in the Test points scorers list - to level things at 6-6 with 40 minutes remaining in this fascinating contest.
The match sparked into life in the 42nd minute when Spain scored the first try.
A great break through the middle set-up centre Bautista Guemes who then fed scrum-half Guillaume Rouet on the inside who scored. Ordas converted and suddenly it was 13-6.
Romania were stung, but not too much as in the 45th minute Vlaicu kicked his third penalty.
And eight minutes later he kicked another penalty to reduce the deficit to just one point and it was very much 'game on'.
There was then a flurry of action and after they lost one player to a yellow card, Spain then lost No.8 Fred Quercy to a red card for putting his knee to the face of an opponent.
And just before the hour mark Romania took full advantage when their forwards helped hooker Eugen Capatana go over for a try. Vlaicu converted and it was 17-13 to the home side.
When Rouet was yellow carded in the 61st minute, Spain were down to 12 men for a very short spell and really had to regroup.
They were soon back to 13, but they were then back to 12 moments later when full-back Charlie Malie was yellow carded for a shoulder charge.
Referee Nika Amashukeli had spent a lot of time speaking with his TMO and looking at replays in that 10 minute spell, but his communication had been spot on throughout and Spain's discipline was letting them down.
Spain could have been down in the dumps, but the shorthanded visitors were not done yet and a penalty by Ordas reduced the deficit to one point with 12 minutes to go.
Two minutes later Ionel Melinte finished a great try off for Romania out wide and with the conversion missed they led 22-16 into the closing stages.
Ovidiu Cojocaru, Romania's replacement hooker, was yellow carded after 75 minutes as Spain pushed for an unlikely winning converted try.
They could not do it though and Romania held on after a bonkers second half.
Scorers:  
Romania: Tries: Capatana (56), Melinte (70). Pens: Vlaicu (23, 39. 45, 53).
Spain: Try: Rouet (42). Pens: Ordas (9, 33, 68). Con: Ordas (42).
Referee: Nika Amashukeli (Georgia).
By Gary Heatly
Images Razvan Pasarica/FRR and Anastasia Osipova/RUR