There were 300 points and 42 tries scored over four men's Rugby Europe Championship matches at the weekend - and even a marriage proposal!
Romania, Portugal, Georgia and Spain were the victors on Saturday and Sunday with the Netherlands the most impressive losing side as they pushed the Spanish before they went down 28-20.

And after Georgia's 75-12 win over Germany on Sunday, their second-row Nodar Cheishvili became engaged to his partner on the pitch at the Avchala Rugby Stadium in Tbilisi.

Pool B was first to get underway in the new look, enlarged eight team tournament on Saturday with Romania-Poland first up in Bucharest.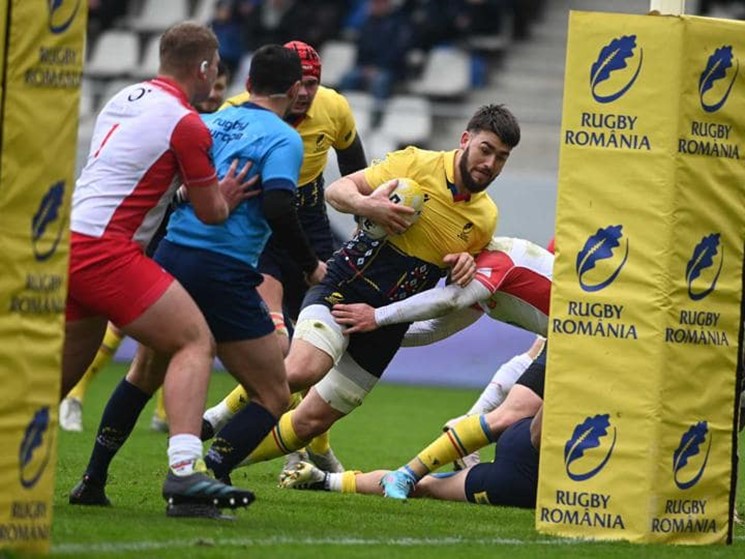 The hosts got off to the perfect start when winger Marius Simionescu scored an unconverted try in the first minute.

In the Arcul de Triumf Stadium try number two came a few minutes later when No.8 Cristi-Marian Chirica went over. Full-back Paul Popoaia converted.

By the 18th minute they were 24-0 up, tries three and four coming from hooker Tudor Butnariu and Chirica again with Popoaia converting the latter.

Poland then got themselves on the scoreboard at the end of the first quarter, centre Peter Hudson scoring with fellow midfielder Dawid Banaszek converting.

Tighthead prop Gheorghe Gaijon and Taylor Gontineac added further converted tries for Romania before the break though and a Banaszek penalty made it 38-10 at the interval.

Replacement Hinckley Vaovasa, Popoaia, Gontineac and substitutes Robert Irimescu and Alexander Dinu scored Romania's tries in the second half.

Substitutes Thomas Fidler and Tomasz Pozniak were the Poland second half try scorers while Banaszek was yellow carded.

Romania head coach Eugen Apjok said: "We wanted to take five points from this game and I'm happy for the boys, they did it well. We have room to improve and look forward to our next game."

Poland head coach Christian Hitt said: "I'm proud of the performance the guys put it, we knew it would be a difficult challenge. We have a lot to work on, but there were plenty of positives."

Portugal scored three tries in the first 16 minutes to set them up for a 54-17 win over Belgium later in the day as they, like Romania, took five points from their first game.

The three early tries in the Honor Stadium in Lisbon for the home side came from wingers Vincent Pinto and Rodrigo Marta and back-row Nicolas Martins with full-back Nuno Sousa Guedes converting them all.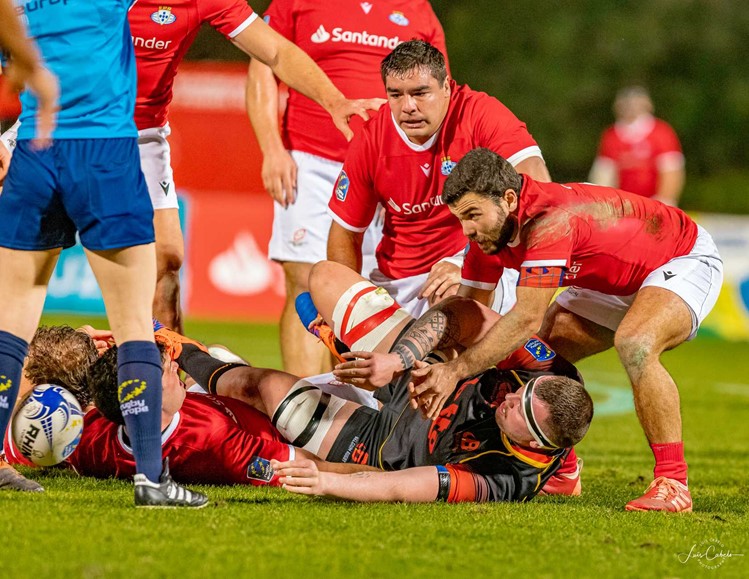 Centre Jose Lima added five more points by the 20th minute before Belgium rallied and scored 10 points by the break through a try from winger Victor Andrade and five points from the boot of Florian Remue.

Portugal's four second half tries came via scrum-half Joao Belo, Sousa Guedes, replacement Pedro Lucas and substitute Lionel Campergue.

Belgium replacement Hugo de Franq scored a converted try for them while they also had back-row Maximilien Hendrickx yellow carded in the second period.

Portugal captain Tomas Appleton said: "When we played at tempo and got pace on the ball we did some good things, but we made too many mistakes and we want to improve going forward."

Belgium head coach Mike Ford said: "Portugal are a very good side, but I'm very proud of the team's fight, the spirit they showed is good for the future."

On Sunday it was the turn of Pool A to get going.

And, in Tbilisi, the Georgians showed no mercy to new boys Germany first up, beating them 75-12.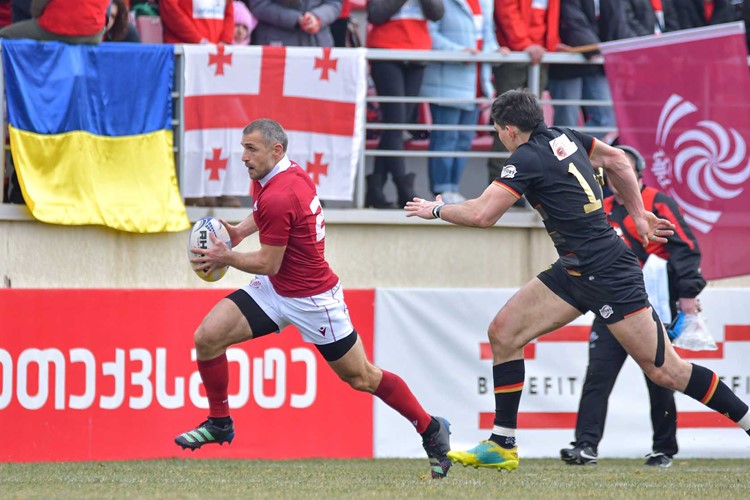 Winger Otari Lashkhi scored an early try which was converted by stand-off Luka Matkava for the hosts. The other winger, Akaki Tabutsadze, then scored a converted try and when another followed from the same man it was 21-0 after 23 minutes.

Just after the half hour mark a great long pass by Matkava set up Tabutsadze for his hat-trick try and then second-row Konstantine Mikautadze scored their fifth. Matkava converted to make it five from five and it was 35-0.

That became 42-0 by half-time thanks to a converted try by No.8 Tornike Jalagonia.

Winger Felix Lammers got Germany on the board soon after the break with an unconverted try.

Giorgi Tsutskiridze, the back-row, scored Georgia's seventh try and then, just before the hour mark, a good support line saw replacement nine Mikheil Alania get their eighth and take the hosts up over 50 points.

As the final quarter began, a neat chip kick from scrum-half Oliver Paine bounced awkwardly for the defence and stand-off Eduardo Stella scored and then converted.

Matkava soon replied with Georgia's ninth try and their power saw Tsutskiridze go over too.

Late on both sides had men yellow carded, but Georgia finished things with try number 11 through Tsutskiridze, his hat-trick score converted by Matkava who finished with 25 points to his name.


Georgia hooker Shalva Mamukashvili said: "It has been a good day, we scored some good tries in front of our great fans at home, so we are happy."

"Our young boys took up the fight and we learned a lot from playing against an opponent as experienced as this," Germany head coach Mark Kuhlmann said.

The Estadio Central UCM in Madrid ended the weekend off with a cracker, Spain getting home 28-20 versus plucky Netherlands.

A penalty from stand-off Reinhardt Fortuin put Netherlands 3-0 up after seven minutes before, five minutes later, his opposite number Gonzalo Vinuesa tied things up at 3-3.

In the 24th minute Spain scored an excellent converted try out wide via Brice Ferrer to make it 10-3.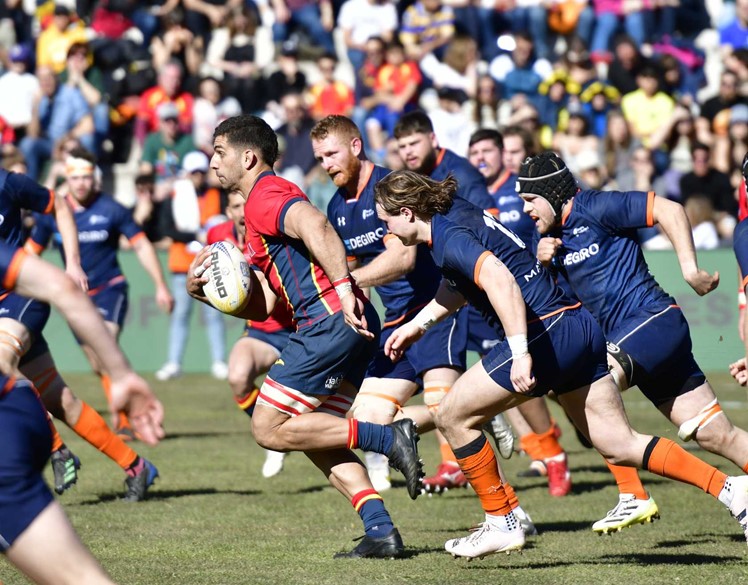 Fortuin and Vinuesa swapped penalties to make it 13-6 to Spain before they scored a crucial second try through scrum-half Estanislao Bay just before half-time. The conversion made it 20-6 at the interval.

When back-row Matthew Foulds scored a five pointer for Spain in the 44th minute they were in control, and 25-6, but the Netherlands battled back.

The fightback was led by a superb solo try by back-row Wolf van Dijk and full-back David Weersma converted to reduce the deficit to 25-13.

Spain then lost a man to the sin bin, but while they were down to 14, Vinuesa's penalty made it 28-13.

Netherlands scored their second converted try with four minutes to go through No.8 Christopher Raymond, but Spain held on.

"It is always important to start with a win and we were focused on getting the victory, it was a great performance from the team," Spain head coach Santiago Santos said.

Netherlands heads coach Lyn Jones said: "We are disappointed to lose, but we are very, very pleased with many aspects of our game."

Meanwhile, in the women's Trophy on Saturday, Portugal got the better of Finland 39-0 and they now have two bonus point wins from two.

All replays of the games are available on the Rugby Europe TV. 
By Gary Heatly
Photos: Razvan Pasarica, Luis Cabelo, , Irakli Tkemaladze, Walter Degirolmo