Rugby Europe U20 Championship 2021 gets underway this weekend and like the U18's event that was in Kaliningrad last month, skipped a year due to safety precautions. 
This November, the competition is back to bring you the very best players and nations at this youth level, the very last one before the main stage at international level.
Portugal, Spain, Romania, Germany, Czechia, Belgium, Russia, and Netherlands will face-off in a knockout tournament, starting on the 7th of November until the 13th. 
The setting will be the historical city of Coimbra, Portugal, where the teams will test their abilities and growth of those who are poised to be the next senior A internationals (some of them are already capped at this level), delivering an intense three match-day competition, pressuring players and coaches to go for glory. But who has more of an X-Factor? Who are some of the promising talents that we will get to see in the competition?
Let's have a look at some of the names to keep a close eye on:
Forwards 
Lucas Santamaría (Spain): a Biarritz special package, the prop possesses the status of The Next Big Thing for Los Leones, thanks not only his size but agility, awareness, and handling skills.
Hugo Huurman (Netherlands): brash, tough, bulldozing and insatiable number-eight, Hugo Huurman is one of the Dutch stars that has the potential to shine in Coimbra, looking to enforce himself as one of the leading ball carriers.
Altinok Kemal (Romania): rock-hard hitting flanker that loves a good contest in the breakdown, will be waiting to jackal some good counterattacks for Romania.
Pierre-Matheus Fernandes (Portugal): playing for Clermont's Éspoirs, the Portuguese prop is expected to be one of the future prospects for Os Lobos, thanks to his high work rate at the scrum, and relentless tackling focus.
Kiril Panarin (Russia): a thor kind of player, the Russian number-eight won't go to Portugal just to make the numbers, as his impactful runs and incredible tackler rate will shatter his opponents;
Backs
 José Paiva dos Santos (Portugal): the Belenenses Rugby winger and one of the standout players for the Lusitanos franchise in this year's Super Cup, can be the biggest threat for the Portuguese squad, mainly because of his special mix of side-steps, offloading skills, and deadly counterattack moves.
Marius Dehoust (Belgium): the Belgians will want to engage their opponents in a serious contest, and Marius Dehoust can be the right man to make their attacking machine work, thanks to his speed, quick thinking, and sturdy tactical approach.
Kai van Kampen (Netherlands): From the Netherlands, he will be expecting to use this Rugby Europe U20 Championship to showcase his attacking prowess, be it his offloading or quick feet skills.
Alin Conache (Romania): Timisoara's scrum-half, that can play also as a first five-eight, will test the opposition with skillful kicks, quick and shattering runs, and a well-balanced insight of how to turn the tide to his team.
Ike Irusta (Spain): another scrum-half that makes this list, thanks to a spectacular season start for Cisneros, wielding a machine-gun passing ability and an explosive pace that can damage the opposite team.
Maxim Shevtsov (Russia): A superb winger who will try to make his way in the U20's Championship, and his name is Maxim Shevtsov. A try-machine that indulges in guzzling up running meters, the Russian back will give depth and lethality to his side;
An 11-man list, that will certainly grow once the tournament starts, as some nations have a brilliant pool of athletes to play (Spain, Portugal, and Russia for example) and others seek to make a statement of their growth and fighting capability (Romania and Netherlands).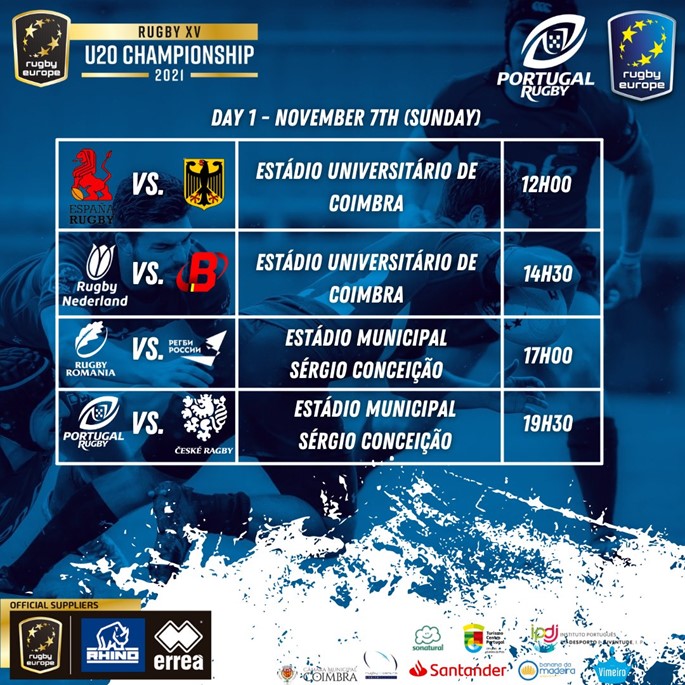 As for the brackets and above schedule (all timings in local time), all has already been sorted out: Portugal will face the promoted Czechia; Spain, 2019 runners-up, will face-off against Germany, in the opening match of the tournament; a Low-Countries derby awaits us, as Belgium and Netherlands are paired up; and a good tussle between Romania and Russia.
The winners advance to the Championship semi-finals, and the other four will fight to decide between 5th and 8th place, taking place on the 10th of November. The last day is scheduled for Saturday the 13th and will decide the final standings.
Follow all the action live on rugbyeurope.tv 
By Francisco Isaac