THE SCRUM: A GOOD OLD BELGIAN SCRUM TANK
Belgium defeated Germany in the first match of Round 2, after trailing ten points at half-time, making their way to take the lead in the dying minutes of a very tight match, played inch by inch, phase after phase, demanding every ounce of work and sacrifice from both sides. 

Coming up to this game, the Germans had showed an impressive pool of skills in their opening match against Spain, with the likes of Chris Umeh, Oluwaseyi Ajeigbe, and Benedikt Spiess being deemed as instant threats. Belgium, on the other hand, didn't quite manage to show their true class in the first round, which maybe was one of their driving forces to fight until the last whistle with all they had, when they exited the locker rooms to face a decisive second 40 minutes.
Their strategy? To pile up pressure on the scrum, the set-piece where they could break their foes and move forward, as seen in glimpses at the first-half. The tactic worked perfectly, as they won six penalties, three of each leading up to points, shifting the scoreboard to their way, which would be enough to get them a win.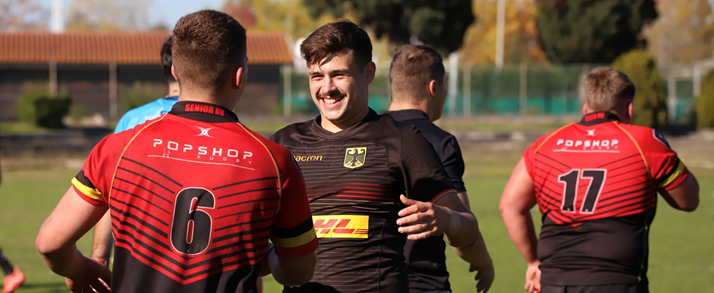 Tremendous effort by the Belgian pack, especially Bruno Vliegen, Brandon Faddar, Spike Jangen (his try was built in an unpredictable run through the middle of the ruck, a detail only seen on a certain kind of player), or Lukas Rassinfosse who got the better of their counterparts in the scrum, tirelessly working at every ruck, close run, showing a matured attitude that benefited their side when it mattered, to bounce back after their loss against Netherlands in the 1st round. 
Man of the Match: Spike Brain Jangen (Belgium) - was a trustworthy unit in the lineout.
THE SPIRIT: CZECHIA CAN MAKE RUGBY POETRY TOO
Romania booked a ticket to in the 5/6th place match, only after withstanding a punching spirited Czechia, that turned what seemed to be a one-way game into an entertaining encounter, that had it all: monstrous carries, cool and slick set-plays, mesmerizing interceptions (winger Jakub Hrdlicka was the thief in the night), gut-wrenching tackles, demolishing scrummage battle, and tries for every taste. 

The Romanians earned their victory badge, but it was special to watch how Roman Suster man fought and tried to have a true say in the game, as they only conceded 6 points after the break, scoring an impressive 17 points, while getting in the driver seat of the pin at certain periods of time, turning up and shining in this Rugby Europe U20 Championship. 
The individual duels gave a stronger flavor to everyone seeing at home, getting intrigued on how Joseph Maybey could spar against Alexander Dinu, in a battle of number-eights, and if Alex Young could stop Toma Mizrac in the bout of the centres, whilst both coaches tried to get the ideal equilibrium to get their team on the right track. Czechia wasn't able to make a super surprising upset, but it was inspiring seeing how they tried to turn the tables, approaching some risky decisions (twice they played the oval ball inside their own try area, displaying true faith in their capabilities) and chase the sun. This is what is all about the youth competitions, this is the very best from the future of Rugby Europe. 
Man of the Match: Mihai Muresan (Romania) – three try assists, superb passing skills and excellent game knowledge that made things easier for his side in the first half;
THE MATCH: AN INSTANT THRILLER COATED IN RED AND ORANGE
The first semi-final of the Championship was a brutal physical contest, that ended in Spanish celebrations, but seemed to look like it could go to Netherlands in the dying minutes and with high hopes for another super Kai Van Kampen kick? Unfortunately, for the Dutch, Arnau Andres Comes decided to play the hero, intercepting one of the last plays of the game in the 50-meter line, and ran to clutch another final for Spain in Rugby Europe U20 Championship history.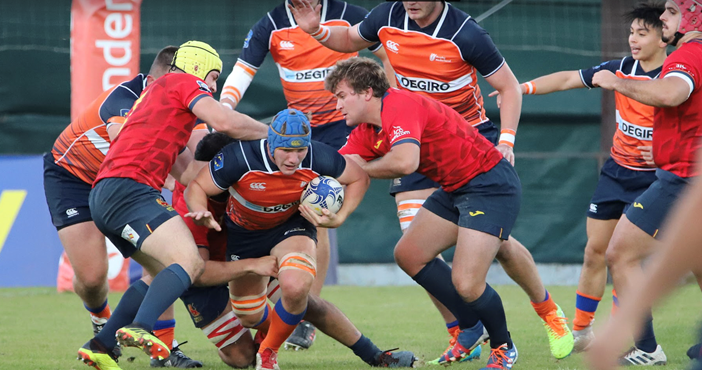 Let us make use of a classical sports caption, A Game of Two Halves, as it really was what happened in the first semi-final of the 2nd round: Netherlands clearly dominated the scrum, driving the opposition back in a surprising way, nullifying one of Spain's best weapons, while disrupting every play or attacking movement with smart biding tackles, forcing a wave of mistakes from the Spanish players. Lock Jade Plane, with a superb line break and try, open-side flanker Hugo Huurman, and number-eight Tim de Jong, were the main wedges to the Dutch forward pack, driving them to a lead of seven points (13-06) at half-time.  
When the game restarted, Los Leones came back with a refreshed mindset, picked up the pieces and finally were able to show some of their very best skills, be it high paced movements combined with the right run lines – centre Arnau Comes and flanker Alex Torrasagatsi were spot on this – or grinding mauls, that regained some of Spain's confidence. The comeback naturally came, as they were able to pull ahead of the scoreboard, keeping in control even when Marcello Melpignano men tried to look for a match-winning try.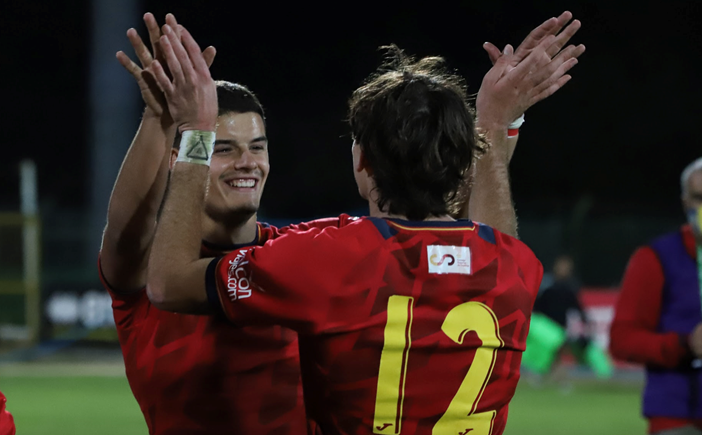 In the end, Spain went deep to search for their mojo, raising back in time to make a complete revival, and qualifying for a precious final. For Netherlands, they impressed throughout, finishing strong, with this score not being the end, but the beginning of something greater to come.
Man of the Match: Arnau Comes (Spain) – is the try-intercept the detail that made us pick him? No, as the inside-centre was pivotal in some other moments, stopping what could've been a certain try, rarely missing a tackle, whilst making the assist for Spain's first try. 
THE FOCUS: LOBOS WINNING MENTALITY
Pressure is the right word to describe what the Portuguese side endured between the 60th and 70th minute when Russia was close to reaching a much-needed try to equalize the last match of the day.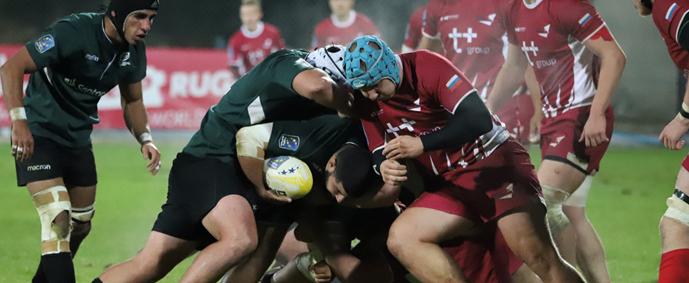 Although their best attempts to reach what would be a draw in the score, the three-time Rugby Europe U20 Champions, Portugal, didn't stay around and find out, fighting to get themselves again in the final, applying what we can call a "Champions" tackling and defense lesson, with backrowers Nuno Peixoto, António Cerejo, centres José Paiva dos Santos and João Vieira, and others, stopping their Russian foes in every run or carry. A strong-willed team, that didn't cave or lose sight of their goal, if one player made a mistake or error, another one would show up, help, and keep this Portuguese wall mostly unbreeched.
Russia was able to find the try-area once, granted by an ingenious kick by scrum-half Denis Fomin, well followed by Maksim Shevtsov, but never really could break the Portuguese spirits, as they were pushed away over and over again, even when the odds seemed to stack in their favor.
Os Lobos were class in keeping their fears at bay, not letting any pressure raise up to their minds, and sorting out their discipline problems with a solid kicking strategy, that was excellently executed by fullback Domingos Cabral and first five-eight Francisco Meneres.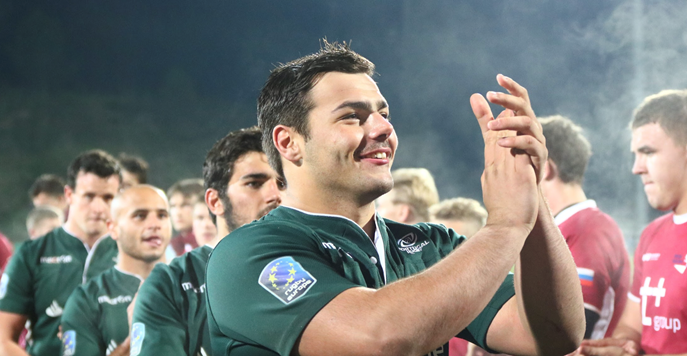 The Bears fought until there was no more time left to play, and deserve praise for how they pressured the Portuguese side to their very limits, unable to upset the still champions in this semi-final as they eventually came out on top 10-23 at the full time whistle.
Man of the Match: José Paiva dos Santos (Portugal) – reliable, impossible to stop in the first tackle, gifted with the right skills to put his adversaries on the ground, the centre shone in most of the Portuguese attacking plays;
By Francisco Isaac
Images: Pedro Pinheiro