Ahead of the Rugby Europe Championship 2022 getting underway, we caught up with Inger Jongerius of the Netherlands
The Netherlands men have enjoyed testing themselves against some more experienced sides in recent weeks - and now the country's female squad are looking forward to doing the same as rugby continues to grow there.
In the Rugby Europe 2022 opener, they will host Spain at the National Rugby Centre in Amsterdam on Saturday (1.30pm local, 12.30pm UTC) and, ahead of the clash, the Netherlands pack member Inger Jongerius said:  "These are definitely exciting times for rugby in our country. It's impressive what the men have achieved. It also shows that the Dutch men's rugby is on a higher level and is benefitting from the talent from different pathways that is coming through.
"Unfortunately, due to Covid the sport hasn't seen much growth in the Netherlands over the last two years, but now that the world is slowly becoming normal again, I can see and hear people around me saying that the rugby clubs are enthusiastic and eager to make the sport more popular.
"It's inspiring how other countries are growing their women's game by getting professional contracts. It's something we hope to achieve at some point in the future.
"The current head coach is Sylke Haverkorn and she is optimistic and has the right balance between working hard and just enjoying the sport.
"When it comes to developing women's rugby in the Netherlands it's something she is committed to and puts a lot of hard work into. She is constantly setting goals for us to work towards and simultaneously giving positive energy to us."
Like a lot of teams, especially ones who are not filled with full-time or contracted players, the Dutch women's playing group have not been around each other a lot of late.
As a result, they have all enjoyed coming back together as a group ahead of this event that runs until March 12.
The girls are all excited and motivated to be playing again," Jongerius states.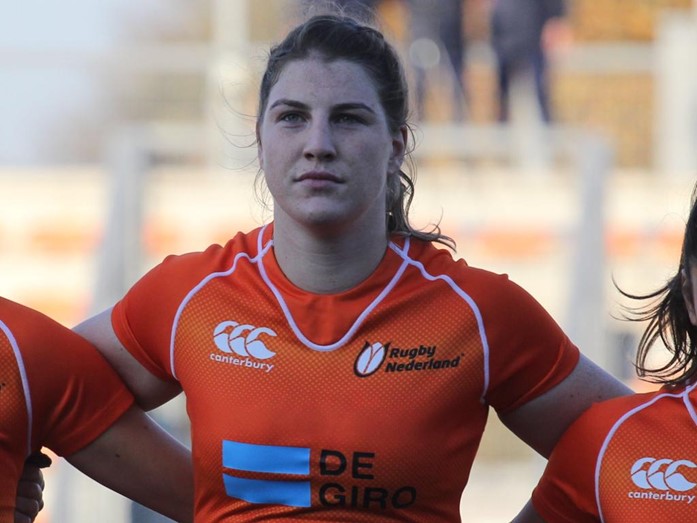 "We recently had a game against Belgium and a training camp in Italy for a week where the girls bonded and trained really well with each other.
"We plan on learning a lot from the games coming up [against Spain and then Russia on the final day] as we continue to grow stronger as a team.
"We are still in the process of rebuilding our young team and recent training has focused on certain areas we wanted to improve on.
We are focusing on specific goals and it's important that we've improved those goals since the last Championship.
"We are expecting a very tough game against Spain, they have a really experienced and professional team set-up. It is truly amazing to see how Spain invested in their women's rugby programme and the great results it has brought them so far.
"Our team will fight hard for the whole game."
So, how did Jongerius, who plays second-row or back-row mainly and who turns out for Rugby Club Waterland, get into rugby in the first place?
"I started playing rugby when I moved to a bigger city called Purmerend [from Muiden] at the age of 13," she explains.
"My friend and I wanted to try a new sport and started off playing rugby with the boys. I've since been with this club [Rugby Club Waterland] almost my entire life, but also had a season abroad last year [in Spain] and that was an amazing experience as well. I'm excited to see where my future and rugby can take me.
"I really enjoy the physical parts of the game and just running around with the ball in hand!
"There is always something new to learn about rugby and I'm a big fan of open play and keeping the ball alive. Rugby brings people from all different places together as one.
"Indeed, there are not many words to describe what an honour it is to play for your country and experience the energy of the crowd."
The game against Spain will be live on rugbyeurope.tv internationally and on FloSports in North America, with commentary from Johnnie Hammond and former England World Cup winner Rocky Clark. 
By Gary Heatly
Image: SJM Photography