The Netherlands players honoured the memory of their team mate Inge van der Velden in the perfect way by starting their Rugby Europe Championship campaign with a bonus point win on Saturday.
It was always going to be an emotional day at the National Rugby Center in Amsterdam given the fact that van der Velden only passed away last month aged 30, but the players stayed focused and Sweden also played their part in a cracking game.
Loosehead prop Anouk Veerkamp scored the first try of the game for the home side, the front-rower showing great power to go over in the 14th minute. Winger Helen van Hattem converted and it was 7-0.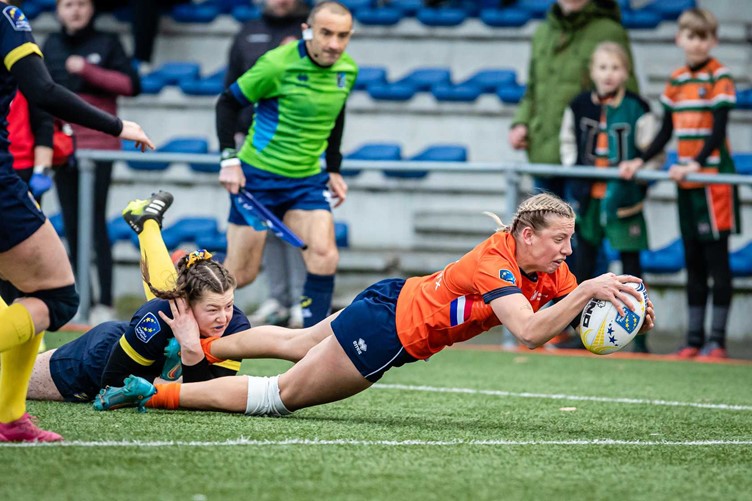 Three minutes later Matilda Mahlberg scored an unconverted try for Sweden, the move having been started by a great break from centre Minonna Nunstedt.
In the 21st minute, Netherlands extended their lead to 14-5 when Veerkamp scored her second try and van Hattem converted
A superb solo effort from winger Noa Donkersloot then gave Netherlands their third try after 25 minutes. Sweden were actually attacking, but the speedster intercepted and then showed great pace and awareness to beat the stretched defence and go over. It was unconverted.
Eight minutes before the break a fourth try for Netherlands came from Veerkamp, the red scrum hatted player again showing good strength to complete her hat-trick. Van Hattem converted.
Before half-time the fifth try for Netherlands came from van Hattem with a good finish. She converted and it was 33-5 at the break.
After 53 minutes she got her second try when a lovely long pass from stand-off Jet Metz put her in at the corner. It was unconverted, but they were 38-5 to the good.
Sweden could have folded at that point, but credit to them they did not allow Netherlands to score any more points and, indeed, scored a second try of their own.
It came just after the hour mark when good hands set up replacement back Sara Jacobsson for the score. Scrum-half Frida Nilsson converted and it was 38-12.
That was the way things finished and now Netherlands get ready to head to tournament favourites Spain this coming Sunday.
Julia Verhoeven, Netherlands captain, said:  "We have been working very hard and in this game we played to our game plan and showed what we can do.
"From minute one to minute 80 everyone gave everything and I am very proud of the team."
Player of the match Anouk Veerkamp said:  "This win was for Inge [van der Velden].
"The team were very focused, we wanted to get a good start and we did and then we built from that."
Sweden captain Amanda Swartz said:  "It is a big step up for us [from the Trophy], but I think we showed in the second half what we are really capable of.
"It is enjoyable being back in the Championship where we want to be and we will learn from this game."
Tamara Taylor, the Sweden head coach, said:  "It was definitely a better second half than first, I think the girls were a bit nervous early on.
"Credit to the Netherlands they came at us with some big runners and built up a good lead. I just want the girls to play and have confidence in themselves, hopefully now they can build from here."
By Gary Heatly
Images: Dennis Van de Sande