Black Lion set themselves up well for their trip to Russia to face Lokomotiv Penza this coming weekend by winning their Rugby Europe Super Cup opener against Tel-Aviv Heat on Saturday.
The Georgians came out on top 33-10 at the Avchala Rugby Stadium in Tbilisi against their visitors from Israel to go second in the Eastern Conference.
And it was an emotional day for the victorious squad as captain Merab Sharikadze explained: "Most people know that our coach Levan Maisashvili was very ill recently with Covid and was out in South Africa [where he had been with the Georgian national squad as he is also their coach]".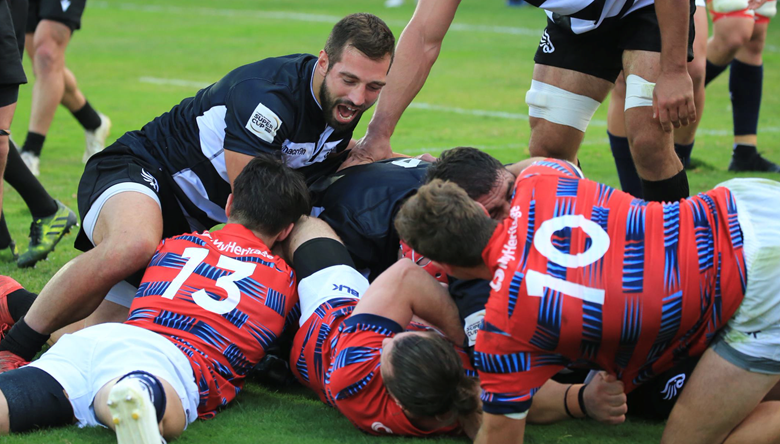 "The players wanted to play well for him in this game, so we are pleased to win - that one was for you coach."
Maisashvili himself said:  "We are happy to win this game and get the franchise off to a good start.
"The boys played very well and they can be pleased with their performance and we can build on this."
Kevin Musikanth, head coach of the Tel-Aviv Heat said:  "We knew it would be a tough match in the set piece because the Georgians are very strong in that area of the game and they showed that in this game.

"Credit to them, they were full value for the win. We are a new squad and I am proud of the guys, but we now have a lot of 'work ons' ahead of our next fixture."
A penalty from home full-back Ioseb Matiashvili put them ahead in the 11thminute and then four minutes later their winger Akaki Tabutsadze scored a try. Matiashvili converted to make it 10-0.
As the first quarter of the match came to an end the Heat got themselves on the scoreboard with a seven point penalty try. A Black Lion was yellow carded at that time before the Heat then lost a man to the sin bin eight minutes later too.
And when the home side had a 15 to 14 advantage in terms of men they scored their second try of the day, hooker Shalva Mamukashvili going over for the unconverted effort.

The Heat closed the gap to five points with a penalty through stand-off Jordan Chait before his opposite number Giorgi Babunashvili kicked one of his own to make it 18-10 at the interval.
Just after the break a neat chip ahead from centre Demur Tapladze set-up Tabutsadze for his second try of the day and, although it was unconverted, it was 23-10 at the Georgians were well on top.
They added a penalty through Babunashvili before Mikheili Oragvelidze, their replacement front-rower, was yellow carded just after the hour mark.
When they were a man down they managed to score their fourth try to claim an important bonus point, Tabutsadze claiming his hat-trick with 13 minutes to go.
Babunashvili converted to complete the victory and it will be interesting to see how they take momentum from this game forward now.
By Gary Heatly
Photos: Gogita Bukhaidze