The automatic places are now done and dusted, Georgia and Spain will be at Rugby World Cup France 2023, while Romania can still get a place in the repechage if they win against Netherlands in the last round of the 2022 Rugby Europe Championship this weekend. 
Writer Francisco Isaac looks back at the weekend's action to pick his best players of round 4 in the Rugby Europe Championship 2022.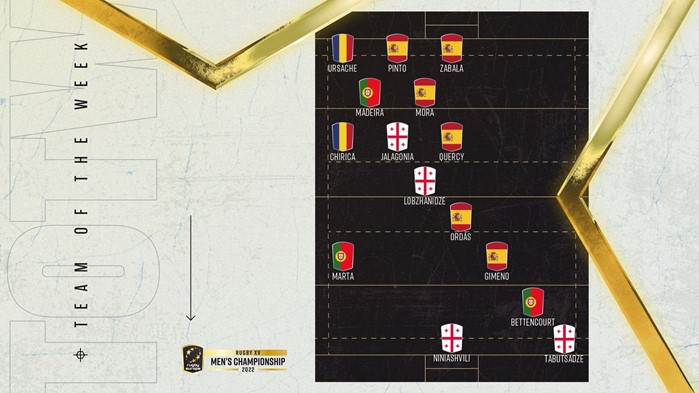 First Row 
The combination of Romanian Andrei Ursache and the Spanish duo Marco Pinto and Jon Zabala were virtually the personification of three concrete walls last weekend. The Oaks prop was immense in the first 40 minutes, helping his team win a couple of scrum penalties, making a good impact out of his carries. Marco Pinto scored two tries and was just impressive in every set-piece, while his companion Zabala made two "Great Escapes" that would have brought a smile to John Sturgis (director of the 1963 movie).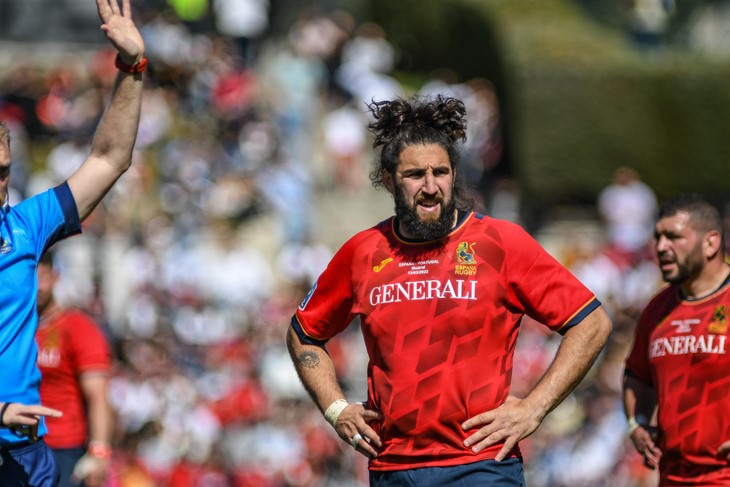 Second Row
Once again José Madeira and Manuel Mora earned their place in the Team of Round, and both locks fully deserve it after another brilliant display, making their presence felt not only during lineouts or scrums but also in open play or in their team's defensive effort.
José Madeira collected one try two turnovers and seven tackles, showcasing why he is one of the new bright Portuguese stars. As for Manuel Mora, there aren't enough words (in English or Spanish) to describe how big of an example he has been to their campaign his big frame and incredible tackle/grapple technique makes everything hard for the opposition.
Back Row
Blindside Christian-Marian Chirica applied four dominant tackles out of a total of twelve, fetching Georgian players from the scrum with speed and an outstanding physicality. Fred Quercy was, yet again, a sharp "Spear" for Santiago Santos men, submitting some of the best defense maneuvers in the Iberian Derby. As for our number-eight, Los Lelos Tornike Jalagonia was the best member of his team's pack, driving well behind the scrum and mounting a couple of beautiful runs in Bucharest.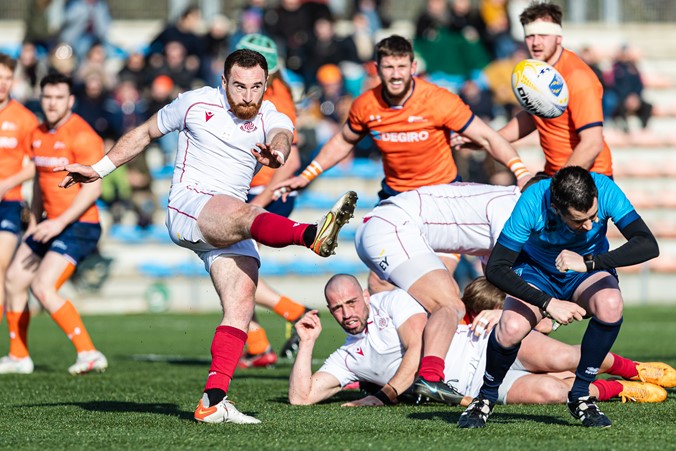 Scrum and Fly Half
Guillaume Rouet, Samuel Marques or Vasil Lobzhanidze, who would you pick? For us, the Georgian scrum-half was (one of) the maestro(s) behind their team win, guiding well his forwards, setting always good plays for his backs, and sprinkling some individual brilliance. As for our fly-half, Manuel Ordás was just a thorn for Portugal every time he ran with the ball, placing some venomous kicks that drove his foes back, snatching 13 points from his trusty boot.
Centers
As for the locks, our 12 and 13 are the same as the previous round: Alvar Gimeno and Pedro Bettencourt. The Spanish inside center didn't have space to make those incredible breaks, but his tackling was incredible, making 15 tackles and driving back the Portuguese forwards. As for Bettencourt, another try and some of the best skills produced in the game, and 11 tackles gave hope to Os Lobos's, although it wasn't to be in the end.
Back Three
Rodrigo Marta was outstanding throughout the whole match, trying to find solutions and gaps in one of the finest defenses in the Rugby Europe Championship, and as able to break the line twice, as set up an offload try-assist that would make the Fijians proud! Akaki Tabutsadze was once again a rocket, stepping in and stepping out to evade the on-coming tacklers. And finally, Davit Niniashvili... Some of the moves this young player produces is just poetry in motion and looks destined for great things, especially when carrying or even jackling at the ruck (he succeeded twice facing Romania).
Power Bench: Fernando Lopez (Spain - Prop), Ovidiu Cojocaru (Romania - Hooker), Matthew Foulds (Spain - Flanker), Merab Sharikadze (Georgia - Centre), Samuel Marques (Portugal - Scrum-half) and Charlie Malie (Spain - Fullback)