The curtain falls on another week in the Rugby Europe Championship 2022, with Spain edging past Romania in second place, while Portugal got their first win in the competition and are still in the running for the Rugby World Cup qualification.
Our picks here explained as writer Francisco Isaac selects his team of the week from the two matches played.
First Row
An Iberian trio for our first-row, as Francisco Fernandes, Marco Pinto, and Jon Zabala all put in huge displays. Fernandes was instrumental for the Portuguese team, making some good ground as a carrier, while hooker Marco Pinto was one of the key players in the first half (substituted at 39th minute due to injury), guiding the maul well and turning over twice. Jon Zabala was superb,  and picked up a try in this spectacular Spanish victory.
Second Row
It was a different round but it's the same pair of locks, as both José Madeira and Manuel Mora were nearly perfect in most of their interventions in their games. The Portuguese forward was class in the line-out, intercepting three Netherlands ball introductions, earning also one turnover at the breakdown and 7 complete tackles. As for Manuel Mora, well, the Spanish tall lock was just ferocious in the set-piece, was able to disassemble two Romanian mauls when they were close to the try-line which provided precious turnovers for Spain.
Backrow
Matthew Foulds, Frederic Quercy, and Rafael Simões, what do they have in common? All scored tries in this round, finished with a clean tackle bill (31 tackles summed together), and provided some of the most important carries or defensive decisions that gave their side's the edge. Foulds never failed to retreat making some of the best tackles in Spain's victory, with his partner in the openside, Frederic Quercy, rivaling him in the contact. Rafael Simões broke 5 tackles, scored two tries, and broke the line twice as Portugal marched through Netherlands to earn 5 points.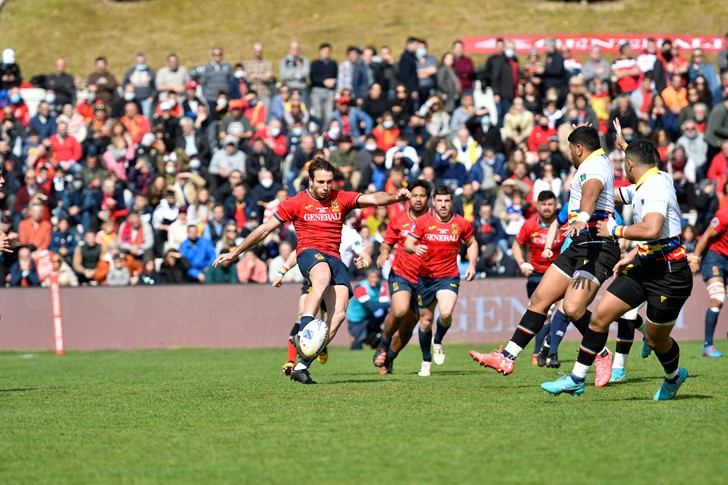 Scrum and Fly-half
Guillaume Rouet, I felt, was without a doubt best scrum-half of the weekend, as he was able to open gaps in Romania's defense, launching some of Spain's best plays thanks to his quick pass and wits, giving his team an important edge. As for the number 10 shirt? Between Jerónimo Portela and Manuel Ordás, it wasn't easy to pick who was the best, as both were solid, accurate… the Portuguese played with the opposition thanks to his stepping and passing style, and Ordás gave a real kicking lesson against Romania, slotting 17 points from the boot (100% accuracy), and building the way for Spain's first try, thanks to a beautiful 50/22. In the end, we went with Ordás as his tee abilities were decisive to the final outcome.
Centres
Álvar Gimeno broke the line for Spain's second try, sending a barrage of impactful carries that locked Tomane and Vaovasa, before intercepting a loose pass that ended with the inside-centre celebrating under the polls. And what of Pedro Bettencourt? Portugal's nº13 will raise questions for Patrice Lagisquet, as he was unstoppable for his team winning the gain-line 9 of 11 times, offloading to his teammates with mastery, finishing two moves.
Both were outstanding, not just because of the tries they scored but because of how they boosted they were committed with thumping tackles and powerful carries, always winning meters.
Back-Three
Our back-three selection will cause some discussion, as Raffaele Storti didn't start for Portugal, and Dany Antunes only played 40 minutes as a fullback, but let us explain why we picked both, alongside Marius Simionescu. Storti replaced Nuno Sousa Guedes at half-time, and sowed chaos and panic through the Dutch defense, hitting almost 100 meters with the ball in his hands, forcing three clean breaks, six defenders-beaten, grabbing one try and assisting for another, in what was one of the best news for "Os Lobos". Dany Antunes's in-game kicking was well calculated and was a serious menace when he found space, creating some good moves for Portugal. Finally, Marius Simionescu was one of Andy Robinson's best players against Spain, who tried to find solutions for Romania's downfall, with a couple of pivotal tackles – one of them stopped Gauthier Minguillon from escaping towards the finishing line – and also scored a beautiful try at the end of the match.
Power Bench
Thierry Futeu (Spain – Prop), Adrian Motoc (Romania – Lock), Jerónimo Portela (Portugal – Fly-half), Hinckley Vaovasa (Romania – Centre), Rodrigo Marta (Portugal – Wing)