With the pool phase of this season's Rugby Europe complete its time to pick the best XV from the pool stage, with players from all eight franchises having at least one spot on this top-performing team.
Over six rounds, more than six hundred players had their chance to put themselves under the spotlight, and we came down to fifteen names that delighted both fans and pundits.
But before we set on this mission, let us explain some rules/conditions:
We picked at least one player from each franchise. Black Lion and Lusitanos, both pool winners, grabbed three seats, while Tel-Aviv Heat and Castilla y León Iberians scored a minimum of two – the Israeli side ended up with three, also. Brussels Devils, Delta, Romanian Wolves, and RC Batumi slotted one each.
Players had to play a minimum of two Super Cup matches.
Following this criteria, it's time to reveal the names and explain why we opted for some of the names listed here.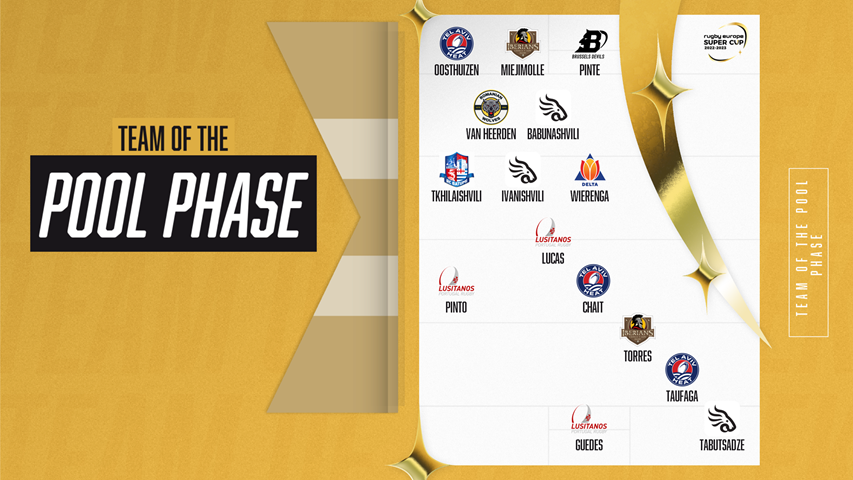 FRONT-ROW
Cayleb Ooosthuizen and Pablo Miejimolle were outstanding for both of their sides, with the latter scoring four tries to help the Iberians finish in second place in the Western Conference, while the former was a heavy problem for the likes of the Black Lion in their two duels against the Heat.
Devils Romain Pinte was one of the Brussels Devils stand-out performers, showing his excellence at scrum time (the one who conceded fewer mistakes throughout the competition).
His display against Delta was class, as he made two turnovers and was one of the best carriers in that particular game.
LOCKS
Johannes van Heerden and Mikheil Babunashvili, what a combo these two would make if they played on the same team. The experienced Romanian lock powered high and mighty in the lineout and was fierce when was needed in defence, while the 25-year-old Georgian international was one of the very best players in the pool stage, with 32 tackles (95% accuracy), instigating four turnovers.
BACK-ROW
A fantastic captain and imperious flanker for RC Batumi gets the nod, Giorgi Tkhilaishvili, who finished as the player with the most tackles in the pool stage with 57 in the Eastern Conference.
Dirk Wierenga also gets the call for his good work, which proved key for Delta in the opening two matches. Steering the scrum from the back. Luka Ivanishvili was a ferocious cannonball for the Black Lion side, as he crossed the gainline 23 times, excelled in 35 tackles, and kept winning meters while having tacklers latched on to him.
SCRUM AND FLY-HALF
Perfect duo, Pedro Lucas and Jordan Chait, as the Portuguese scrum-half scored not only six tries, but assisted for two, forced eight clean-breaks, supplying the Lusitanos with an excellent pass flow.
As for the Heat's first five-eight, what can we say to a player who created two 50/22, scored more than 50 points, being almost perfect every time his team requested needed him?
CENTRES
Iberians Pablo Torres is on the run to become a solid first-centre, instigating his fair share of turnovers (three), and a slick attacking option when things are tight. As for Jone Taufaga Manu, his handling skills are extremely impressive, and that was vital for the Heat to earn a much-celebrated victory against the Black Lion.
BACK THREE
Now we move on to the dynamic back-three, and we've gone for a combination of Manuel Cardoso Pinto, Akaki Tabutsadze, and Nuno Sousa Guedes.
So, let's breakdown the numbers, for those who need a little persuading:
Nuno Sousa Guedes, who lit up the Final Qualifier Tournament to help Portugal to France 2023, assisted for three tries, scored three himself, ran 366 meters, broke the line eight times, and beat twenty-one defenders.
Akaki Tabutsadze only needed 132 meters to score five tries, crossing the gainline on 14 occasions, and eluded nine tacklers.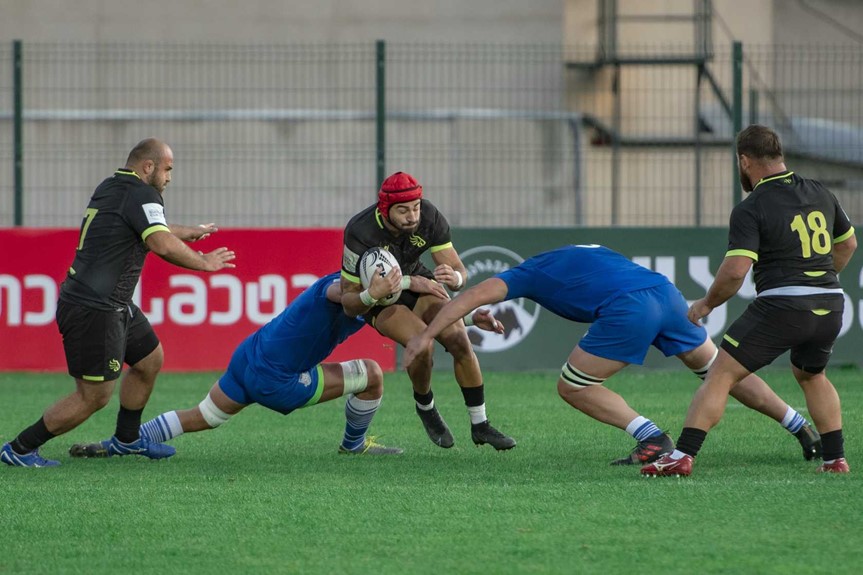 And, finally, the best of the lot, Manuel Cardoso Pinto was just outstanding in every stat as he almost ran 1km (812m to be precise), got over the whitewash seven times, pushed for twenty-three clean-breaks and took out of his sight fifty-two defenders.
The combination of this trio would simply be unstoppable at every and any level, and that would be a sight to behold.
Honorable mentions to Hugo Ruelle (Brussels Devils), Valentin Bustos (Iberians) De-An Ackermann (Romanian Wolves), David Wallis (Lusitanos), Reuben Du Plooy (Iberians), Mikheil Gachechiladze (Black Lion), and Mikheil Tsiklauri (RC Batumi).
We now await the weekend of the two semi-finals on 4th December with Black Lion hosting Castilla y Leon Iberians and Lusitanos against the Tel Aviv Heat in Tbilisi and Lisbon.
By Francisco Isaac