Sweden are "massively excited" to be back in the women's Championship, says Swartz
After the Rugby Europe men's championship for 2023 got underway last weekend, the women's equivalent starts up this coming Saturday.
The three teams involved are last year's winners Spain, Netherlands and Sweden.
Given they are 11th in the world rankings, Spain will start as competition favourites, but 17th in the world Netherlands and Sweden (19th) get the chance to show what they are all about first up.
The two sides meet in Amsterdam at the weekend and Sweden captain Amanda Swartz said: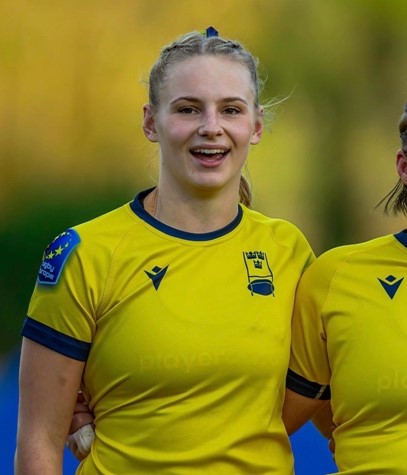 "The opportunity for us to be back in the Championship after a few years in the Trophy is something that we as a squad are massively excited about.
"We have had a great [coaching and backroom] team around us for the last couple of years helping us rebuild and develop together as a squad, to a point where competing at the top level is possible again.
"Building on from last year [when they did well in the Trophy], we have continued developing the way that we play and we know that making sure that our processes and skills are accurate will be key.
"Spain and Netherlands are two strong teams with great experience of top level rugby, so the competition will be a good test for us and the way we want to play. We trust our preparation and are excited for the challenge."
Former England player Tamara Taylor is the Sweden head coach now with Niklas Proos helping out.
Jonas Toresäter is team manager and Swartz, the 22-year-old back who plays for Loughborough Lightning in the Allianz Premier 15s and has been around the sevens and XVs set-ups for her country since she was a teenager, added:  We really do have an exciting balance between younger and more experienced players in the squad right now.
"We're looking at a younger backline, but some combinations in there have known each other and played together for a long time even though they aren't old in terms of age. Many players in the current squad also have experience from playing abroad and that will help.
"I personally come from a background of competitive figure skating, switching to rugby somewhat later in life. I started playing at 16 and loved it from the start.
"For me rugby doesn't compare to any other sport because, in terms of the bonds you create with other players both on and off the pitch, it feels like a second family. 
"Originally, I played for a club called Norrkoping Trojan Rugby Club, a club that I feel very strongly for now.
"I currently play for Loughborough Lightning in England and, in my career to date, I have mainly played in the back three, but have recently started moving towards outside centre.
"We are all looking forward to this tournament and are focused on Saturday's game."
The game will be on Rugbyeurope.TV  and FloRugby (North America)