Four matches take place in the Rugby Europe Super Cup this weekend as the competition really starts to hot up.
On Saturday in the Eastern Conference, Lokomotiv Penza from Russia host Black Lion from Georgia in the Pervomaysky Stadium (12.30pm local, 9.30am UTC time).
The home side have lost their first two games in the competition while Black Lion travel having got off to a winning start last weekend.

Ahead of their first away match, Black Lion head coach Levan Maisashvili said:  "Our main goal in this tournament is to win all the matches we have and to show better rugby in each match.
"At the same time, we will test the players under pressure and youngsters will gain experience at the top level. These matches also serve to select players for the November Tests for Georgia so every match is an opportunity."
As they look to make it third time lucky and get a win, Penza head coach Alexander Yanyushkin said:  "We all know that the Black Lion is practically the second team of Georgia, composed of experienced players who have played for both the national team and with French clubs, so we are expecting a very exciting match which will be interesting for both sides."
Meanwhile, on the same day in the Slava Stadium in Moscow, Enisei-STM will be aiming to make it three wins from three in the Eastern Conference (2.30pm local, 11.30am UTC time).
They look like being the team to beat in their section and it is Tel-Aviv Heat from Israel who are trying to stop them this time around.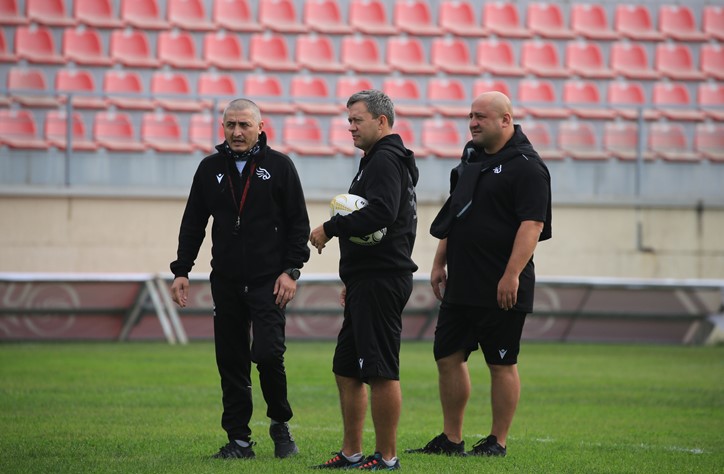 "With one game under our belts we have dusted off some much needed cobwebs," Heat head coach Kevin Musikanth said after last week's loss to Black Lion and looking ahead to this tough assignment.
"Some of our players were very much in need of a hit out and Black Lion were a professional and prepared outfit. While there were positives for sure, we left a lot of opportunities on the park and there is a lot to improve on and the fact that we are now playing the Russian champions who are unbeaten so far is both a challenge and an opportunity for us.
"I am very happy with the manner in which our team has pulled together since last Saturday. The camp is positive and hardworking and we want to improve our performance this coming weekend against a very good rugby team."
In the Western Conference, unbeaten leaders Lusitanos from Portugal are out to make it three wins from three away to Delta from the Netherlands on Saturday.
Coach Luís Pissara from the Lusitanos said: "The Delta team in the last two games have featured two different teams. We believe that in this game they will use the strongest team, similar to the national team, we are very excited to play with them"

The clash in Amersfoort kicks-off at 3.30pm local, 1.30pm UTC time and Delta have won one and lost one to date, so it should be a closely fought contest.
To round off the weekend, also in the Western Conference, the Castilla y León Iberians from Spain travel to the Nelson Mandela Stadium in Brussels to face Belgian side The Devils on Sunday.
Devils head coach Frederic Cocqu said ahead of the match that starts at 12.30pm local, 10.30am UTC time:  "It's a new block of games in this competition after three weeks of matches with their clubs for our players, so it's like a new start.
We have been working with the players to get them ready for a return to this level. We hope that we will be ready and will quickly get their bearings."
The Devils have won one and lost one to date while The Iberians have lost two from two.
The visiting head coach Miguel Velasco said:  "We expect an international standard match which will be very hard and which will see the two teams trying out different ways of playing.
"The Devils have a very strong pack who like to get their backs on the front foot while we have some very fast and creative players, especially in our midfield.
"Myself and the staff want the team to move the ball very fast and create danger with a lot of movement."
All four games will be live on rugbyeurope.tv 

BY Gary Heatly