Portugal have moved up to second place in the Rugby Europe Championship table after a convincing win over the Netherlands in Amsterdam on Saturday afternoon.
The Portuguese lost their first two matches in this year's tournament, but have since bounced back with a victory over Spain in March and then this 61-28 triumph against the competition's new boys.
They will go into their final match against Russia next week in a confident mood and in scrum-half Samuel Marques and wingers Rodrigo Marta and Raffaele Storti they have some brilliant attacking weapons.
The Netherlands have lost to Georgia and now Portugal since they moved up from the Trophy, but have shown in glimpses what they are capable of, scored four tries in this one and they will look to build on that in their final three games. Next up for them is Spain next weekend.
The game's first chance for points came in the third minute, but Portugal's Marques pushed it wide from quite a distance out.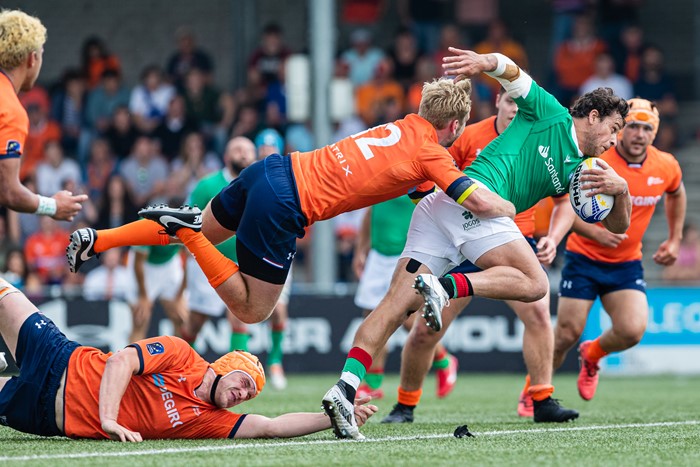 The visitors did take the lead in the eighth minute when hooker Mike Tadjer scored a try. Marques converted.
Four minutes later a brilliant team move set Storti off down the right and he showed great pace to go in for a score. Marques again converted and it was 14-0.
Blink and you would have missed their next try, almost straight from the restart Marques' break setting up Storti for a second try which was converted.
The Netherlands were a bit shell-shocked at that point, but cheered on by a vocal home crowd at the NRCA Stadium they scored a cracking try just before half-time.
Amir Rademaker, the scrum-half, dinked a lovely little kick through into the in goal area and winger Bart Wierenga showed determination to get there first and touch it down. Centre David Weersma converted.
The Portuguese were keen to get their lead back to 21 points at the break and they managed to do so when Marta scored a try with Marques converting to make it 28-7 after 40 minutes.
That try clearly gave Marta confidence because he bagged another converted effort in the 51st minute, running a great angle, before the Netherlands scored their second of the day.
This time it came from their full-back Te Campbell with Weersma adding the extras and, as this fascinating clash reached the hour mark, it was 35-14 to the visitors.
We had already seen seven tries by that point, but the best was yet to come and we were to see six more in the last 20 minutes.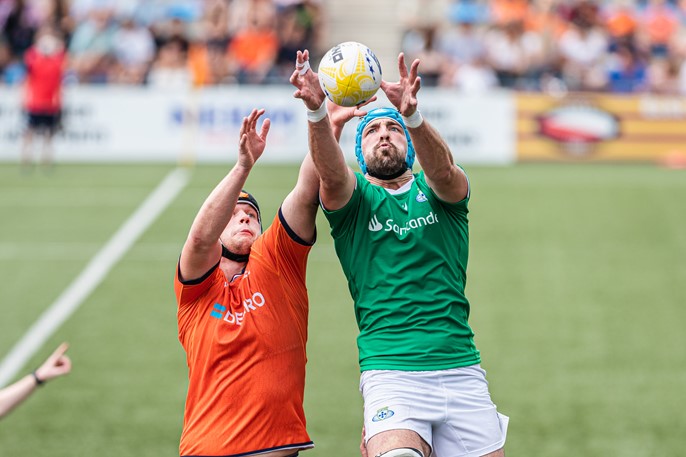 Storti completed his hat-trick for Portugal, converted by Marques, before home winger Jordy Hop went over for his own converted effort. That score from Hop came after an interception from 45 metres out.
Marta became the second Portuguese winger to bag a hat-trick when he scored in the 68th minute and Marques banged over his seventh conversion.
Given the fast-paced nature of this one, it was perhaps unsurprising that there were a few minutes with no points before the visitors went over the half century mark in the 77th minute.
Try number eight came from that man Storti again, a brilliant run seeing him go over with Marques adding the extra two points.
Very late on in the game Storti then went in for his fifth try after a delightful kick through and, for once, it was unconverted.
The Netherlands may have lost, but they had the last word when Campbell scored his second try and Weersma converted.
Scorers:
Netherlands: Tries: Wierenga (38), Campbell (55, 80), Hop (66). Cons: Weersma 4 (38, 55, 66, 80).
Portugal: Tries: Tadjer (8), Storti 5 (12, 13, 61, 77, 79), Marta 3 (40, 51, 68). Cons: Marques 8 (8, 12, 13, 40, 51, 61, 68, 77).
Referee: Aled Evans (Wales).
By Gary Heatly
Images by Denis van de Sande