Belgium's players go into this Saturday's Rugby Europe Championship play-off match with the Netherlands under no illusions about just how important the game in Waterloo is.
Win it and they will stay in the Championship for 2021 and join the competition which has already begun featuring Georgia, Russia, Romania, Portugal and Spain on the road to the 2023 Rugby World Cup.
Lose it and the Netherlands will take their place in that event and Belgium will drop down to the Rugby Europe Trophy. In 2020, Belgium was unable to play their final game due to travel conditions to ensure they were in the play-off spot.
"It's essential that we win this weekend," 24-year-old back-row Jean-Maurice Decubber said.
"The Rugby Europe Championship gives all the players a taste of high level matches. 
"It allows Belgium to compete against great European rugby nations, teams that are used to playing at Rugby World Cups - the five other nations in the Championship have already played in at least one World Cup each for example.
"Year after year, we learn from these teams, we see that the matches are getting closer, and we are getting closer to their level and that raises the whole of Belgian rugby up and shows everyone that the sport in the country is growing."
When the pandemic caused the first lockdowns in Europe last March, Decubber was in France where he was playing his club rugby for Cognac.
"I continued my individual training and my studies kept going, I am doing a master in management at Grenoble Ecole de Management, so I didn't have time to be bored," Decubber states.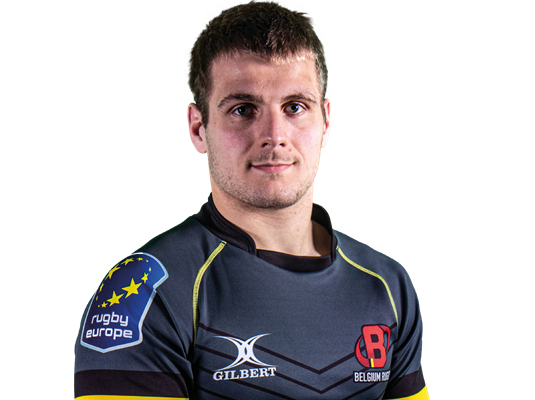 "Then, after a while, life was almost 'normal' because I was lucky enough to be one of the sportsmen and women who were able to continue training and play matches. The only downside is that we all miss the restaurants and bars, but they are coming back quickly.
"I have been with Cognac for a number of years and will soon be moving to Massy, they are a club with a mentality that I really like and I'm really looking forward to starting a new adventure there."
For now though the only thing on Decubber's mind is helping Belgium win this weekend and they had a good hit out with Cognac recently to help their preparations for the big game.
"It was a very interesting match for the national team because we were able to put things into practice and work on our new game plan and also see younger players integrate into our group," he explains.
"Moreover, the victory by a small margin allowed us to start building on the positives while personally it was a great moment - what could have been better than finishing my time at the Parc des Sports in Cognac with a UCS versus Belgium match?
"It's very exciting when you get back with your Belgian team mates, it's always a great moment, the group has bonded well. It's been building up for a few years now and I am convinced that we will achieve great things together, so I'm looking forward to playing this upcoming match against the Netherlands.
"The coaching staff have worked hard with us since our last competitive matches.
"The Netherlands are a team that moves around a lot, that wants to make the game dynamic and they play every move to the full.
"We will have to be very solid in defense and never let our team mates down and always be on the lookout for every one of their moves.
"Moreover, we will need to perform the fundamentals of rugby well which are also our strong points. We have to be committed from the start in order to take control of the match."
The match will be streamed live on rugbyeurope.tv with English commentary by Simon Ward and Rob Vickerman. 
By Gary Heatly 
Images; Belgium Rugby Union & Montain (photorugby.eu)