Ahead of the Rugby Europe Championship 2022 getting underway, we caught up with Anna Puig of Spain
Spanish rugby at all levels has been on the up - for male and females - in recent years, but there is no doubt it was a big blow for the women to miss out on Rugby World Cup qualification.
Back in September they battled it out with Italy, Scotland and Ireland in Parma to make it through to the showpiece event in New Zealand this October and November.
They beat Ireland first up, but loses to Scotland and Italy saw their hopes of making it disappear.
"Being left out of the World Cup was a tough moment," 22-year-old second-row Anna Puig said.
"However, we have reset now and the whole team is looking forward to this upcoming Rugby Europe Championship.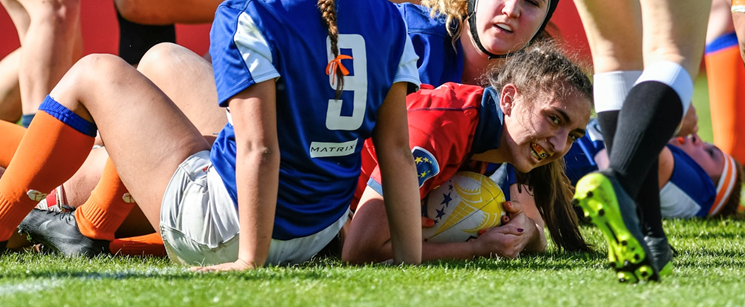 "As in every team, there are always people who retire and new people who join. Now we are training together again and starting a new cycle to work on the next objectives with the same enthusiasm as the lionesses who have left.
"These are very exciting times for Spanish rugby after the two World Sevens Series events were held in our country in January.
"Bringing this level of event to our country has been a key step to encourage more people into getting involved and playing this sport. The men's rugby team is also working hard and we hope this will be translated into good results."
As Puig, who plays for Unió Esportiva Santboiana located in Sant Boi de Llobregat, near Barcelona, states, the Rugby Europe Championship for 2022 is now the focus.
Spain want to retain the title under heads coach Jose Antonio Barrio and it all starts against the Netherlands at the National Rugby Centre in Amsterdam on Saturday (1.30pm local, 12.30pm UTC).
"As a head coach he presents us with many situations that can happen at any time and gives us tools to sort them out," Puig said about working with Barrio
"Both he and the other members of the staff are always ready to solve any doubt the players may have.
"We have been training together for a few days now and we want to put these hours of work to the test during this event - and, of course, winning the title again would be amazing!
"We played against the Netherlands last year, but things can change a lot from one year to another. It is important for us to focus on our game and play as best as we can, putting into account all those training hours."
Puig is still young, but she has become a key part of the current Spain squad, so how did she get into rugby?
"I started playing rugby from a very young age, when I was five, because my older brother introduced me to this sport," she explains.
"I used to go to all his games and training sessions, until one day I tried it for myself, and since then I have been playing the sport.
"For me, representing my country is the result of all the hard work done over the years and I like to be able to contribute to achieve common goals with my team mates."
The game against the Netherlands will be live on rugbyeurope.tv internationally and on FloSports in North America, with commentary from Johnnie Hammond and former England World Cup winner Rocky Clark. 
By Gary Heatly 
Images: Jose Martin and Walter Degirolmo