The Rugby Europe Championship for 2021 came to an end on Saturday when Spain travelled to the Netherlands and recorded a comprehensive victory at the National Rugby Centre.
The six team event started way back on March 3 when Russia defeated Romania and Georgia went to Portugal and won.
There have been thrills and spills along the way while all of the countries have to be thanked for their hard work to get fixtures played with the pandemic going on.
Points from this year's tournament will be added to the points from the 2022 version when it comes around to determine which of those involved will be off to Rugby World Cup 2023.
This year's winners - Georgia - were a cut above the rest, but for Spain the bonus point victory in Amsterdam was important for a number of reasons, not least that they leapfrogged Russia into fourth place in the final standings after two wins from five.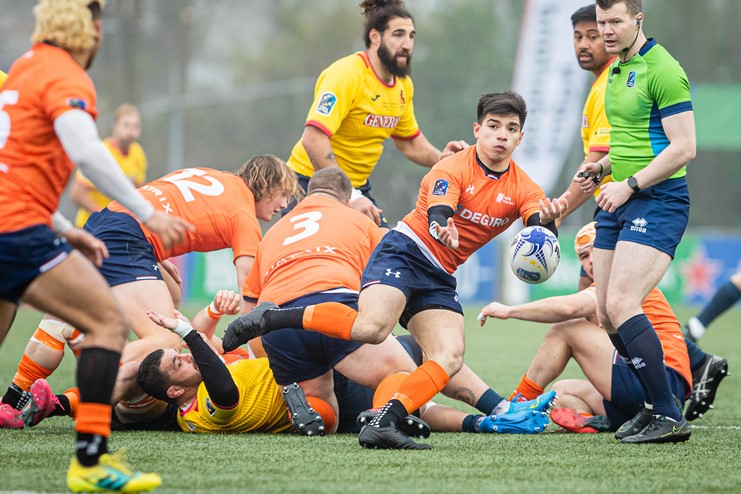 The Dutch, who were only promoted to this level this year, end up with five losses, but they have certainly learnt a lot from the last few months and have played some entertaining rugby at times.
And, indeed, it was they who took the lead in this game after just three minutes when winger Daan van der Avoird scored a try. It was a brilliant pass out wide from back-row Wolf van Dijk that set him up for the five pointer. Stand-off Marc Mistou converted.
That early score seemed to shock the Spanish into action and they levelled things up in the 16th minute.
The forwards did the hard yards and that allowed the ball to be shipped into space for centre Alvaro Gimeno who scored a try. Scrum-half
Guillaume Rouet converted.
Try number two only took three minutes to come along for the visitors, this time Rouet scoring and converting to make it 14-7 to them after the first quarter.
Their third try came just before the half hour mark and gave them a 21-7 half-time advantage.
A neat inside pass from loosehead prop Fernando Lopez, the captain, sent full-back John Bell through a gap and he did the rest.
Rouet converted and, with a 14 point advantage, Spain wanted to kick off after the break having worn the Dutch down somewhat.
And kick on they did, try number four coming from hooker Marco Pinto with Rouet converting for 28-7 in the 53rd minute.
Two minutes later Bell was the beneficiary of a good break by Rouet to bag his second try of the day. This one was unconverted.
In the final 15 minutes there were three more tries added by Spain as the Netherlands, who are coached by Zane Gardiner, ran out of steam.
Replacement Gavin van der Berg scored the first of the trip after 65 minutes before winger Gauthier Minguillon went over with nine minutes to go and then fellow wide man Jordi Jorba put the icing on the cake. Our of those three tries, two conversions were added, one by Rouet and one by replacement Facundo Munilla.
The final result was 52-7 in favour of Santiago Santos' men and while this tournament has not gone totally to plan for them, this positive display will give them hope building into 2022.
By Gary Heatly
Images: Dennis Van de Sande