Anna Puig led the way with a hat-trick of tries as Spain comfortably defeated a plucky Russian side in a Rugby Europe Championship 2020 match on Saturday afternoon.
During the 80 minutes at the Estadio Pedro Escartín in Guadalajara, second-row Puig was on fire and back-row Maria Calvo and centre Armina Erbina were a constant threat in attack as the home side came out on top 56-7.
Russia had beaten the Netherlands last year before the tournament was paused due to the pandemic, but knew they would face a much stiffer test here. Captain Maria Molokoedova's converted try did have them ahead 7-3 early on, but Spain then took control.
The five points gained from this one puts Spain top of the Rugby Europe Championship 2020 table, one point clear of Russia (four points from two matches with their campaign complete).
And the Spanish players now know that if they can gain two match points (A success in 4 points + Bonus point + Grand Slam)  or more against the Netherlands (one point from one match to date) next Saturday at the same ground then it will be double delight for them.
That is because two points or more versus the Netherlands would see Laura Delgado's side crowned Rugby Europe Championship 2020 and also through to the World Cup qualifiers.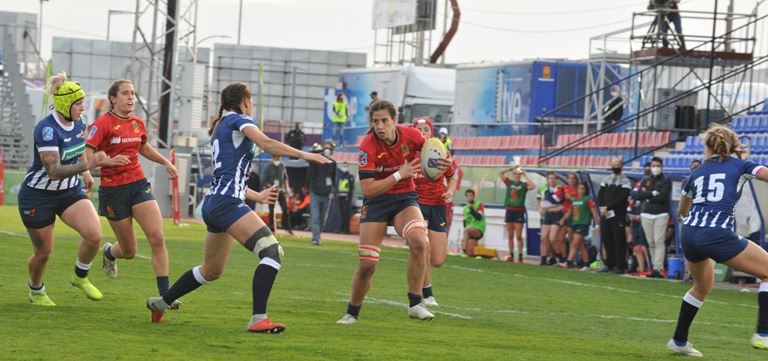 The World Cup is due to take place in New Zealand later this year with Spain looking set to go forward to a European qualifying event with Ireland, Italy and Scotland if they can play well against the Dutch.
In Saturday's game, the home side started with intent and they took the lead in the sixth minute when centre Amalia Argudo slotted a drop goal.
Russia showed what their attack was capable of given space when winger Alexandra Kazantseva and centre Yulia Rudenko broke from their own half.
The team then regrouped and worked through the phases well, No.8 Molokoedova going over for a try from short distance. Scrum-half Alena Dammer converted and it was 7-3 after 13 minutes.
That score stung the Spanish team and they were soon back up the other end of the field and forced the Russian defence to concede a couple of penalties.
In the 26th minute second-row Anna Puig was involved in the tight play, latching on to one of her team mates as they edged towards the line.
Puig then took the ball off them and stretched out to go over for the try herself. Argudo converted and it was 10-7 after a very entertaining opening part of the match.
That score gave Spain confidence and their second try of the day came in the 33rd minute.
The ball was shipped left nicely - Armina Erbina especially doing well do keep the ball alive out of contact - and winger Beth Dominguez finished expertly. Argudo could not convert, but the home side were now 15-7 to the good.
They kept the momentum up and scored try number three before the interval.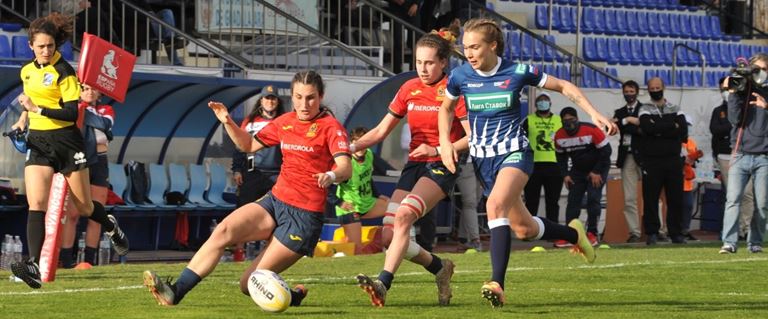 This one came from Armina Erbina after a powerful scrum and a nice pass from midfield mate Argudo put her over. Argudo could not convert, but at 20-7 up at the break they were in control.
The first thing Spain wanted to do in the second period was to bag their fourth try to claim a bonus point.
It came just five minutes after the restart, a controlled forward drive seeing Calvo spin off with the ball in her hands to dive over the try line and score. The conversion was missed, but Spain had this match all but won at 25-7.
Try number five came for Spain just before the hour mark, replacement Cristina Blanco going over from close range. Argudo converted to stretch the advantage to 25 points against a tiring Russian outfit who had used up most of their energy in the first half.
Puig's second try of the day came just minutes later when she benefited from a great run by Armina Erbina. The centre was hauled down just short, but Puig was on hand to score the unconverted effort to make it 37-7.
Try number seven for Spain came from replacement Maika Brust in the 69th minute and, after fellow sub Paula Requena had a score disallowed, Puig took advantage of a quick tap to go over under the posts to complete her hat-trick. Argudo converted both of those tries as Spain went past 50 points.
The icing on the cake for head coach José Antonio Barrio's side came in the last minute when Blanco got her second try out wide which was unconverted.
Barrio's opposite number Valerian Bagdasarov can be proud of the Russian side's effort, but Spain meant business in this one and never looked like losing from the 26th minute onwards.
Next week's game will be between Netherlands and Spain and can be watched live on rugbyeurope.tv
By Gary Heatly
Images: Raul Garcia/RGL Fotos
Final Score: Spain 56 -7 Russia 
Scorers:
Spain: Tries: Puig (26, 62, 72), Dominguez (33), A Erbina (38), Calvo (45, 79), Blanco (58), Brust (69). Cons: Argudo (26, 58, 69, 72). DG: Argudo (6).
Russia: Try: Molokoedova (13). Con: Dammer (13).
Spain: Maria Garcia; Lile Erbina, Armina Erbina, Amalia Argudo, Beth Dominguez; Anna Fernandez de Corres, Lucía Diaz; Saioa Jaurena,  Margarita Rodriguez, Laura Delgado (C), Anna Puig, Monica Castelo, Olivia Fresneda, Maria Calvo, Lourdes Alameda. Subs: Marta Estelles, Cristina Blanco, Maika Brust, Carmen Castellucci, Carmen Rodera, Inés Bueso-Inchausti, Eva Aguirre, Paula Requena.
Russia: Snezhanna Kulkova; Natalia Kostina, Yulia Rudenko, Maria Perestyak, Alexandra Kazantseva; Daria Lushina, Alena Dammer; Tamara Akhmedova, Maria Eroshkina, Valeria Gromova, Amina Sailaonova, Ksenia Pozdeeva, Diana Loginova, Evgeniya Steblinskaya, Maria Molokoedova (C). Subs: Maria Noskova, Ekaterina Bankerova, Ksenia Krasnoperova, Nadezhda Medvedeva, Elena Vladykina, Anastasia. Kopteva Ekaterina Shakirova, Natalia Shchukina.
Referee: Aurélie Groizeleau (France).