Spain were on top form on Saturday afternoon, running in 15 tries to clinch the Rugby Europe Championship 2020 title and, in the process, secure a place at the World Cup European qualifying event.
The hosts dominated the Netherlands at the Estadio Pedro Escartín in Guadalajara 87-0 to back up last week's 56-7 triumph over Russia at the same ground.
The two bonus point victories mean Spain finish top of the Rugby Europe Championship 2020 table with Russia finishing second and the Netherlands third.
Spain will now progress to the European World Cup qualifying event later this year against Ireland, Italy and Scotland as the sides battle it out to make it the big event in New Zealand which is due to begin in September.
José Antonio Barrio's side showing their class from the very first minute against a Netherlands outfit who had a number of new players in their ranks and who had not played a competitive game as a squad in a very long time.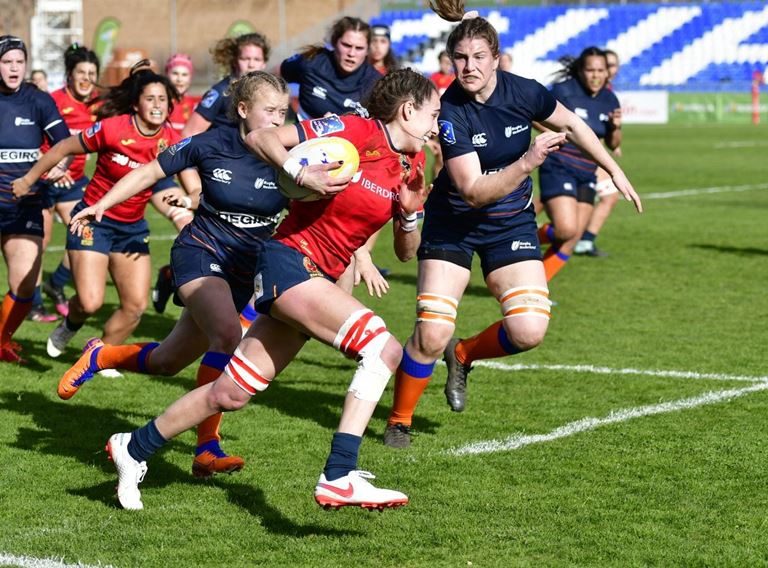 After the game the Spanish coach said, "It's has been tough to concentrate, due to covid restrictions, for four weeks. However, mentally we are prepared and look forward to the European Qualifiers in order to reach our final goal of getting to the World cup"
The first try for Spain came in the third minute when No.8 Maria Losada went over and then seven minutes later winger Beth Dominguez doubled the hosts advantage. They were both unconverted.
Try number three came in the 13th minute when centre Lide Erbina ran a superb line through the middle of the defence to score under the posts. Full-back Amalia Argudo converted.
Argudo herself claimed the bonus point fourth score in the 15thminute after back-row Olivia Fresneda made a good break and then gave a good offload.
Dominguez' second try was next in the 22nd minute before Erbina also grabbed her second. Argudo converted both to make it 36-0.
Tries seven and eight came through winger Alba Vinuesa and tighthead prop Laura Delgado before the interval. Both were unconverted, but Spain were 46-0 up at the break and the Netherlands skipper Linde van der Velden suffered a shoulder injury in the closing stages of the half.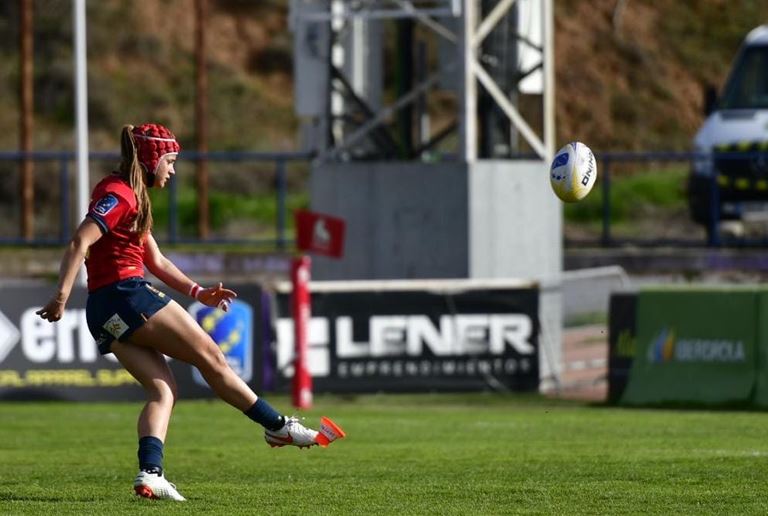 Despite being down, before half-time the Netherlands had worked the ball through a number of phases and, to the credit of Sylke Haverkorn's charges, they did so again just at the start of the second period.
Van der Velden had tried to soldier on, but she had to go off in the 46th minute and the hosts were still 46-0 up at that point.
A lovely cross field kick in the 48th minute set-up replacement Elisabet Segarra for Spain's ninth try as they made it over the 50 point mark. It was unconverted.
Three minutes later a lovely run gave Vinuesa her second try of the day which Argudo converted to make it 58-0.
Vinuesa secured her hat-trick score minutes later after great interplay between stand-off Anna Fernandez de Corres, Argudo and others. It was unconverted.
Loosehead prop Saioa Jaurena was next on the scoresheet, her five point effort converted by Argudo to make it 70-0.
Replacement Maria Garcia scored try 13 with a solo unconverted effort and it was 75-0 with a quarter of proceedings left.
Garcia then showed good tenacity and strength to break away for her second try with 15 minutes left, Argudo converting.
The icing on the cake came when Vinuesa ran in her fourth try of the day with two minutes left. Argudo's conversion attempt fell short, but Spain had won with ease.
Scorers:
Spain: Tries: Losada (3), Dominguez (10, 22), Erbina (13, 25), Argudo (15), Vinuesa (30, 51, 53, 78), Delgado (36), Segarra (48)Jaurena (58), Garcia (60, 65). Cons: Argudo (13, 22, 25, 51, 58, 65).
Spain: Amalia Argudo; Alba Vinuesa, Lide Erbina, Amaia Arana, Beth Dominguez; Anna Fernandez de Corres, Lucía Diaz; Saioa Jaurena, Cristina Blanco, Laura Delgado, Anna Puig, Carmen Castellucci, Olivia Fresneda, Paula Medin (C), Maria Losada. Subs: Monica Castelo, Marta Estelles, Sidorella Bracic, Lourdes Alameda, Maria Calvo, Maria Garcia, Uribarri Barrutieta, Elisabet Segarra.
Netherlands: Noa Donkersloot; Mireille Niewenhuis, Hiske Blom, Quen Makkinga, Lieve Stallmann; Jordan Heil, Marit Lemmens; Irene Jansen, Anna Jonas, Nicky Dix, Judith Fringking, Inger Jongerius, Robin Zuiderhoek, Liza de Wild, Linde van der Velden (C). Subs: Jara Bunnik, Julia Morauw, Merel van Kampen, Michaja van Capel, Tamara Stock, Dido Denier van der Gon, Kim Dekker, Flore Voogd.
Referee: Clara Munarini (Italy).
By Gary Heatly
Images by Walter Degirolmo/FERugby