Italy and Spain will renew their rivalry in Piacenza on 22 July, when the European nations contest a one-off play-off to determine which level of WXV they will compete in this October.
The match, which will be played at Stadio Walter Beltrametti, pits Rugby Europe Women's Championship 2023 winners Spain against Italy, who finished fourth in this year's TikTok Women's Six Nations.
Whoever wins in northern Italy will take their place in WXV 2, when World Rugby's new annual global competition kicks off in October. The loser, meanwhile, will compete in WXV 3.
Italy and Spain have met 15 times in tests, their first meeting coming at the inaugural women's Rugby World Cup, in Wales in 1991.
Las Leonas won that encounter at the Memorial Ground 13-7 and they lead the head-to-head between the nations, having beaten the Azzurre 10 times and lost the other five.
However, Italy have been victorious in their last two meetings with Spain. The most recent of those came on the final day of the Rugby World Cup 2021 Europe Qualifier in Parma two years ago.
The Azzurre ran in five tries to win 34-10 at Stadio Sergio Lanfranchi and book their tickets to New Zealand. Italy reached the quarter-finals of RWC 2021, advancing from the pool stage for the first time, but were beaten by France.
"The Spain test is key for immediately setting the tone of our season," Italy coach Giovanni Raineri said.
"We can't wait to take the field later in October playing in a new exciting, high-level competition, WXV, which will allow us to continue developing our team.
"We will need to earn the right to compete at the highest possible level facing Spain on the field. It will be a great evening of rugby and, after a thrilling domestic final, no doubt the girls will be ready to face Spain."
Spain coach Juan González said: "The players are very excited and focused since we found out the date and venue to play against Italy.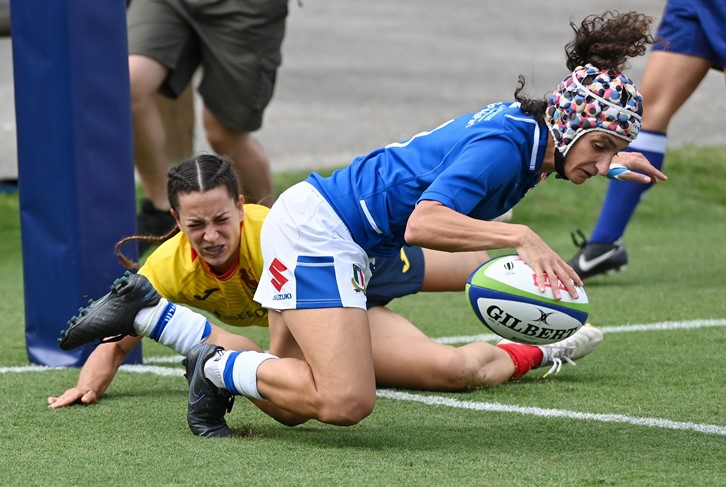 "We know it's going to be a tough play-off because Italy has competed at a high level throughout the year. We are happy with the matches we have played this year and we are clearly on the rise.
"Now we hope to continue with the positive dynamics we left behind in April – our last game – and connecting with those feelings will be the challenge. We are focused, we are prepared and we are going to try to put Italy in difficulties and take this play-off to be in WXV 2."
Four teams – Japan, Samoa, Scotland and South Africa – have so far booked their place in the second level of WXV via regional qualification tournaments. WXV 2 kicks off in Cape Town on the weekend of 14 October.
Fiji, Ireland, Kazakhstan and Kenya have ensured qualification for the inaugural season of WXV 3 and will be joined by the South American champions as well as the loser of the Italy-Spain play-off.
WXV 3 will also get underway on the weekend of 14 October, at a venue that will be announced once all participating nations are known.
By World Rugby