Portugal and Georgia put on a show in Toulouse, one that won't be forgotten in years to come, as both sides produced a match for the ages.
32,000 fans made themselves heard at the Stadium du Toulouse, and both "Lobos" and "Lelos" replied with a spine-tingling match that would produce the same outcome as their encounter in the Rugby Europe Championship back in 2022, a draw.

It was certainly, as the old cliché goes, a game of two halves with Georgia dominating the first 40, which started with a try from Akaki Tabutsadze try in the first five minutes. The Georgians would use their familiar set-piece power to good effect. From the backs, Davit Niniashvili would run the show, producing a few incredible runs that would push them over the Portugues 22.

The "Lobos" were able to claw their way back when Raffaele Storti went over just on the stroke of halftime, making sure Portugal remained in contention, with the score 13-5 as the players headed down the tunnel.


The second of the game would see Portugal mount their comeback, and with the help of another superb Raffaele Storti try, they eventually wrestled themselves into the lead. Samuel Marques added extra points from the boot, and the game was set to go down to the wire.

After some resolute defending from the Portuguese, Georgia finally got the equalizing try by hooker Tengizi Zamtaradze, just reaching the try-line, with Matkva unable to add the extras from the touchline.

However, this game wasn't over yet as the Lobos earned one last kick at goal with the clock in the red. With Marques off the field, the kicking duties were given to Nuno Sousa Guedes, but his effort would just drift wide of the uprights as the points as the game finished 18-18.

Reflecting on the game Merab Sharikadze, Georgia's captain, reflected on how Georgia lost good opportunities to score more points, "If you don't capitalize on your chances, the opposition will. It's a big lesson. When you have a chance, you need to get the maximum from it."

Double try scorer Raffaele Storti spoke about the difference in the first and second half: "First half we didn't manage to play our game, we made a lot of mistakes. We made a few bad decisions in kicking, we gave a lot of easy balls to their 15.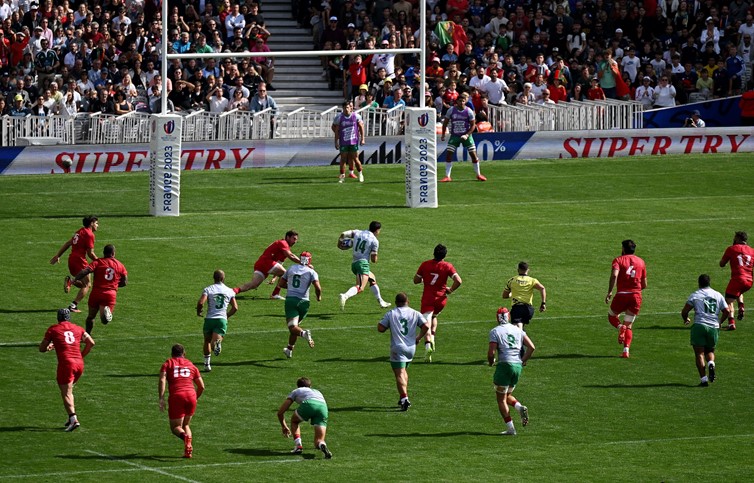 "At half-time we spoke about it, and we tried to change those factors and that was the main thing [we changed]. Patrice [Lagisquet] told us to stop kicking easy balls to their back three and after the lineouts there were just a few individual errors. We had a good second half."

Head coach Patrice Lagisquet admitted that a Quarterfinal qualifying might be difficult at this point, but hopes that Portugal is inspiring new generations to play rugby.

"I think they will be aware of this, which I hope will give the will for young boys and girls to play rugby in Portugal. In our history, it's only a small step forward. The capacity of the team to react and to showcase good rugby is a great reward."

Levan Maisashvili , Georgian head coach that has led the "Lelos" to four Rugby Europe Championship victories, was happy with how his side played in the first 40 minutes, "In the first half, we had a lot of opportunities to score more tries. We dominated everywhere but we didn't execute. In the second half, we lost everything. Portugal played very well. We almost lost this game.".

Flanker Giorgi Tsutskiridze also voiced why the match-up between Georgia and Portugal is regarded as an instant Rugby Europe classic, "Every time we play against them, we know they'll never give up and we gave them many opportunities."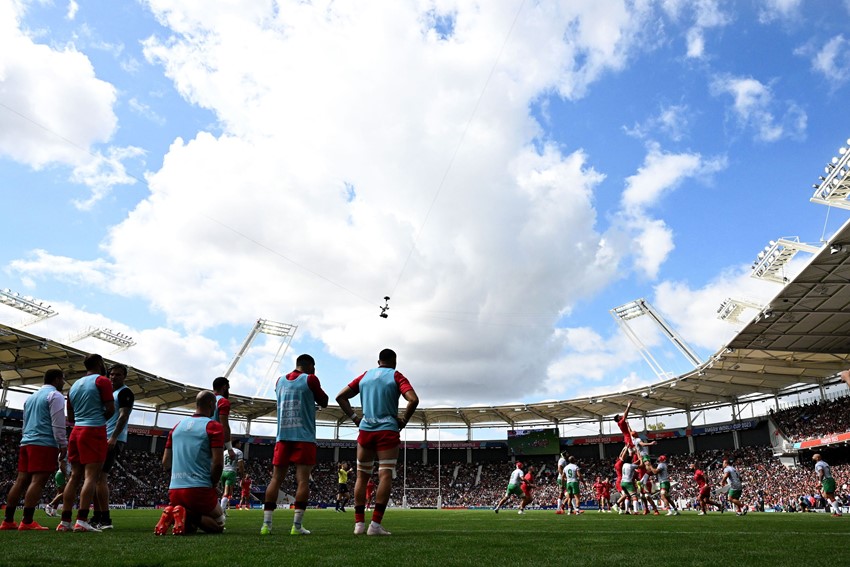 Portugal and Georgia will now head to another heavy round of games, as the "Lobos" are playing Australia on Sunday in Saint-Étienne, while the "Lelos" are facing Fiji in Bordeaux next Saturday.
As for Romania, the "Oaks" are finalizing preparations for their encounter with Scotland, which will happen on the 30th in Lille.

Romania is still looking to add their first points in their Pool B, and Marius Simonescu feels that they can still keep on track with their goals, "We have set a goal of winning a game in this World Cup. Scotland will be tough, but we have to fight for what we came to do."

Head coach Eugen Apjok offered his opinion on how Romania can become more competitive in the years to come, "We need to play at a higher level. You can see the difference, the intensity, the speed, the physicality of it. Tier-two nations need more games against tier-one nations. It is crucial to be able to prepare for such games."

The "Oaks", who won the Rugby Europe Championship in 2017, will play their 14th match against Scotland, a team that they have beaten twice in the past, and the last time was in 1984 played in Bucharest.

Wales booked their place in the Quarter Finals with an emphatic win against Australia, recording 40 points to send the Wallabies home, there were also wins for Ireland, England and Scotland, France and Italy.
By Francisco Isaac
Photos: World Rugby