Russia women and Spain men were the standout teams in Moscow over three great days of sevens at the weekend.
The Russian women's team have had an amazing few days, that is for sure.
On the pitch they clinched the Rugby Europe Sevens Championship Series for 2021 on Friday and Saturday and then on Monday they found out who they will be playing in their pool at the upcoming Olympics in Tokyo.
In Japan they will take on New Zealand, Great Britain and Kenya in Pool A and whilst they will face some tough matchups there, they head into the showpiece event in a confident mood.
On day one in their home capital city on Friday they beat Germany and Portugal and then put the icing on the cake by defeating Wales 52-0.
Day two was no different and they saw off Belgium 36-0, Poland 33-5 and Scotland 22-5 to earn the 20 points from the event and 40 points overall after a good showing in Lisbon, Portugal, a few weeks earlier in round one.
In Moscow, Poland finished in second and Scotland third while in the overall standings the Polish were second with 32 points and Spain were third, also on 32 points.
Like the Russian women, the Spanish men had won in Lisbon in round one and were keen to secure the Rugby Europe Sevens Championship Series title.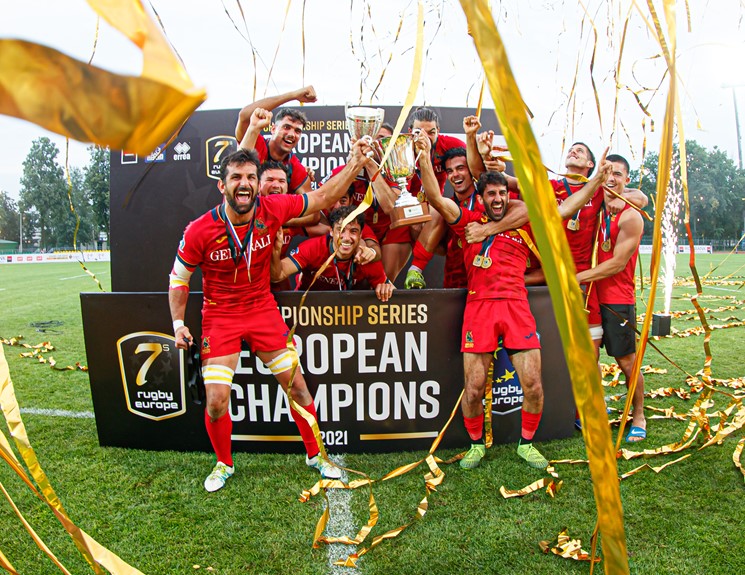 On day one, which was Saturday for the men, they got off to a brilliant start by defeating Poland 33-0 and Georgia 38-0 before stumbling 21-19 against old rivals Portugal in their final Pool A clash.
That defeat clearly irked them because on Sunday, day two for the men, they saw off Italy 36-7 with ease in the last eight, Germany 19-0 in the semi-final and then surprise package Lithuania 47-5 in the final.
Lithuania ran out of steam in that game, but they can be proud of their overall performance and their best showing came when they battled hard to edge out Russia 21-19 in the semi-finals.
Germany finished in third place in this event and in the overall standings they were second behind Spain.
Spain finished up with 40 points, the Germans with 34 and Russia were third with 30 points.
Having picked up eight points in Lisbon, Lithuania's 18 points from Moscow saw them finish in fourth place overall on 26 points.
by Gary Heatly 
Images Vasily Ponomarev