Following from the success of the Rugby Europe Women's Leadership forum back in 2020), our Training and Education Department has been working hard to ensure the ongoing support for Unions to get the project is in full swing.
The Leaders in Rugby program has been launched as a pilot program and will take place in Oslo, Norway from 26-27 August 2023.
The project will be targeted at those invested in developing the infrastructure around the women's game at a domestic level.  The aims to provide these leaders, or current or future, retention of female players and challenging mindsets within the existing environment.
On the announcement Secretary General Norwegian Rugby Federation, Anne Cathrine Røste, said, "To continually grow the game across Europe we understand the need to learn from the best, and we are very honoured that Rugby Europe has chosen Norway/ Oslo to host a Superweek in Oslo.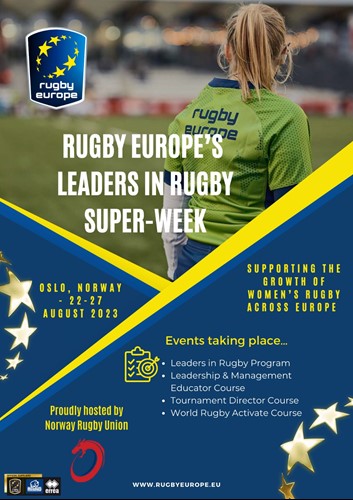 With the next Women's RWC being held in Europe in 2025, following a hugely successful event in New Zealand, the opportunity to cast a spotlight on women's rugby in Europe at a time when the women's game will be pushing even further forward. 
Many Unions across Europe see this as a fantastic opportunity to begin recruitment drives for the women's game.  Regional Training Manager, Charlie Brown, sees the value of running this program as a lead in to 2025.
Brown said, "The importance of developing people with decision-making abilities is as important is vital. Ultimately, if we don't ensure that the environment supports that growth, then all our efforts to recruit new players into the game will be fruitless."
The program in Oslo already has an additional program attached to it to recruit a core group of leads who will assist in promoting and delivering the program in other unions across Europe.
"We hope that this project will gather some interest from other Unions across Europe and that we can repeat it in other countries over the next few years" Brown added.