All eyes now turn towards the Rugby Europe Super Cup Final in Lisbon next weekend. Looking back at the semi finals, we were treated to 160 minutes of tense and frenetic games.
After the final whistle was blown, the Portuguese Lusitanos and the Georgian Black Lion will be your 2021/2022 finalists, and it is the time to tell the tale of how they reached the Championship spot. 
A BUCKET OF LUSITANOS TO PUT OUT THE HEAT
Patrice Lagisquet's men didn't lose their focus even when they went trailing behind at half-time, knowing full well that Tel-Aviv Heat would start to break if they kept playing their quick ball strategy, looking for Rodrigo Marta (who produced an incredible display from the centre), Tomás Appleton or Manuel Cardoso Pinto's speed and wits to led the charge, while their pack would thwart the Israelis at the lineout or breakdown, with Miguel Macedo, Nuno Mascarenhas or David Wallis being real nuisances at it.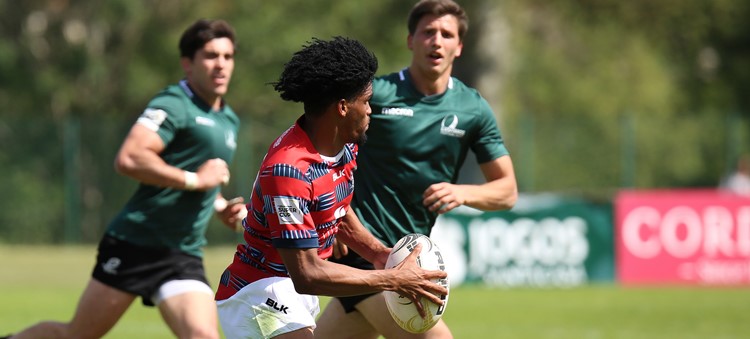 The Heat side was able to turn up the physicality mainly in the first half, thanks to units like former Springbok Jacques Potgieter, who blasted his way through to score two tries on his Rugby Europe Super Cup debut, applying heavy pressure on a young opposition who took their time to settle in.
After a back-and-forth score contest, the home team started to dominate the ball possession and territory when there were only twenty minutes left on the clock, out pacing the Heat, who felt problems on how to stop the illusive Rodrigo Marta or Manuel Cardoso Pinto, or to outmaneuver the Portuguese defense and tackling strategy - Tomás Appleton applied a try-saving embrace worth another watch.
The Lusitanos haven't lost a single match this season and are looking to finish with a perfect undefeated run, standing in their way now is the imperious Georgian Black Lion team before the much-desired silverware. 
AN UNEXPECTED IBERIANS ROAR ALMOST SILENCED THE BLACK LION
What a match, what fantastic display, and what a nerve-wracking bout that shrouded in uncertainty on how would take the last spot for the Super Cup final. Many thought the Black Lion were the favorites going into this tie against the Iberians, as they had previously showcased a stronger team cohesion, as well due as having more Test Match internationals on the semifinal team sheet (17 to 6), which could make a decisive difference when the pressure heightened.
The Iberians decided that they could go for it and that there was nothing to lose, despite missing the influential Alvar Gimeno or Nicolás Jurado.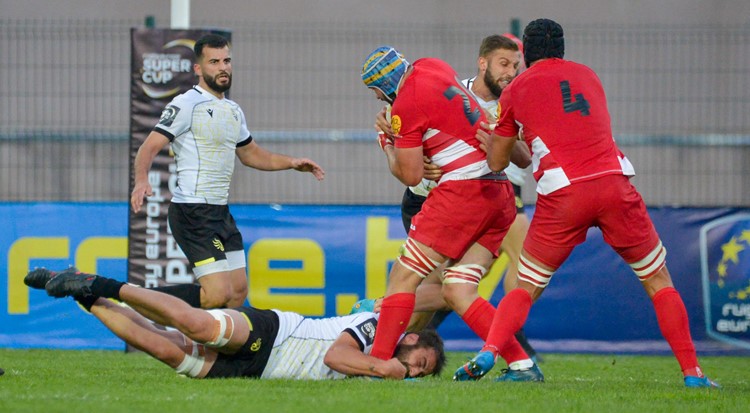 We were treated to a ludicrous and unpredictable game, that mounted 83 points, 11 tries, and more twists and turns than an Agatha Christie novel, pulling out all the stops to make this semifinal a match worth rewatching for years to come. It was inspirational how Ilatia Gavidi or Sam Katz steered the Iberians' ship, taking points with regularity, catching the Georgian side by surprise in some huge momentum shifts.
While the Spanish were a rowdy bunch, the Black Lion squad was able to reclaim lead every time their maul came to life, dealing damage (three tries and two yellow cards) to the Iberians, but not enough to fully stop them, as the visitors reacted with finesse and class.
For the faint of heart, the last ten minutes were a living nightmare, as both teams were separated by 5 points, a thin margin, and no one was backing off even if their bodies were already bruised and battered. And when, within this timeframe, the Iberians were going from phase to phase to reach for an equalizing try, a wild turnover appeared and the gallant veteran fullback Lasha Khmaladze quickly transformed it into what would be a match-winning try scored by Lasha Lomidze. What a performance from both contenders, and what a way to promote the first ever Rugby Europe Super Cup.
SOME STATS
Highest point scorer: Sam Katz (Iberians) – 14 points (4 conversions, 2 penalties and an 89% kicking efficiency)
Highest try scorer: Rodrigo Marta (Lusitanos) and Shalva Mamukashvili (Black Lion) – 2 tries
Linebreaker: Rodrigo Marta (Lusitanos) and Lasha Khmaladze (Black Lion) – 3 each
Turnover king: Ilatia Gavidi (Iberians) – 3 turnovers