THE CLASH: ENISEI VS LIONS, A DUEL OF CANDIDATES
We start the Rugby Europe Super Cup weekend with what look on paper to be a tight match up, this time between Enisei and Black Lion.
The Russian team remain on the top of the pool thanks to a losing bonus point last time out, having just one more point than the Georgian Black Lion, who have still played one less game, but are quickly devouring ground and running towards first place in the Eastern Conference.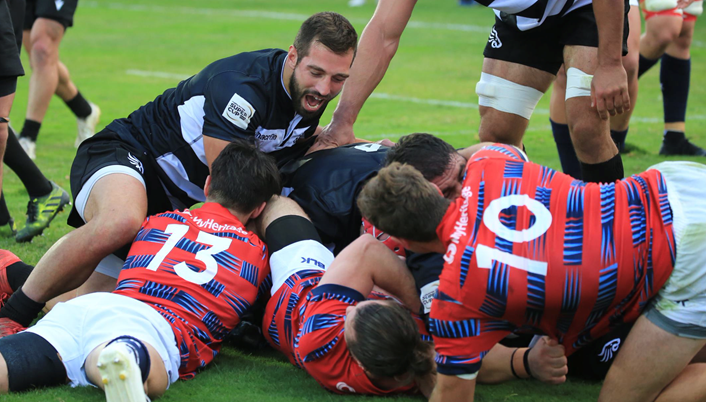 What style of play will endure and outshine the other? Will it be the physical set-piece of Enisei, who seek to deliver some moments of brilliance by Ramil Gaisin's hands and blistering breaks by Friedle Olivier (one of the biggest omissions against Tel-Aviv Heat), Carel du Preez or Denis Simplikevich?
Or it's going to be the swift and powerful counter-attacking of the Black Lions, who have the ability of scoring points at every chance they can get, bullying their foes from the maul, whilst their backline, lead up by the impressive Giorgi Babunashvili and the prime finisher Akaki Tabutsadze, is ready to throw the decisive jabs?
Player(s) to watch for: Giorgi Babunashvili (Black Lions) | Carel du Preez (Enisei)
THE CRASH: TWO BIG PACKS, BUT ONLY ROOM FOR ONE WINNER
Who doesn't love a pack-on-pack contest? Well, for the maul-scrum lovers we do have a complete dish ready to be served this weekend when the Delta squad welcomes the Castilla y León Iberians to a square-off of big proportions, that can fly the winner closer to the later stages.

The Spanish armada notched a big win in Brussels, with some of their forwards making decisive plays that drove them towards the try-line, like prop Nicolas Jurado, (read our last review to find out why the bulldozing first-row got our attention), inside flanker George Stokes taking down a volatile and spirited Brussels Devils side.
As for Delta, they showed some positive signs of being able to grind the top-dog in the Western pool, pressuring the Lusitanos for 15 minutes, all made possible by enforcing power in the scrummage (forced four penalties to the Portuguese pack) and maul, escalating the emotional tension in that first-half, that didn't follow after half-time. It will be up to Lodi Buijs, Niels Roelfsema, Dirk Wierenga, and their fellow Delta members, to make clear attacking opportunities become points, to transform a slight dominance in the 8-man battle in tries, sending their fans to a frenzy, delivering what it would be Super Cup's major upset at this point. But will the Iberians drop their momentum, luxury combos, and game-changers - try to follow fullback John-Wessells, the embodiment of the word threat - and let Delta take a good shot at would be something to remember?
Without spoiling or hinting at a possible end result, the best is to be ready to see two packs collide while the backs will decide who gets to sit in second place after this 4th round. 
Player(s) to watch for: Olivia Sialau (Delta) | Sam Katz (Iberians)
THE SEQUENCE: THE DEVILS BETWEEN LUSITANOS AND A FOURTH TRIUMPH
How can Brussels Devils stop or, at least, slow down the Lusitanos hunger for linebreaks, piercing side-steps, unrelenting support, and passion to slide into the try-line? The same guideline Delta followed for a short time span, but they ultimately were unable to hold on to, as both their conditioning dropped and the Lusitanos stepped their game and started punching holes in most of the open play runs or counter attacks.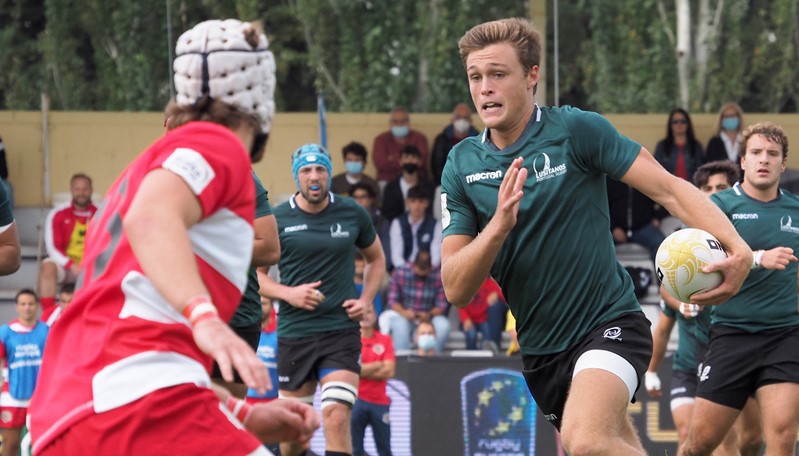 The Brussels Devils need that their best units to breathe in and maintain focus, to hog the oval ball without comprising possession in the breakdown, keep a ferocious pressure at every ruck, maul, and scrum, and be patient for the right opportunities to arise. But even if all this is followed to its last detail, it can still mean a Lusitanos win as the Portuguese have a knack to produce their best when challenged, either by the swift magical details of Jorge Abecassis (Man of the Match in his debut as a starting player) or Nuno Sousa Guedes or via the unrelentless work of David Costa or Rafael Simões, all capable of guiding their team to the desired goal.
So, can Hugues Bastin, Samuel Opsomer, Marten Huau, Michael Abrahams, and others, to go the distance and pull something special or will the Lusitanos break the Devil's defense wall and advance towards a home semi-final. 
Player(s) to watch for: Samuel Opsomer (Brussels Devils) | David Wallis Carvalho (Lusitanos)
THE DECISION: CAN TEL-AVIV REACH NEW HEIGHTS?
The Israeli Tel-Aviv Heat are here to take a shot at the crown, after landing a monumental win at Enisei's grounds, in one of the best or most exciting duels so far. But can they secure a second triumph in Russia? Lokomotiv Penza has still to get off the mark, but they know it will be tough especially against an opposition who has some of the possible Super Cup MVPs in their ranks.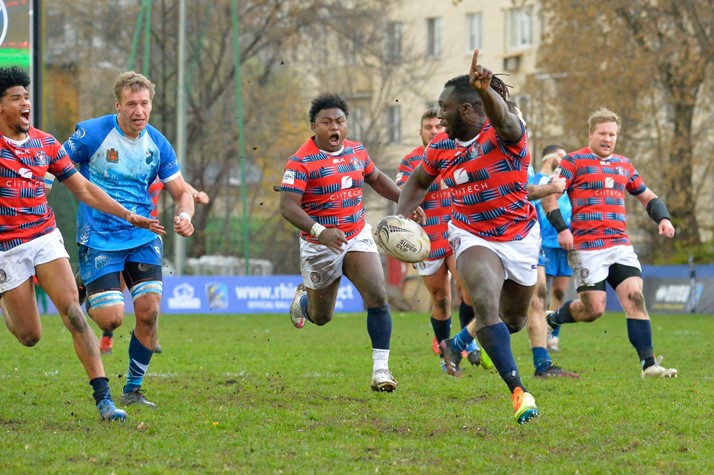 There's no doubt that Tel-Aviv has the upper hand, as they've built a very menacing looking squad, with Namibian internationals Renaldo Bothma and Prince Gaoseb, youth South-African stalwart Jordan Chait (every high or cross-kick is like a ballistic missile), and former Premiership players Josh Strauss and Gabriel Ibitoye (one try and one utterly unbelievable assist.
Nonetheless, Lokomotiv Penza mustn't be touted as being out of the race, as they possess several "spears" to go to war: from the mighty number-eight and centurion Viktor Gresev (missed the 2nd round due to injury), inside centre Vladislav Sozonov or experienced flyhalf Sergey Yanushkin, as well Los Lelos hooker Giorgi Chkoidze. A reliable scrum, a tough-as-nails maul (their only try against Black Lion came through one), and a stable mental focus, are qualities that we have seen in Penza this year.
Rugby is all about the team balance and strong units' connections, but the winner in the next Saturday can or will be decided by who has the individuals that can go to a higher standard and drive their time to the try-line and victory celebration. Who has the best of both worlds?
Player(s) to watch for: Vladislav Sozonov (Lokomotiv Penza) | Jordan Chait (Tel-Aviv Heat)
By Francisco Issac