As the Rugby Europe Championship 2022 prepares to get underway, we pick out some of the key players to grace the turf. This year's tournament has some added spice with spots to gain access to Rugby World Cup 2023 in France.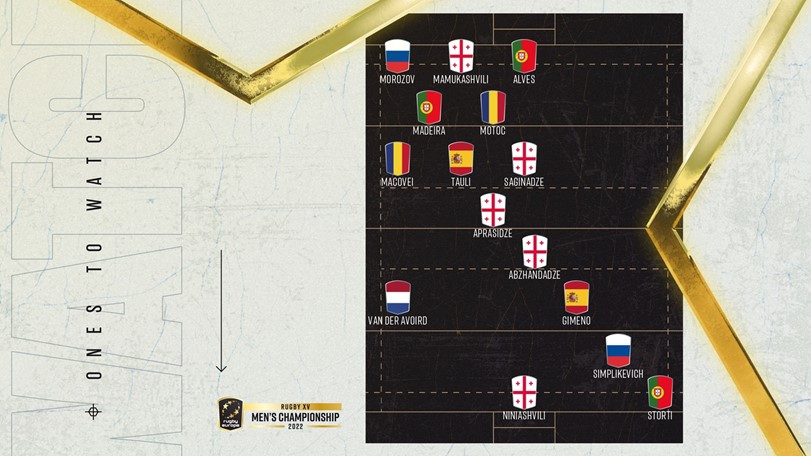 Valery MOROZOV (Russia)
Valery Morozov, the Russian behemoth poised to bend and break any who challenge him in the scrum, will be one of Dick Muir's finest players for the upcoming Rugby Europe Championship and many should be wary of the challenge that will be set by the loosehead prop. An unyielding, relentless, and tireless forward, Morozov has built a respectful reputation as one of the best in his position at REC and European level, earning him a place in the English Premiership. Yes, his workload in the scrum is sensational, but you should closely follow his impact outside that 8 on 8 battle, more specifically the way he continuously tries to win or make holes in the gain line, keeping up an ever-lasting "fire" that keeps throwing itself against tacklers, and this will surely help the "Bears" in the long-run. 
Keep your eyes also on: Ramil Gaisin (fly-half), Vasily Artemyev (wing) and Kirill Gotovtsev (Gloucester)
Mihai MACOVEI (Romania)
Captain, leader, role model, legend, hero, or gentleman... any of these adjectives apply perfectly to Mihai Macovei, one of Romania's most treasured players who will lead his country once again in the Rugby Europe Championship and have their eyes set on one goal: qualification. Macovei is the classical type of flanker loved by rugby fans worldwide, always ready to launch himself in the breakdown to steal the ball or keep applying those low tackles that runners just hate as they fall awkwardly, setting the highest bar possible for his teammates. For Romania, is key to have a top-form Mihai Macovei as he does possess the skills - be it mental, technical, or condition wise - to give an edge to his side, applying his experience and knowledge to an inhuman degree that makes him one of the most ferocious forwards in the Rugby Europe Championship. 
Keep your eyes also on: Daniel Plai (fly-half), Gabriel Rupanu (scrum-half), Adrian Motoc (lock) and Jason Tomane (centre)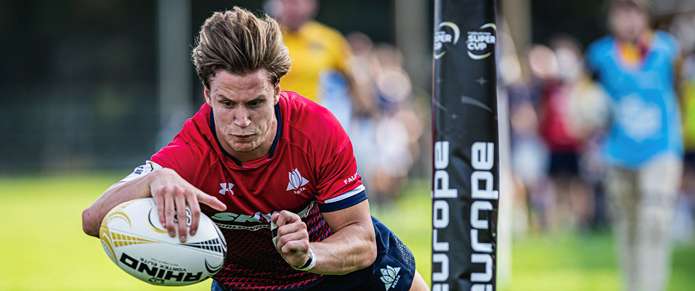 Daan VAN DER AVOIRD (Netherlands)
Winger Daan Van der Avoird has set-up his gears to launch an impeding assault to the try-line, be it by finishing a well-round team move or by intercepting a miss-pass, being one of the top Rugby Europe "snatchers" of the previous season - two interceptions for Delta in the Rugby Europe Super Cup, and two more for the Netherlands. Combining brilliant agility with a keen eye that seeks opportunities, Van der Avoird is a real threat from any part of the pitch, avoiding staying "locked" in just one place, which brings uncertainty for whoever sits on the other side of the field, injecting a special stimulus to the Dutch national team. So, place your eyes on him from start to finish if you want to watch an entertaining show of acceleration, steps, and speed. 
Keep your eyes also on: Dirk Danen (number-eight), Daily Limmen (centre), Te Campbell (fullback) and Mark Darlington (hooker)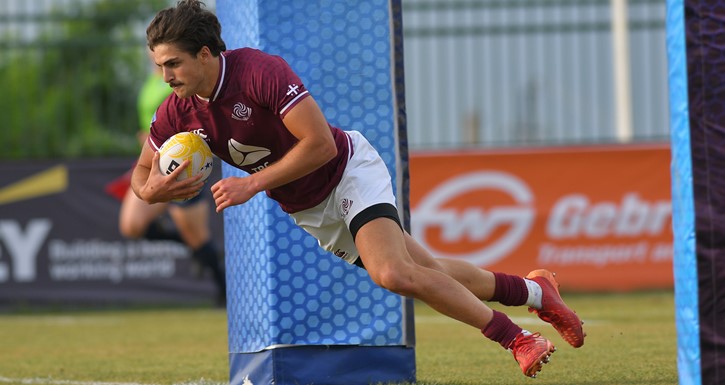 Davit NINIASHVILI (Georgia)
Let's first start with one of the most promising stars of the sport, that scored a hattrick in the last Rugby Europe Championship edition, and who is steadily earning his space in the Top14: Georgian back-three, Davit Niniashvili. 19 years old, 1,85 meters, and an incredibly dangerous menace when given a centimeter of space, the winger can combine fiery pace, magical stepping, and a profound commitment to follow each play until the end. A standout in youth competitions, Niniashvili made sure his game became refined at every new challenge, which prompt his quick rise into Los Lelos senior squad, and has already amassed a total of 9 caps (3 tries) in just two years. To the Georgian opposition, who already had enough problems as it is, be wary of the new bombshell on the back, who lives to plunder and bring the fine rugby riches to his team, be it tries, linebreaks, opening gaps, or leaving tacklers in the ground. 
Keep your eyes also on: Vasil Lobzhanidze (scrum-half), Beka Gorgadze (number-eight), Beka Gigashvili (tigh-head prop) and Merab Sharikadze (centre)
José MADEIRA (Portugal)
Raised in one of the finest clubs in Portugal, José Madeira became one of Patrice Lagisquet's "Os Lobos" most trusted players for a wide variety of reasons, starting with his ludicrous work rate and defiant defensive stance, never letting his teammates down even if all seems lost. This physical and mental prowess propelled José Madeira to the main international stage when he was only 18, and has collected 18 caps so far, and is on route to becoming one of the main stars in the Portuguese setup. To understand better how a player impact and influence a can given match, either by his aggressive involvement around the ruck or sheer brilliant speed on supporting the ball carrier, this type of invisible work is what keeps teams from falling apart and that breathes life inside a strategy.
Keep your eyes also on: Nuno Sousa Guedes (fullback), João Granate (flanker), Samuel Marques (scrum-half) or Anthony Alves (prop)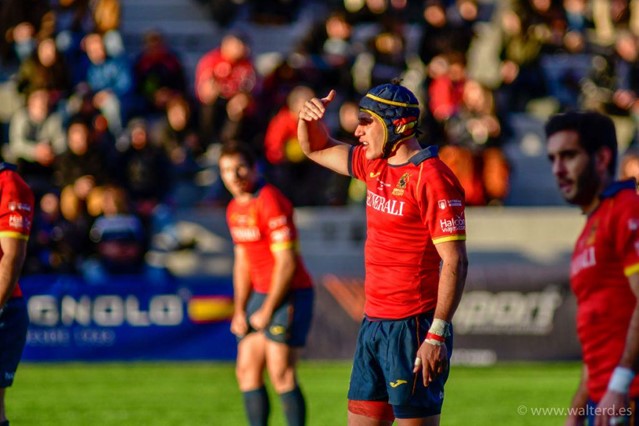 Alvar GIMENO (Spain)
What started as a troublesome season for Spain ended with their hopes on getting into the next Rugby World Cup, as Los Leones finished on a high with two big-time wins, pulled by a strong side steered by units like Lucas Guillaume, John Bell, Fernando Lopez or Alvar Gimeno, who is our pick for the player to watch in this 2022 Rugby Europe Championship. A thrilling centre who can concentrate more than one tackler on to himself, Gimeno is always the type of player appreciated by coaches and selectors alike due to his capability of remaining calm in moments of high pressure, reading the opposition, and looking for solutions to enhance his team's chances of success, be it to move closer to the try line, to stop the other side from scoring or to win. With Alvar Gimeno on the starting XV, Spain gets a powerful boost that as nitro in the Fast and Furious franchise can really open a gap between day or night, heaven or hell, victory or defeat, and it will be crucial for the Spanish side to have its inside-centre at the full form for this years campaign. 
Keep your eyes also on: Marco Pinto (hooker), Fabien Perrin (centre), John W. Bell (fullback) and Lionel Tauli (number eight)
By Francisco Isaac