And after five captivating rounds, the Rugby Europe Championship comes to an end, with Georgia succeeding in their title defense! 
Romania finished the Rugby World Cup qualifying campaign in third-place race, which grants them a ticket to the repechage tournament to be held later this year.
Now is the final Team of the Week, picked by writer Francisco Isaac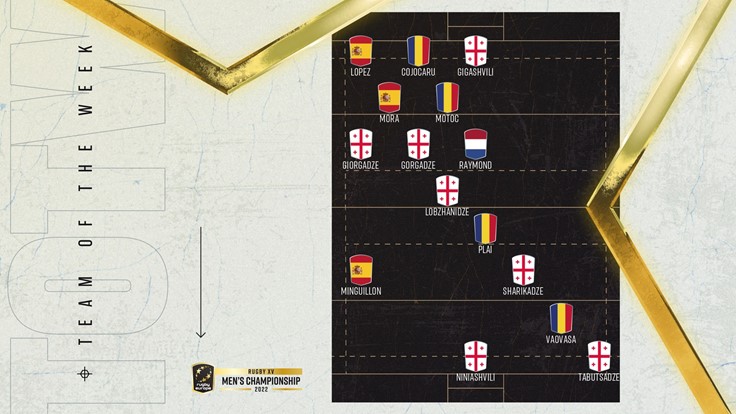 First-Row 
Georgia were made to work hard during the first half against Spain, as Fernando López (8 tackles, one forced penalty, and one turnover) and his front-five dug deep to offer a close contest, that ultimately end with the home team overpowering after the break. One of Los Lelos best forwards was Beka Gigashvili who stole two balls at the breakdown while being a ferocious carrier throughout the match. As for our starting hooker, Ovidiu Cojocaru earned the right to be named not only due to a try, as well because of his impact around the contact area.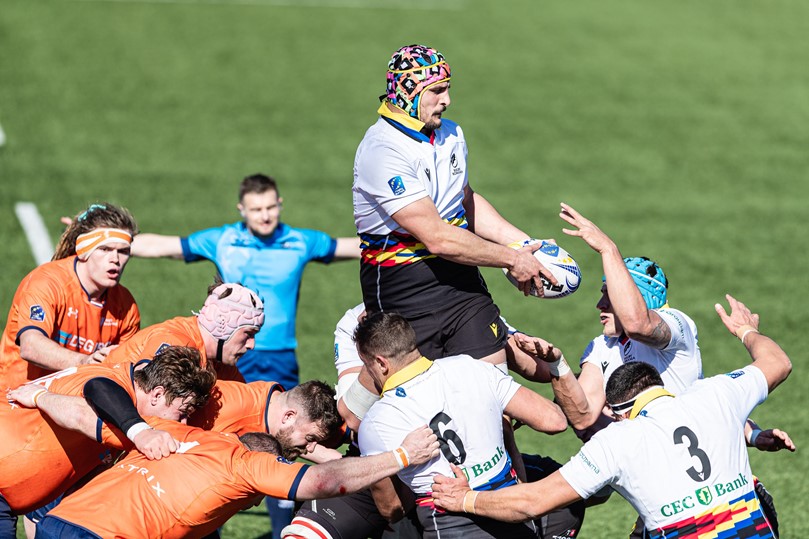 Second-Row
Even if it wasn't an impressive display as last week, Manuel Mora gets our attention again, due to his relentless work rate and defensive abilities. At his side, we selected the Romanian "Lighthouse" Adrian Motoc, who stole two Dutch lineouts, while also making way for two turnovers and one line break. 
Back-Row
Otar Giorgadze a real enforcer for the Georgian men, sapping Spanish stamina every time he went to the line, tackling effectively for 10 times and pulling a brace of tries. At the other side of the scrum, Cristopher Raymond came from the bench at the 18th minute and was pure power and class for Netherlands, showcasing a wonderful tackling technique that rendered some problems to Romania and combined well with his backline to pull some slick moves, with one of them ending as a try. For our n.°8, Beka Gorgadze came back roaring to the Georgian starting lineup, bashing his way through the line on several occasions.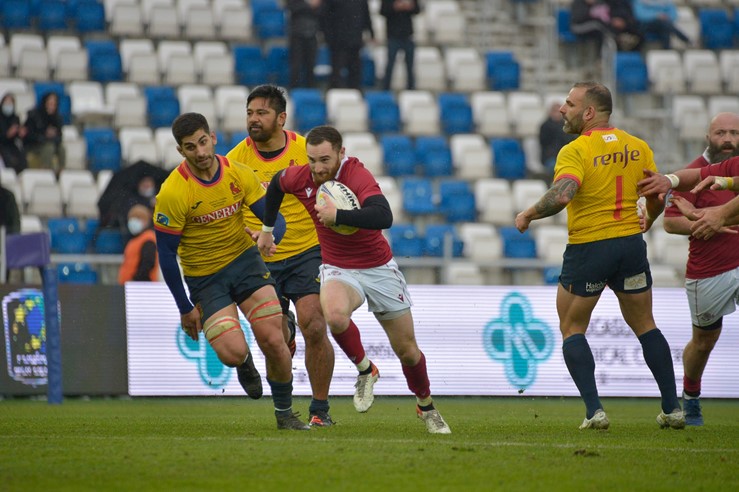 Scrum and Fly-Half
A real stand-out was Vasil Lobzhanidze. A scrum-half that can do it all, be it scoring drop goals, eluding his tacklers and opening gaps everywhere, and keeping his team focused until the last whistle. Daniel Plai lands the first five-eight job, thanks to his handling and running skills, breaking the line for five teams (a round max) in their win over Netherlands. 
Centers
Behind a great team, there's always an equally great captain, and Merab Sharikadze showed why he is that man for Georgia: one try, eight carries, nine successful tackles (in one of them he stopped Jordi Jorba from escaping to what could've been a dangerous situation), and one try assist. Hinckley Vaovasa turned up the heat again for Romania, dancing through the Dutch defense and putting on a real exhibition, creating a very interesting attacking combo with Daniel Play. 
Back-Three
It wasn't a great week for the number 11's during this 5th round, as none of them picked any tries, forcing us to look to other stats to make our picks, and we came to a decision: Guillaume Minguillon, the Spanish winger who was able to land some big hits and capture two high kicks in Tbilisi. But our attention was with the pair, Akaki Tabutsadze, and Davit Niniashvili, who can easily make any opposition crumble, thanks to their lethal paceand prowess to find the best way to escape from a tight defense. 
A special mention is required for Jordy Hop, as the winger had a very impressive afternoon for Netherlands. 
Power Bench
Mark Darlington (Netherlands - Hooker), Costel Burtila (Romania - Prop), Spike Salman (Netherlands - Flanker), Gabriel Rupanu (Romania - scrum-half), Alvar Gimeno (Spain - centre) Jordy Hop (Netherlands - winger)