Portugal earned an impressive tie in Tbilisi against Georgia, while Romania defeated Russia in a tight contest, and Spain just produced a superb display over the Netherlands to move to the top of 2022 pool, writer Francisco Isaac picks his top XV. 
In this first round, there were at least 20 players who shined brightest, thus deserving a spot in our XV of the round, which forced some difficult decisions. Let's explain why we picked some of this Rugby Europe Championship round 1 performers: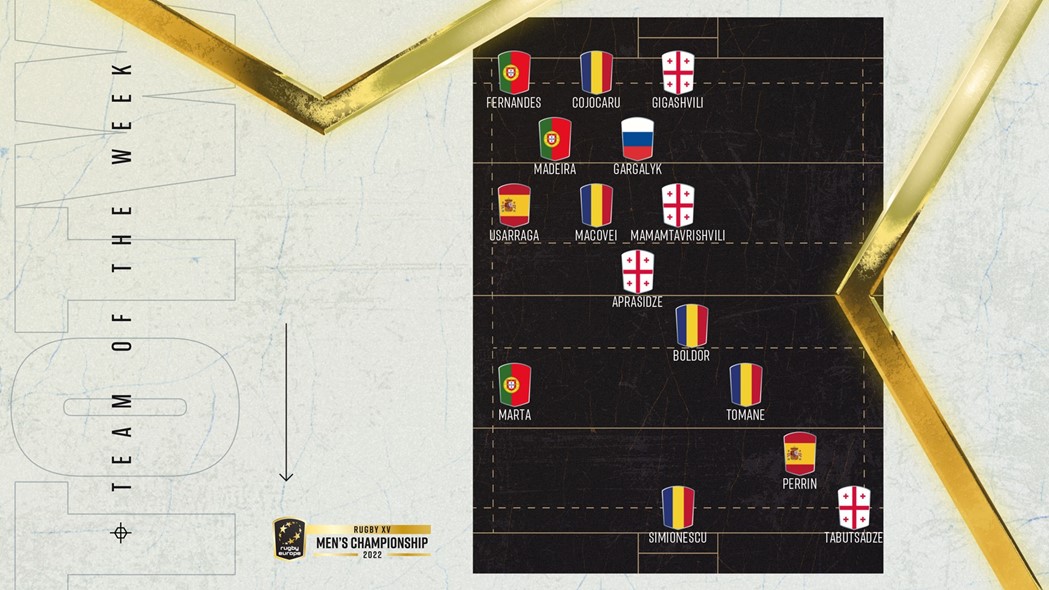 First Row

Francisco Fernandes had to push with all his might to fight off the superb scrummager Beka Gigashvili, with both landing a spot in our first row. Fernandes was involved in Portugal's second try (made the last pass before Portela's crosskick) while the Georgian's finished with 8 tackles and 3 strong carries. Ovidiu Cojocaru scored two tries, guiding the Romanian maul with power, whilst also being instrumental in the scrum (3 penalties won against Russia). 
Second Row 

A pair of hardworking locks, José Madeira and Maksim Gargalyk put in excellent performances, with the Portuguese man managing to turn the ball over three times, with the last one earning the draw with the last twist of the match between Georgia and Portugal. 
Third Row
As we said, Mihai Macovei is here to show that age is just a number - just for a few humans though - as the Romanian number-eight was a sight to behold, asserting dominance in the contact, bagging one try and inducing 2 turnovers. The Spanish Asier Usarraga was class against the Dutch, breaking the line twice while scoring one of the best tries in the afternoon, and completing 11 successful tackles. As for Sandro Mamamtavrishvili, his effort to maul over the Portuguese opposition was felt at every collision, making a statement with 3 dominant tackles. 
Scrum and Fly Half
Gela Aprasidze is given his place due to the skill set showcased by the Georgian scrum-half in this first round, moving his units with mastery. Tudor Boldor made quite an impact from the first second, bringing some stylish moves at every opportunity he got, securing 9 points from the boot and a try-assist. 
Centres
Jason Tomane is a dangerous operator who doesn't know when to stop, breaking tackles in almost every run (6 against Russia). Fabien Perrin was like a Rolex watch, always on time, trustworthy and classy, building some of Spain's best plays (Hinckley Vaovasa deserves high praise for his display against Russia and almost for the spot) 
Back-Three
Rodrigo Marta, Akaki Tabutsadze, and Marius Simionescu would be an S-Rank back-three for most teams in the world due to their eye-catching properties that can open gaps in impenetrable defense. Together the two wings and fullback ran 220 meters, scored two tries, and broke lines six times, deserving their spots in this week's side. 
Power Bench

Otar Giorgadze (Georgia), Samuel Marques (Portugal), Ramil Gaisin (Russia), and Te Campbell (Netherlands)