Romania men's head coach Andy Robinson is very much looking forward to welcoming world number eight side Scotland to the revamped Stadionul Arcul de Triumf in Bucharest in July.
Robinson's side are 18th in the world rankings and he believes Test matches of this calibre can only help his players improve as they aim to qualify for Rugby World Cup 2023.
The Scots are set to be without captain Stuart Hogg and seven other players selected for the British & Irish Lions tour to South Africa as well as coaches Gregor Townsend and Steve Tandy, but interim head coach Mike Blair will still be taking a strong squad to the Romanian capital.
"We are all very excited about this match," Robinson, 57, said.
"I obviously spent time coaching Edinburgh Rugby, Scotland 'A' and Scotland while my forwards coach with Romania is Steve Scott who is Scottish, so for us it will be nice to catch up with old friends, but mostly I am excited for the players.
"They work so hard in training and in matches when we are together and they crave the chance to play against top level sides.
"As a player you can learn so much from taking on teams that play at a high standard all of the time and I think this tough test will give us something to build on ahead of the Rugby Europe Championship 2022 when the battle for spots at Rugby World Cup 2023 will really hot up.
"The match against Scotland will also be great to be able to show Mike, who I coached and who I know is a good man, the excellent stadium we have in Bucharest and also give rugby fans in Romania a big boost after what has been a tough time for everyone during the pandemic."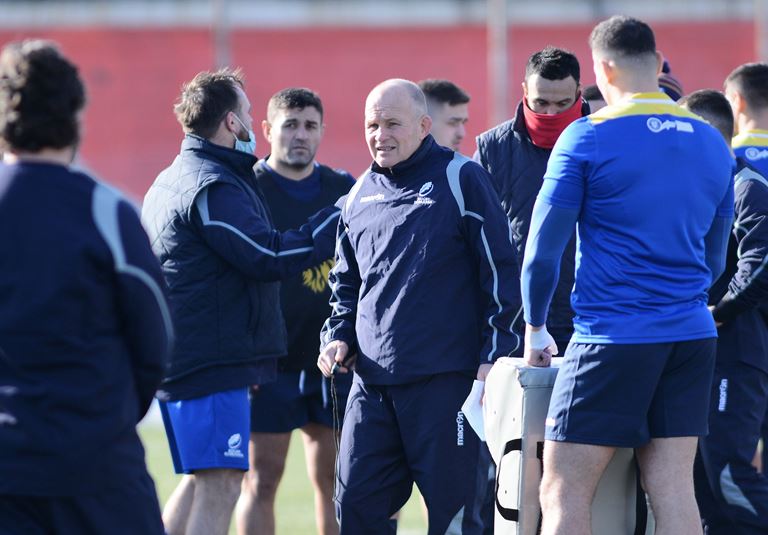 Along with team manager Daniel Carpo, the aforementioned Scott, backs coach Sosene Anesi, strength & conditioning coach Florin Tașcă, analyst Paul Larter and others, Robinson is building the Romanian national team up nicely.
They are currently second in the Rugby Europe Championship 2021 table and showed glimpse of what they are all about in their four matches in the tournament to date.
"If you look at the four matches from March in detail, then it is not inconceivable that we could have won all four," Robinson, who won eight England caps as a back-row between 1988 and 1995, states.
"Against Russia first up we had a number of chances to win the game before our discipline let us down while in the second game in Portugal we really had to show cool heads and good fitness levels to battle back and win by a point late on.
"As a coach I have been on the other side of a result like that and it is very tough to take, but from our point of view the guys showed in the last 20 minutes in Lisbon just how much playing for their country means to them.
"We then built on that win over Portugal with one at home against Spain and it set us up nicely for a third away trip out of four to Tbilisi.
"Georgia are by far the best team in the competition with recent experience of playing in the Autumn Nations Cup, but we put them under pressure for large chunks of the game.
"In the end the power off their bench and their quick backline proved the difference, but I told the guys after the loss that if they play like that - and iron out a few things - then they can cause lots of teams troublesome moments.
"For us as a coaching group and as a playing group with Romania it is about continuing to build so that we can put in 80 minute performances consistently and the players can problem solve a bit quicker out there on the pitch.
"In general, I am happy with where we are and I must take my hat off to the players because being in 'bubbles' and playing three away games out of four in March was a tough ask, but they really gave it everything they had and were a credit to their country."
Like many who were watching the opening rounds of the Rugby Europe Championship 2021 a couple of months back, Robinson was impressed by the overall standard given that most of the teams had not played for quite a while before it began.
"There is a lot of talent around in nations like Romania, Georgia, Portugal, Spain and Russia, every team has their own identity, but every team will have a go while I must also say well done to the people behind the scenes at Rugby Europe for getting the competition going safely during the pandemic," he concludes.
By Gary Heatly
Images: Luis Cabelo, FFR