The second day of action in Kaliningrad for the U18 Championship proved to be another day of good rugby, with some of tomorrow's stars showing what they can do at this level. 
THE RETURN: RUSSIA COME BACK TO LIFE
After a loss at the hands of Belgium, Russia was obliged to do better and show their very best qualities to fend off another upset, facing the Czechians in the 2nd round. After 70 minutes, the home team went berserk, scoring five tries, not giving any space for any new disappointment and now racing towards the 5th/6th place, a small consolation for such a good generation of young players.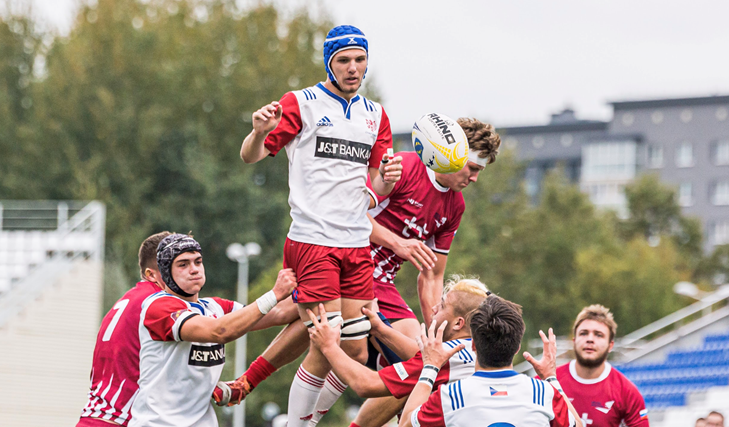 Against Belgium, Russia was unable to finish their best plays, getting blocked inside the try area during three separate moments (two of each in the last 5 minutes) thanks to a superb Belgian defensive stance, undermining their physical prowess. But in the second round, the Russian's didn't fall into making the same mistakes second time around, opting to look broader and explore their trampling wings, which made everything easier and better looking. What players brought their A-game?
Kirill Gavrichkov: the flyhalf was key on finding more depth, with well thought of passes and 2 try-assists;
Danil Orlik: was much more than a blindside flanker, as he got himself involved in some of the best plays of his team. One try, 10 tackles and always winning the gain line;
Artem Varygin: brute strength, trustworthy hooking, and a loyal to every support
Russia will now face the Netherlands in an intriguing encounter, between two styles that seek to find their place amongst the 5 top nations in the 2021 U18 Rugby Europe Championship. 
Man of the Moment: Kirill Gavrichkov (Russia) - as we said before, was pivotal for most of the best open-plays of the Medvedi and commanded his team.
THE UNPRECEDENTED: PORTUGAL IS IN THE FINAL
A couple of weeks ago we wrote (for the Super Cup, that you can read here) that there's nothing more certain in life than death, taxes, and a grueling, but beautiful, contest between Portugal and Spain, won the former, achieving something never done before for the "Os Lobos": Booking a place in the Championship match, as never in the history of Portuguese Rugby a U18 squad was able to reach the most desired moment of this youth stage.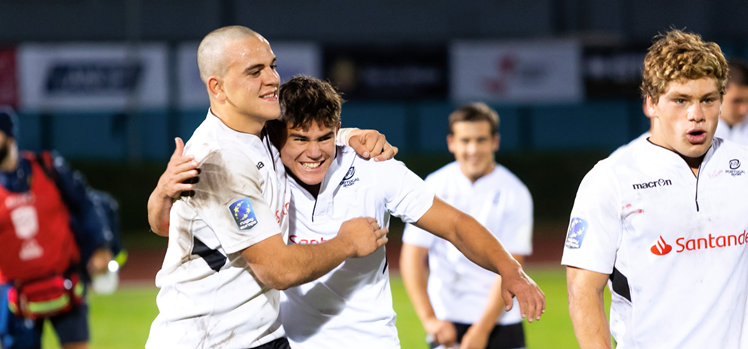 The final score of 31-12, tell us almost everything of what happened in the field, with the Portuguese dominating the first forty minutes, which derived from a good contest at the breakdown (9 penalties were won here) and with a dynamic counter-attack, as all three Portuguese tries came from applying pressure and quickly creating chances to get over the try-line. Manuel Vareiro (one of the clear new bright stars of this year's tournament), Henrique Cortes, Mateus Ferreira, and Vasco Silva were some of the bolts that made the Portuguese tactics run smoothly, asphyxiating the Spanish backs physical approach and taking the forwards outside of their comfort zone, rendering it difficult to make a comeback. 
Let's look into how the Portuguese scored all their tries: Vareiro's first 5 points came through a brilliant interception at the 22-meter line, after good pressure performed by the 10-12-13; second and third were exactly the same, as Portugal defensive units ran directly to the Spanish kicker, blocking and recovering the ball to score an easy try. By developing a dominant defensive system and a counterattacking effective strategy, Portugal paved the way to a historical moment, establishing their place as one of the best European nations at forging new generations. 
Man of the Moment: Henrique Cortes (Portugal) - we could go as well for Manuel Vareiro (two tries), but the bone-crushing tackling spectacle stole the show, while he was able to steal two turnovers, one of which helped Portugal score 3 points;
THE SHOW: WELCOME TO THE DUTCH RAZZLE-DAZZLE
Netherlands and Romania opened the second round of Rugby Europe U18 Championship, fighting both for a spot in the 5th/6th place final and, in the end, were the orange-and-blues to earn a chance to achieve their highest ranking ever, after a strong performance sprinkled with a series of impressive attacking plays, that caught their Romanian counterparts by surprise. Two details made a difference that made this big win possible for the Dutch: offloading and reliable support; strong breakdown approach.
The Netherlands players smartly poached the breakdown, quickly putting their hands over the ball to disrupt Romania's attacking platform, winning penalties and pushing them back, while building their confidence to go for the points, be it by tries or penalties, was one of the Dutch standouts, as they worked well on how and when to attack the turnover, quickly making a decision and capturing the ball or win a penalty.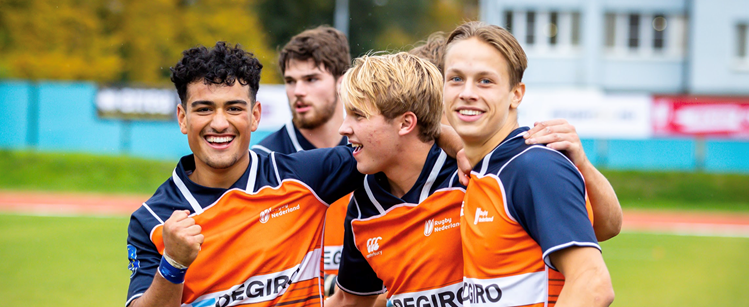 This tactic was flawless in pushing the Netherlands towards a dominant 35 minutes and breaking Romania, who were plagued by their indiscipline, losing not only momentum but also focus, making themselves defensively vulnerable, as they were unable to compete against the Dutch speed and quick handling skills. There were two attacking segments that deserve praise and a loop viewing, due to how well and enthusiastically the winning team juggled the ball: the first at the 9th minute and, the final few moments of the first half. 
The Netherlands U18's had already shown promising moments in 2021, but the 32-0 win against Romanian is a clear sign of their growth as a rugby nation, looking to build their own playing style. 
Man of the match: Tom Hijdra (The Netherlands) - one try, two assists, four offloads and a couple of big decisions that helped the Dutch to assault Romanian's defensive territory
THE PACK: A BLISTERING GEORGIAN ARMADA
Another U18 tournament, another Championship match for Georgia, who now look to secure a treble after a fully dominating semi final display, which didn't allow Belgium to dream too much to cause an upset. At this level, Georgia are an almost perfect rugby machine, piledriving their rivals in every way, being it in the mauls, scrums, lineouts, direct runs or eccentric one's, tackles, bullying defense, counterattack options, and kicking gameplan, which makes life hard for their opposing foes.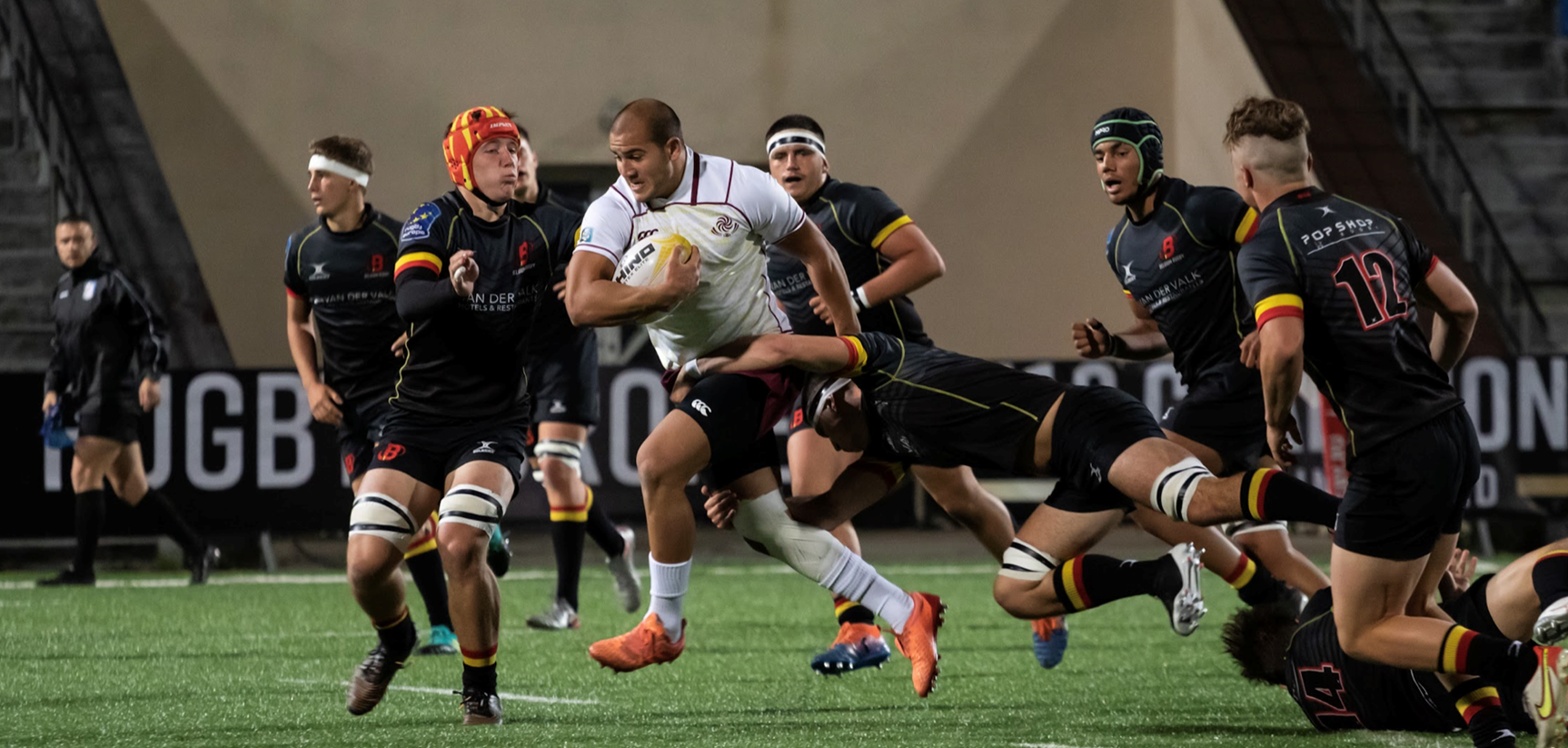 Belgium tried to push for the same blitz strategy that brought such a good outcome against Russia, but the Georgian player's excellence and experience nullified that idea, overpowering the opposition from the very beginning, by units such as Nikolozi Sutidze (tipped to make his way to stardom), Rati Zazadze (we warned how special this flanker is), Shalva Aptsiauri and Saba Archvadze (as ever, a threat with or without any space). 
Being able to have such complete options, leads to having such an extraordinary team that never fails to impress, and makes everyone respect and look at their development. 
For the second straight game, the Lelos side didn't concede any tries, only allowing Belgium to go for the posts and never really had a real opportunity to reach the try-line, being constricted by that superb and agile physicality to reach another finale. 
Man of the Moment: Nikolozi Sutidze (Georgia) - difficult to stop in the first tackle, the nº8 is a bulldozer threat at every scrum and open play; 
By Francisco Issac 
Photos Russian Rugby Union