After a very promising and enjoyable pool stage, it is time to look into the Men's Rugby Europe Championship 2023 knockout stage.
Georgia, Portugal, Romania, and Spain will battle it out to reach the Championship Grand Final, while Poland, Romania, Netherlands, and Belgium are locked in the race to reach the ranking finals, so expect a great spectacle.
Before the semi-finals, we look at some of the anticipated match-ups.
PORTUGAL VS SPAIN - CREATIVITY VS EFFICIENCY
Let's first go with the contrasting abilities between Portugal and Spain: clean breaks vs effective tackles. The "Lobos" side pulled an impressive 36 line-breaks, which helped them to finish as the team with 24 tries in during the pool phase, with the likes of Rodrigo Marta, Nuno Sousa Guedes, Vincent Pinto, Simão Bento, and José Lima, shining throughout.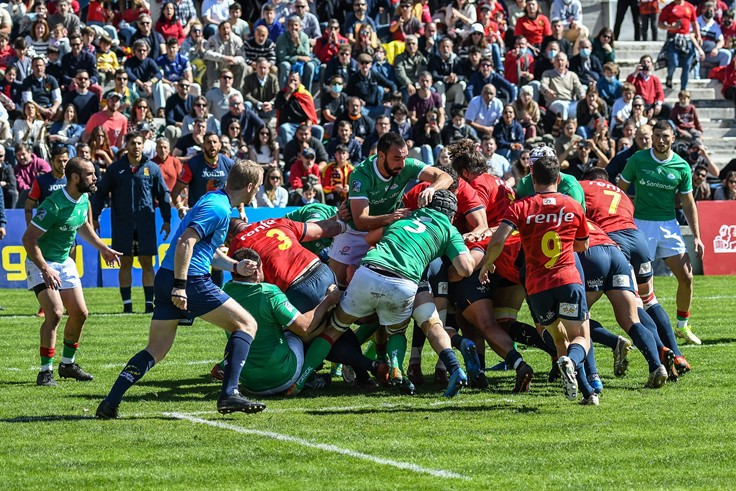 However, it remains to be seen if they will be able to pull off the same tricks against Spain.. The Leones finished in 2nd place in the tackles made, also possessing the best % of tackles made/missed, and this tells us how their defense can be pivotal for Saturday.

While Spanish top-tackler Matthew Foulds is set to miss the trip to Portugal, Thierry Futeu, Facundo Dominguez and Josh Peters will be on the team, and ready to stop their Portuguese rivals from running freely.

Another stat that can decide who will be in the Grand Final is the number of penalties conceded, and Portugal was able to finish as the most disciplined side (22), while Spain has recorded the worst discipline bill (43). But the knockout stage is something new to the Championship and could produce a few surprises.


GEORGIA VS ROMANIA - POWER VS LETHALITY
Georgia only carried the oval ball for 1110 metres, less than 546 compared to their Romanian rivals, but scored more tries, and this tells us something special about the Lelos: lethality!

Georgia is a lethal side, that knows full well when it is time to score and build a comfortable point margin that can take them to victory. See for example Akaki Tabutsadze or Giorgi Tsutskiridze: the winger scored 5 tries in 2023, and only needed 91 meters and 4 clean breaks to do it, while the loose forward finished with only one line-break, and 17 meters in contact, crossing the whitewash with regularity.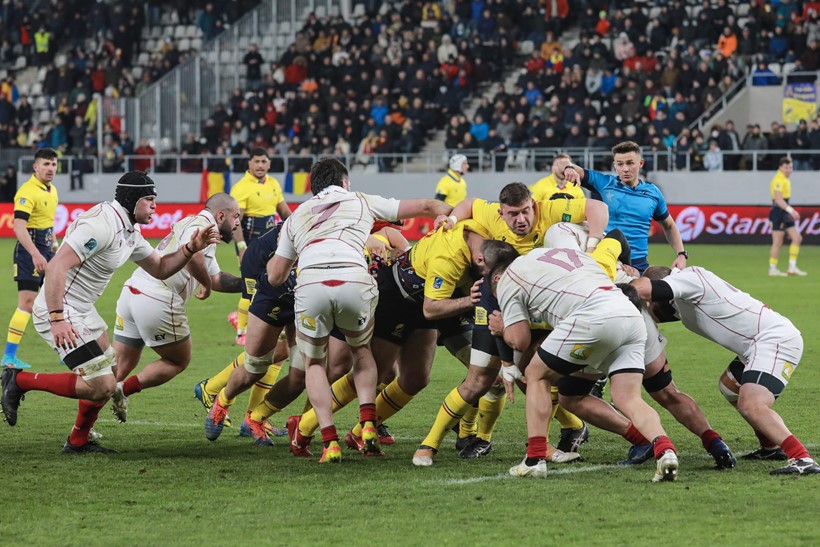 As for Romania, in 2023 we have seen a side that can run with the ball in hand, pulling some of the best plays and moments of this year's Rugby Europe Championship, especially due to Taylor Gontineac's antics, although he is going to miss the semi-final, or Hinckley Vaovasa's moment's of magic.

The Oaks finished at the top of meters made (1620), defenders beaten (96), and crossed the gain line (156), finishing in second on the clean-breaks and offloads stats, and that should be the best warning sign for Georgia in their upcoming semi-final.

For the set-piece aficionados, there is a stat that can decide the momentum shift for either side: scrum time! Georgia didn't lose any scrums, or concede any penalties in this set-piece, pressuring their pool stage adversaries. Romania only conceded one penalty in the scrummaging battle throughout the group stage, and only lost one, proving they are ready for the pack arm-wrestle.

It remains to be seen on who will take the set-piece dominance, but expect it to play a key role in this match.


NETHERLANDS VS BELGIUM - TURNOVER KINGS VS TACKLE RULERS
The Lowlands Derby is set for a thrilling return. The Netherlands and Belgium have both some stats that can play in their favor. Belgium is rocking in the turnover contest, as Mike Ford's men have jackaled successfully for 28 times, with Florian Remue leading as top-jackler (7), followed closely by teammates Ryan Godsmark and Maximilien Hendrickx (4 each).

If the Dutch side grants them a bit of space around the ruck or don't fully commit to the breakdown, then the Belgians will likely take their chances.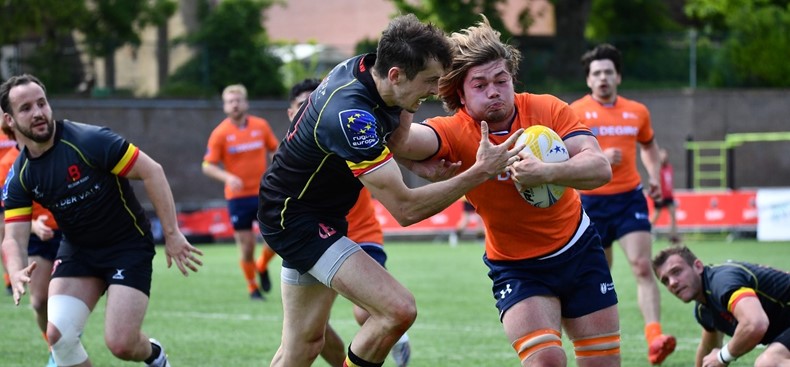 Lyn Jones's Netherlands squad have also some trump cards on their sleeve, namely their excellence when it comes to tackling and defending close to their try-line: 320 tackles made, and 86% tackling success. Most of their missed tackles are inside of the opposition's half, raising the accuracy to the top when they are forced to defend inside their last 20 meters of territory.

The Dutch side proved how unbreakable they can be at times, particularly with the defensive display against Georgia, and this can be the foundation to finish with a very successful campaign.

Wolf van Dijk, Christopher Raymond, and Spike Salman will be a thorn for Belgium if they can't find creative ways of outpacing this formidable loose-forward trio.


POLAND VS GERMANY - LINEOUT STEALS VS METRES MADE
In the last match-up of the semifinals, Poland and Germany are ready to take the pitch and dominate in some key areas, mainly in the lineout contest, or the success between meters ran and carries.


The Polish squad has demonstrated their power in the pack, stealing five opposition throws, and dismantling mauls, making good use of the kicking game thanks to Jedrez Nowicki, Dawid Plichta (5th kicker with more meters won), or Ross Cooke. Their counterattack is deadly, and the way they can build up from little will be decisive when it comes to crunch time.

As for Germany, the fact they finished in 5th (only behind Georgia, Spain, Portugal and Romania) as the team with more meters ran, carries, or clean-breaks tell us a story of their good attacking patterns, developed mainly by Oliver Paine, Raynor Parkinson, and Edoardo Stella.

This trio is the brains behind the Schwarze Adler's operation, and all eyes will be on them to guide Germany into a strong finish in their return to the Championship.