Russia 18 Romania 13
Six penalties from stand-off Ramil Gaisin helped Russia edged out Romania in the Rugby Europe Championship 2021 opener at the FISCHT Stadium in Sochi on Saturday as the hosts lifted the Kiseleff Cup.
Last year Russia won the match between the sides 32-25 and this one was just as keenly fought.
Andrew Robinson's Romania showed in patches what they could do and picked up a losing bonus point, but a lack of accuracy in attack and too many penalties conceded in defence helped Russia take advantage and come out on top 18-13.
It was the home side who got off to a solid start and they took the lead in the second minute when Gaisin kicked a penalty.
The same man then hit the post with a second penalty attempt two minutes later and the Romanians needed to settle down.
And settle down they did, scoring a brilliant try in the eighth minute.
Winger Ionut Dumitru burst through the middle of the Russian defence at great pace, he was just held up by some good scrambling defence, but his forwards were supporting him well and second-row Marius Antonescu picked up and burrowed over. Centre Florian Vlaicu converted and it was 7-3 to the visitors.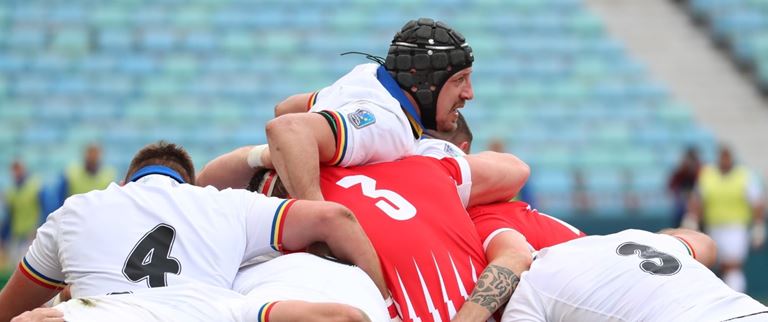 Things got even better for Romania when the experienced Vlaicu kicked a penalty in the 20th minute, the three points taking him past 1000 Test points on his 125th cap.
Russia closed the gap to four points with a second Gaisin penalty four minutes later and this was an enthralling contest.
The half hour mark came and went and the Russian pack were beginning to get some go forward with replacement Vladimir Podrezov on for the injured Kirill Gotovtsev at tighthead prop.
They won a number of scrum penalties near to the Romanian try line, but after being under immense pressure the visitors won a scrum penalty of their own and held on for a 10-6 lead at the interval.
Russia remained on the front foot at the start of the second half, but lost back-row Vladislav Perestiak to injury to be replaced by Anton Sychev.
In the 53rd minute they earned a penalty and Gaisin kicked it from a decent distance to pull things back to 10-9.
Three minutes later they won another penalty on the halfway line and Gaisin was keen to give an even longer range effort a go.
He connected sweetly and it sailed over the bar to put them ahead for the first time since early on.
Russia were in control at this point and a fifth penalty by Gaisin in the 64th minute put them 15-10 up before Romania tried to mount a fightback.
The visitors could not get a foothold in things though because they kept getting penalised though.
Gaisin then missed another penalty attempt, but then Romania second-row Adrian Motoc was yellow carded for a late tackle in the 70th minute.
It allowed Gaisin to kick his sixth penalty and although Vlaicu kicked three points of his own in the 76th minute and Romania had late field position, Lyn Jones' side held on for a vital victory. Romania grabbed a precious bonus point that could count on the road to Rugby World Cup 2023.
Scorers:
Russia: Pens: Gaisin (2, 24, 53, 56, 64, 70).
Romania: Try: Antonescu (8). Pen: Vlaicu (20). Con: Vlaicu (8).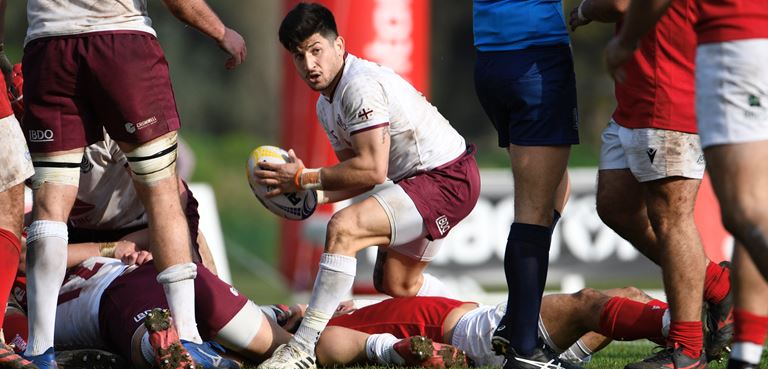 Portugal 16 Georgia 29
Reigning champions Georgia were made to battle very hard by Portugal before the visitors came out on top in the Rugby Europe Championship 2021 clash at CAR Jamor in Lisbon on Saturday.
Levan Maisashvili's men were 16-10 down to Patrice Lagisquet's ever-improving side after 45 minutes and a potential shock was on the cards.
However, the more experienced Georgian squad stayed calm and it was their strong pack that led the way as they eventually won 29-16, picking up a bonus point in the process. 
During an enthralling 80 minute, both sides missed numerous kicks at goal and there were three yellow cards, but this was a very entertaining clash.
The visitors missed an early kickable penalty through scrum-half Gela Aprasidze before the home side got their tails up. 
In the fourth minute their number nine Samuel Marques kicked a penalty before he then missed a long range one and then hit the post with another effort as they continued to cause the Georgians trouble.
Marques did kick his second penalty in the 14th minute to put Portugal 6-0 up.
Georgia used their forward power to score the first try in the 19thminute.  
The pack got them to within yards of the try line and then Aprasidze fed winger Mirian Modebadze who went in for the score. Aprasidze missed the conversion and it was 6-5. 
A couple of minutes later Marques missed a third penalty for Portugal.
And in the 27th minute the Georgian forwards again showed their power, a good lineout drive, led by second-row Nodar Cheishvili, was finished off for a try by hooker Jaba Bregvadze. Georgia's woes with the boot continued - full-back Ioseb Matiashvili time missing a conversion - as they led 10-6. 
In the 32nd minute there was a flashpoint when Portugal winger Rafaele Storti seemed to be tackled off the ball as he was kicking it along the ground towards the try line. 
After referee Gianluca Gnecchi had consulted with his touch judges and the TMO, Georgia centre Giorgi Kveseladze was yellow carded for his involvement. 
Portugal knew they had to score before half-time when they had a man advantage - and they managed to. 
Marques fed winger Rodrigo Marta and he went over from short range in the 36th minute. Marques then converted from out wide and they were 13-10 up to set up an exciting second half.
Five minutes into the second period Portugal's lead was stretched to six points with a Marques penalty.
Georgia, now back to 15 men, knew they had to battle back and they scored their third try in the 49th minute.
It was again a forward-orientated effort, tight-head prop Giorgi Melikidze the man going over this time, Matiashvili converting to put them ahead 17-16.

Portugal were now behind, but soon after Georgia back-row Giorgi Tkhilaishvili was yellow carded for a high tackle on Storti and the hosts were playing against 14 men again.
Marques missed a fourth penalty and the game was heading towards the last 20 minutes with just a point between the teams.
Despite having 14 men, the Georgian pack was still on top and eventually Portugal skipper Tomas Appleton was yellow carded in the 62nd minute after one too many infringements.
And just before Tkhilaishvili returned from his own sin binning, replacement hooker Mamukashvili bagged Georgia's fourth try. Matiashvili could not convert and it was 22-16.
Portugal never gave up, but in the last minute Georgia No.8 Tornike Jalagonia ran a great line to score his first try for his country. Matiashvili converted to finish things off, putting Portugal out of the bonus point, that could reward the high level they played in front of the title-holder.
Scorers:  
Portugal: Try: Marta (36). Pens: Marques (4, 14, 45). Con: Marques (36).
Georgia: Tries: Modebadze (19), Bregvadze (27), Melikidze (49), Shalva Mamukashvili (64), Jalagonia (79). Cons: Matiashvili (49, 79).
By Gary Heatly
Images:
Russia v Romania: Russian Rugby Union
Portugal v Georgia: TrySportimages/Joao Peleteiro