There are two massive matches in the men's Rugby Europe Championship this weekend which will have a big impact on possible Rugby World Cup 2023 qualification.
Following World Rugby's and Rugby Europe's suspension of Russia and Belarus from all international and cross-border rugby competitions, the Rugby World Cup Board confirmed this week the resulting implications for the European qualification process for Rugby World Cup 2023.
Existing results in the Championship 2022 will stand and Russia's remaining opponents are awarded four match points each.
This means that Georgia, the Netherlands and Portugal have been awarded four match points as winners of their outstanding matches against Russia.
All of which puts Spain top of the Championship 2022 table ahead of rounds four and five while Georgia have been confirmed as qualifying for Rugby World Cup 2023 and the Spanish, Portugal and Romania are battling it out for the second spot and the repechage place.
Everything will be sorted out by March 20 after the Georgia-Spain match, but for now two other games are the focus of attention.
On Saturday, Romania host Georgia in the Arc de Triumf Stadium in Bucharest at 5.30pm local (3.30pm UTC).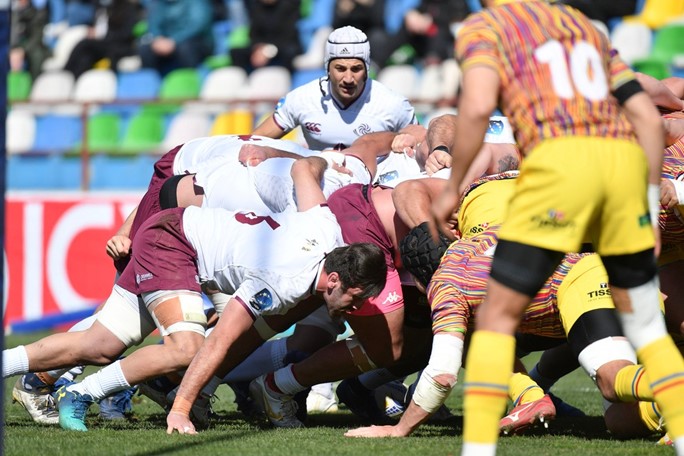 Georgia are wary of the threats the Romanians pose and the Georgia skipper Merab Sharikadze  said:  "Romania has the strongest team they have ever had in recent years and this will be a tough game.
"They are a tough and energetic team that can score points. Despite everything, we hope we will be able to make our fans happy, especially during such a difficult situation in the world."
And head coach Levan Maisashvili adds:  "We know that a simple game is not waiting for us and we are in the mood to fight. Romania have a good chance to reach the World Cup and will play with great intentions.
"They are in good shape, however, this is a jubilee match for us - the 250th match in our history - and we have to win this Rugby Europe Championship 2022, so we will do our best to achieve the desired result."
Romania head coach Andy Robinson said:  "We look forward to welcoming Georgia to the Arc de Triumf Stadium this weekend. They are a team that have set the benchmark for Rugby Europe teams over the last five years leading them to dominate the Championship competition. On the back of our first loss in six matches versus Spain recently the players have been refocusing and are ready to put in a performance  against Georgia in front of our excellent Romanian supporters.
"The crowd noise and atmosphere against Portugal in our last home game, particularly in the second half, was incredible, so It is vital that we give our supporters something to cheer about right from the first whistle of this one. It should be a cracking match."
Another cracking match is likely to in the Estadio Central UCM in Madrid on Sunday (12.45pm local, 11.45am UTC) when Spain and Portugal clash.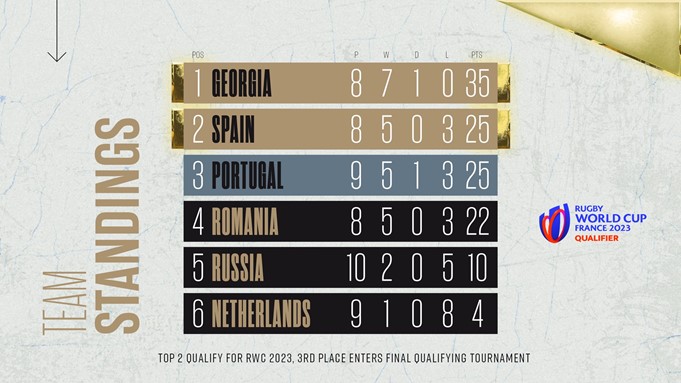 Spain head coach Santiago Santos said:  "Our main objective is to get to the World Cup, it would be fantastic if we get the direct qualification, but if we have to go to the repechage and win It, we will do it.
"For now we're just thinking about this Portugal game, about ourselves and playing at our best level - and that's only on us. Portugal are a terrific team, but I have total confidence in the players, the staff, and the job we've done for the last four years."
The teams are locked on 25 points in the race for the World Cup and Portugal head coach Patrice Lagisquet, whose side are playing their last game, said:  "We always knew that this game was going to be decisive for us against Spain. We don't feel pressure to win but at the same time, it would mean everything to us.
"We have some injuries, we have some difficulties, it was like in Romania but I believe in my team."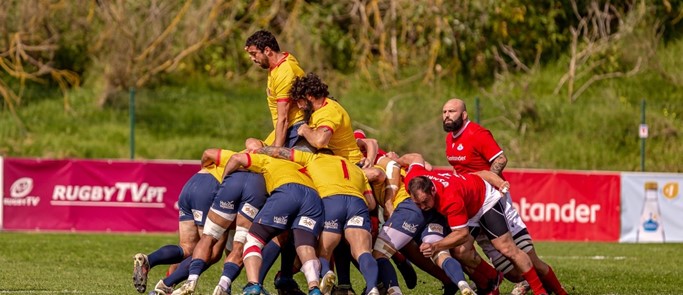 And his captain Tomas Appleton is in no doubt just how big this game is.
"This is the most important game of Portuguese rugby in the last 15 years, there is no other way to see it," he said.
"We've worked hard over the last few years to get this close to being in the World Cup and that's been our focus every day.
"This weekend we can't think of anything else but winning, the group is very confident and we know the importance of this game."
Both games will be shown live on rugbyeurope.tv 
By Gary Heatly
Photo: Luis Cabelo