Georgia completed a clean sweep of wins to secure a Grand Slam  in the Men's Rugby Europe Championship held over from 2020 on Sunday, but they were made to work hard for their final triumph against Russia.
The "Lelos" had defeated Romania 41-13, Spain 23-10, Belgium 78-6 and Portugal 39-24 during February and March last year to show their strength.
The Covid-19 pandemic then made them have to wait 11 months to play against old rivals Russia in the Mikheil Meshki Stadium in Tbilisi - and, unsurprisingly, it was not a game for the faint hearted.
In the first half Georgia tried to use their forward pack to gain the upper hand, but Lyn Jones' Russia defended well and frustrated the home side to go in at the break 0-0.
It was going to take something special to break the deadlock and it came from Georgian scrum-half Vasil Lobzhanidze in the 45th minute.
After a couple of good attacking phases, the man winning his 57th cap spotted a gap in the defence and scampered over from 20 metres for a try.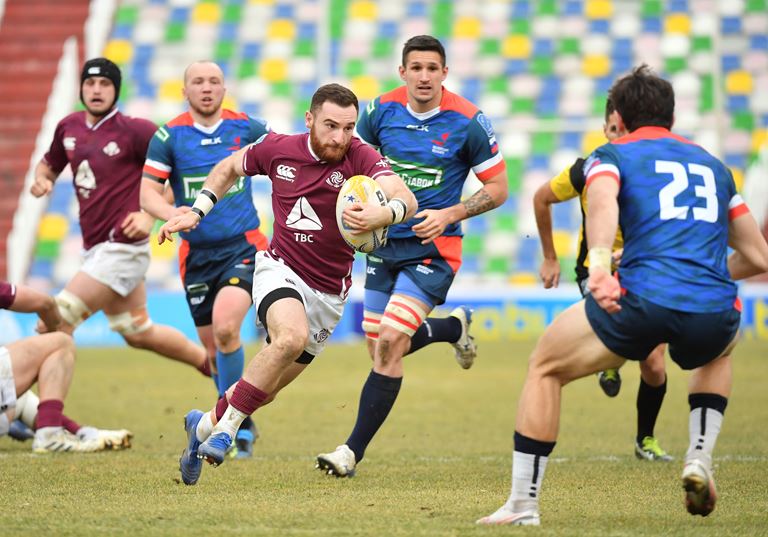 It was superbly converted from out wide by stand-off Tedo Abzhandadze and when the same man added a penalty in the 53rd minute it was 10-0 to the home side.
Russia were not done though and some good forward drives from close range saw their second-row Bogdan Fedotko plunge over for a try converted by stand-off Ramil Gaisin on the hour mark.
Georgia knew they had a tricky last quarter to come, but they managed things well and two penalties by Abzhandadze saw them home 16-7.
Their head coach Levan Maisashvili said: "Despite the small margin of victory, there was no moment where we felt in any danger of losing the game.
Russia was prepared really well for this game, credit to them, and if we want to defeat Tier Two teams more confidently, we should be prepared better.
"However, these preparations take more time and it is a work in progress. For example, this time we've had lots of young players and debutants involved who used their opportunity really well.
"Players who make mistakes it means that they are trying to play the game in the right way, so, I don't see any disappointment in players making mistakes.
"Continuing to work hard on this process will, I'm sure, take us to the next level."
Georgia finished the delayed event on 24 points out of a possible 26, with the addition of the bonus point, while Russia ended up in fifth place with eight points from two wins.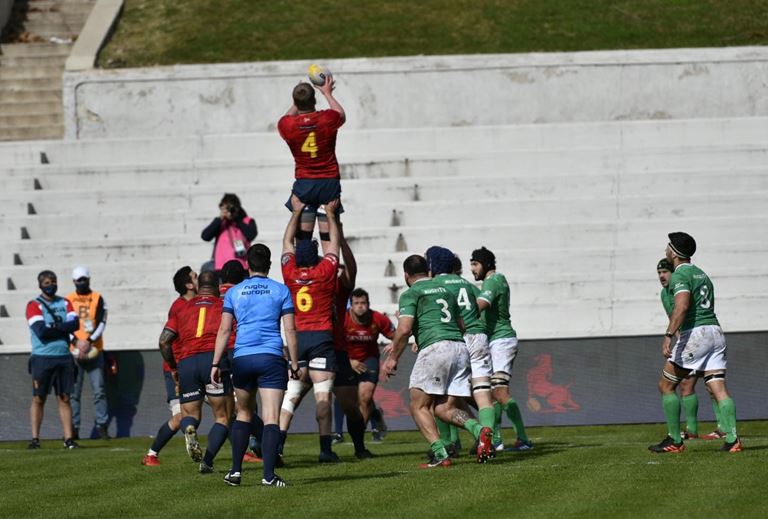 Meanwhile, Spain clinched second place in the final table on Sunday by defeating Portugal in the Estadio Central UCM in Madrid.
Santiago Santos' men kicked two penalties in the first half through stand-off Bautista Eduardo Guemes, but Portugal bagged an unconverted try which make it 6-5 at the break.
The score came from winger Rodrigo Marta and gave Patrice Lagisquet's men hope with 40 minutes to go.
A try scored by Guemes, converted by the same man, early in the second period made it 13-5 to Spain.
A penalty by stand-off Danny Atunes then came for Portugal after 46 minutes before the home side hit straight back two minutes later.
They bagged their second try through winger Julien Goia which Guemes converted to make it 20-8.
A third try came for them with two minutes left in the match through Gauthier Gibouin, it was unconverted but was enough to ease Spain to victory.

The loss meant that Portugal finished fourth in the table with two wins from five.
Romania finish in third place after Belgium had to forfeit their game last week, Belgium  will now defend their place in the Championship with a play-off place against the Netherlands.
The final rankings (compiled with ranking of the 2019 edition) gives the seeding for the 2021 & 2022 Rugby Europe Championship, which provides direct qualification to two teams for the Rugby World Cup 2023.
The schedule for the 2021 competition will be announced in the coming weeks.
Highlights from the two games are available HERE


By Gary Heatly

Images: Spain Portugal: Walter Degirolmo/FERugby, Georgia v Russia: Tamuna Kulumbegashvili