As the Rugby Europe Super Cup Final fast approaches, we are only a few sleeps away from discovering who will be the inaugural Champion of the competition. Writer Francisco Isaac looks ahead to the action in Lisbon. 
The show-piece event will culminate in a year of development for the teams in Spain, Georgia, Portugal, Israel, Netherlands, and Belgium, marking a new era for these nations in their development and player-pathway.
In the grand finale, the Portuguese Lusitanos will square off against the Georgian Black Lion, building the hype for what will certainly be a match to enjoy, particularly after the two entertaining semi-finals.
One minor, but juicy detail, that fans from all sides should be wary of for this conclusion: the Lusitanos have been victorious in all seven of their matches, which can be an advantage for the Portuguese.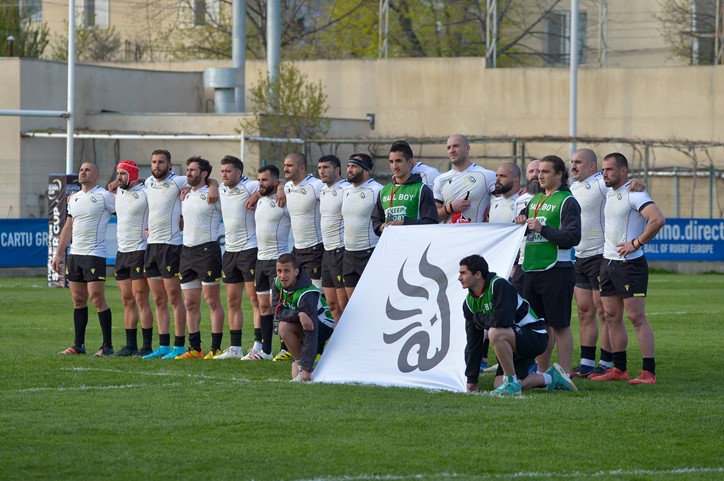 For the Black Lion outfit, we have a team built with a mix of superb physical ferocity, and flowing handling skills awaiting to get their hands ready to collect a new trophy.
The respective coaches of their national sides, Patrice Lagisquet and Levan Maisashvili, will be looking to set the tone of the contest that will be the epitome of a competition that brought some of the best plays and tries of the year.  
Let's have deeper dive into what separates the Lusitanos from the Black Lion? Or are both similar in most of their skills and qualities? The Portuguese squad isn't as physical as the Georgians, which doesn't mean they aren't as strong or incapable of contesting, for example, the scrums, working hard and deep to take down bigger foes. The speed, agility, and wits, combined with well-tuned collective gameplay, building up into a crescendo until they peak.
As far as the Georgians are concerned, if you haven't followed the competition until now, don't have the idea that their gameplan is only focused on set-pieces, mauls, and kick-recover, as there is much more in the Black Lion world.

As we said before, the offloading technique is simply a must and a precious detail that can bring joy to a rainy da y. Besides that, the quality of backline moves are simply brilliant, punching holes through a polished and smart playbook, that tries to avoid exposing the ball while trying, at the same time, to catch their opposition by surprise. 
WHO HAVE MORE JUICE: MARTA OR TABUTSADZE?
But this is just theoretical of "how they play", what about the players that will run the show? This is our second reason to tune in: Akaki Tabutsadze versus Rodrigo Marta. 
The first duel still has a slight doubt hanging above it, as Marta could feature as a centre, but it will produce the same outcome: speed and eccentricity vs speed and eccentricity. Both are their national team's best wingers/finishers, both are grifted with silky and playful feet, and both can just change the flow of a game. Between themselves, they have tallied a total of 8 tries, 6 assists, 17 linebreaks, and 24 defenders beaten.
There are other players that achieved the same standards on show, too, like Rafael Simões, João Granate, Sandro Mamamtavrishvili, Lasha Khmaladze, Manuel C. Pinto, Shalva Mamukashvili, and much more, which should be enough to make you eager to watch what will be an incredible bout. 
THE CAPTAINS POETIC CALL
The clash between an unstoppable force against an immovable object, or, to put in Super Cup rugby terms: the captain's duel. Tomás Appleton and Merab Sharikadze share much more than playing as inside-centres, or that they are the voice of reason and the Lighthouses that their teammates look up to in the most difficult moments, as they are the captains in both their franchises, clubs, and the national side, personifying the very best qualities that their countries offer. 

This is the pinnacle that the Rugby Europe Super Cup has to offer, a spicy entrée sprinkled with an undefeated contender vs a steamroll compressor like no other, we have no doubt that it will entertain.
By Francisco Isaac
Photos by David van de Sande, and Georgian Rugby