Oh, the dying embers of a tasty and marvellous summer… but fear not, you will have a new reason to start sweating again and feel warm and happy: the Rugby Europe Super Cup returns to our screens.
After almost five months, the competition is back and eight teams are ready to fight to become the next champion.
The teams will start their campaign this weekend as they look to book a place in the final on the 17/18th of December, we take a quick look across some of the potential big players in this year's competition and what can each of them bring to the pitch.
THE PRIME FINISHERS
For this 2nd edition, we have a good number of ultimate try-finishers, who will unleash their full power, be it with a bit of razzle-dazzle or an unstoppable sprint.
Who are some of the most deadly finishers?
-          Akaki Tabutsadze (The Black Lion): six starts in the 21/22 Super Cup, five tries, twelve line-breaks, and a whole world of delicious rugby stepping goodness, this is Akaki Tabutsadze! A menace always on the prowl, the winger can really find space out of nothing to find his way over the try line.
-          Daan van der Avoird (Delta):The Dutch winger Dan van der Avoird deserves to be recognized as an instant impact unit, as the winger scored six tries in three matches in last season's Super Cup. A speedster with wings.

-          Sebastiaan Jobb (Tel-Aviv Heat): A real stand-out player in the 2021/2022 season, the South African ruled in the Eastern pool, not only as a line-breaker enthusiast but as also a galloping try-devouring speedster, who will surely make the Israeli Tel-Aviv Heat a clear contender to qualify for the semi-finals.
THE HARD-ROCK HITTING ENFORCERS
The enforcer, that unique category deemed only for the toughest, most brutal, and resilient players, that will work non-stop for their teams, tackling and jackling, running furiously against the defensive line, doing whatever they can to carry their team to victory.
As in every corner of the rugby world, the Rugby Europe Super Cup will have its fair share of prime enforcers, and these are just some of the ones you should gaze upon:
-          Misha Tsiklauri (RC Batumi): After one year playing for The Black Lion, the prop is back in Batumi and will certainly be a human-bulldozer for the Georgian team, especially when scrummaging.
-         Álex Suárez (Castilla y León Iberians): An exciting master jackler Álex Suárez will be with his gaze always locked-on, making himself a hindrance around the breakdown or ruck.
       - Ovidu Cojocaru (Romania Wolves): For those more accustomed to Rugby Europe competitions, Ovidu Cojocaru isn't a newcomer, as he was one of the very best in Rugby Europe Championship 2022, notching six tries (he could've landed in the finishers category, truth to be told), breaking successive tackles and working tirelessly at every set-piece.
-          Rafael Simões (Lusitanos): He can play as a lock, flanker (on any either side of the scrum), or number-eight, he can offload with ease, he can tackle with finesse mastery, and he will be key for the Lusitanos.
THE PUPPET FANTASY MASTERS
A little bit of magic always brightens up any day, doesn't it. For the truly passionate about the Light Arts of the oval ball, the playmaker is pivotal to any team, combining their set of special skills to create sufficient opportunities for their teams to explore. So, who are these tricksters that we are talking about?
-          Nuno Sousa Guedes (Lusitanos): Any side finds it hard to stop the side-stepping prowess of one of the most incredible players in Portugal or Europe. Nuno Sousa Guedes is that playmaker that possesses the power to change the outcome of a match… it doesn't matter if his team is losing by 5 or 10 points, if the fullback wishes it, he can change the flow in the blink of an eye.

-          Te Campbell (Delta): The Dutch international fullback will empower the Delta team again, thanks to his devilish handling and hot-stepping skills, creating gaps of any size that he or any of his teammates can exploit to get over the goal-line.
-          Mamuka Ninidze (Batumi RC): He is one of the longest servants for the Batumi RC, that have already amassed a huge number of points in the 'Didi 10' (Georgian Premiership) and will be the maestro for his side in the RE Super Cup. The fullback, that can also play as a fly-half, helped Batumi win back the title in their domestic competition and will certainly be a problem in the Eastern pool.
THE (STEEL) ANTS THAT MAKE EVERYTHING POSSIBLE
Finally, the hard worker's class! These players are the glue of their respective teams, the ones who bestow a fine delicate, but powerful, equilibrium, giving a sense of unity, something that any coach looks for.
Here are some of the ones to watch:
-          Jason Tomane (Romanian Wolves): a center that really can be a painful problem for whoever tries to tackle him, a full-fledged all-round unit. Jason Tomane keeps working, working, and working for his team, never giving up or dropping his form. A battering ram with a quick turn of pace.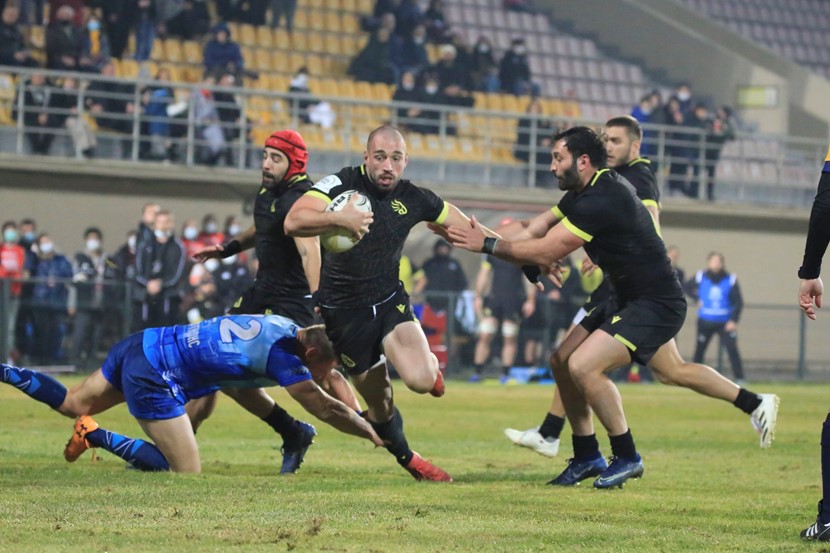 -          Merab Sharikadze (The Black Lion): A truly great captain and leader, and a player who doesn't need to be always under the spotlight, as his main concern is to push The Black Lion forwards and onwards. An effective tackler, a trustworthy ball carrier, and a stern serious voice.
-          Ryan Godsmark (Brussels Devils): The scrum-half loves to get under the skin of his foes, keeping his team on their toes, never backing down and a key-player for the Brussels Devils.
-          Tomás Appleton (Lusitanos): He sets the gold standard for any aspiring player, as he works tirelessly, showing great resilience in his tackling. He never backs down from supporting a teammate, tackling a stronger carrier, or getting involved in a pick-and-go.
 By Francisco Isaac