Black Lion and Tel-Aviv Heat got their respective Rugby Europe Super Cup Pool A campaigns off to winning starts at the weekend.
The 2021 and 2022 champions Black Lion hosted Castilla Y Leon Iberians in the Avchala Stadium in Tbilisi on Saturday.

Winger Akaki Tabutsadze scored the opening try for the hosts with stand-off Luka Matkava converting.

That was in the eighth minute and then a Matkava penalty made it 10-0.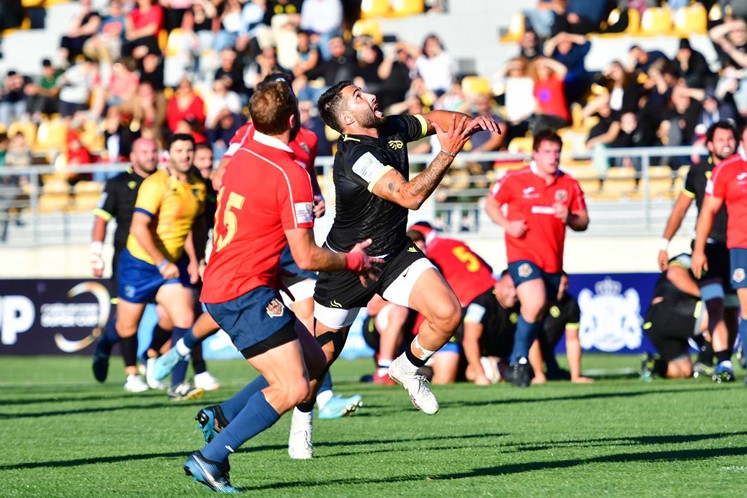 In the 25th minute the second try of the day came for Black Lion through second-row Grigor Kerdikoshvili. It was unconverted, but it was 15-0.

Just after the half hour a great pass from scrum-half Estanislao Bay set up stand-off Gonzalo Vinuesa and he scored out wide. It was unconverted, but they were in the game at 15-5.

Just before half-time, Tabutsadze set up fellow winger Alexander Todua to go over for a score.

Three minutes after half-time Black Lion's fourth try came via loosehead prop Dato Abdushelishvili and when Matkava converted they were 27-5 up and in control.
Further tries came from full-back Luka Tsirekidze and Matkav converting one to extend that lead to 39-5.


Late scores by second-row Alejandro Perez and No.8 Facundo Dominguez were both converted by centre Martin Mateu as the Spanish side refused to lie down, but it was too late and Black Lion from Georgia won 39-19.

After the bonus point win Levan Maisashvili, the Black Lion head coach, said: "It was important to win the first game.
"We started both halves well and that is what won us the game, but we have plenty to build on too."
Iberians captain Mario Pichardie said: "We didn't get the win, but we are happy with the boys and we showed late on how we can play. There were a lot of young players out there and they stepped up well."

Also on Saturday, in the Car Jamor Stadium in Lisbon, Portuguese side Lusitanos hosted Tel-Aviv Heat from Israel.
It was the home side who had the better of the first half and they were 13-0 up after 19 minutes thanks to eight points from the boot of stand-off Jorge Abecassis and a try from full-back Manuel Cardoso.
The Heat needed something to spark them into life and it came in the 36th minute when winger Matthew More bagged an unconverted try to make it 13-5 at half-time.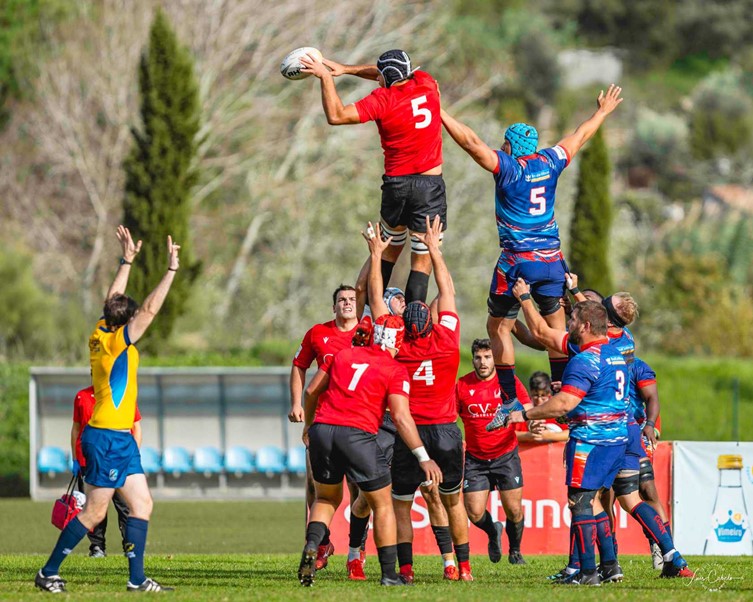 A very well-worked try from Lusitanos straight after the break came through No.8 Manuel Picao. It was converted by Abecassis and it was 20-5.
A converted try from Semi Kunatani from a quick tap soon after came for the Heat and it was converted by Jordan Chait, the stand-off, to make it 20-12.
Just after the hour mark the third try came for the Heat when More got his second after a nice pass from replacement Vaughan Isaacs.

It was unconverted, but More completed his hat-trick in the 72nd minute and when Chait converted they were 24-20 up against their hosts.

A penalty by sub Francisco Meneres made it 24-23 and Lusitanos were pushing, but a late converted try made sure of a bonus point win for the Heat.


They scored that one at the death when Lusitanos had a man in the sin-bin through Kunatani and Chait converted to end things at 31-23.

Kevin Musikanth, the Heat head coach, said: "This win is for the people back home.
"We knew we had to get off to a winning start and the boys really did well, but we know there are a lot of people in Israel having a very tough time right now and this is for them."

Sébastien Bertrank, the Lusitanos head coach, said: "The players gave it everything, but we had a tough 20 minutes or so in the second half and the Heat turned things around.

"We had chances to win the game, but it wasn't to be."

Devils and Wolves hit top form to post bonus point wins in Super Cup Pool B

Home advantage played a big part at the weekend in the opening Rugby Europe Super Cup Pool B fixtures with Brussels Devils and Romanian Wolves bagging bonus point victories.

On Saturday, at the Municipal Stadium in Soignies, the Devils from Belgium got the better of Delta from Netherlands 41-12.


An early unconverted try from hooker Joachim Pierart got the Devils off to a flyer from before Vikas Meijer, the Delta stand-off and captain, kicked a penalty to make it 5-3.

Just before the end of the first quarter the Devils scored their second five pointer through centre Victor Andre.

A second Meijer penalty reduced the arrears to 10-6 before Pierart's second try made it 15-6.

Meijer's third penalty made it 15-9 before an important fourth unconverted try from the Devils just before half time via No.8 Paul Gerard.


A fourth Meijer penalty closed the gap to eight points at 20-12 early in the second half, but then the Devils' experience began to show.

Scrum-half Curtis Moucheron scored a try converted by stand-off Henri Dequenne before Delta lost a man to the sin bin and then conceded a penalty try.

That was in the 65th minute and then another penalty try was awarded with another Delta player yellow carded to finish things at 41-12.

Sebastien Guns, the Devils' head coach, said: "We had to be patient, but the forwards were good in the scrums and we put together some good moves with our backs when we got a chance.

"In our team we had more experience as we have played together for a few years together and that was they key."

Delta head coach Gareth Gilbert said: "We always knew it was going to be a physical match and we had a number of under-20 players involved.

"In the end, the Devils' physicality was too much for us, but we will take a lot from the experience and can build into the tournament.

"We will look to be a bit smarter and make better decisions going forward."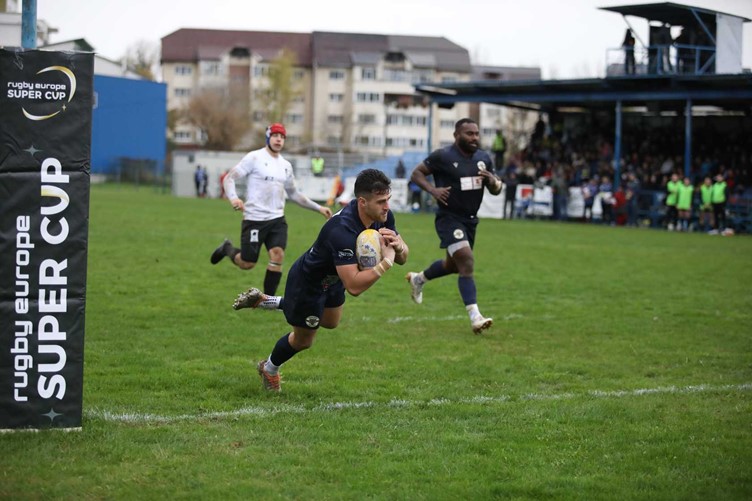 On Sunday, in the Arena Zimbrilor in Baia Mare, the Romanian Wolves made sure it was a tough tournament debut for the Bohemia Rugby Warriors from Czechia as they defeated them 76-7.

The Wolves bagged seven tries in the first half and added five more after the interval.

Captain Jacob Immelman scored the opening two tries from the back-row and then winger Kefentse Mahlo, No.8 Beka Bitsadze, full-back Paul Popoaia and hooker Levan Papidze (2) went over before half-time.

After the break, scrum-half Vladut Bocanet went over, Mahlo got his second and then replacement Ionut Harasim, fellow sub Robert Irimescu and centre Abele Atunaisa all crossed.

The consolation effort for the Warriors in tough weather conditions came in the 67th minute from winger Jakub Pospisil.


Wolves' skipper Jacob Immelman said: "Our set piece was pretty dominant and that allowed us to get on the front foot and then allowed us to score some good tries.

"Credit to the Warriors, they never gave up and it is good to have them playing in this competition now."

Antonin Brabec, the Warriors' head coach, said: "We know that we will be up against some tough teams in this competition, but I cannot fault the effort and the fight that the boys put in here.

"We need to improve our set piece and in better weather we hope to play more attacking rugby going forward."

This weekend moves to Round 2 with the Delta taking on the Romanian Wolves on Friday night before Lusitanos take on Black Lion on Saturday. On Sunday the Bohemia Rugby Warriors face Delta and the Brussels Devils host the Romanian Wolves.

You can watch live on rugbyeurope.tv and FloRugby in North America with the Lusitanos game also broadcast on SportTV in Portugal.
By Gary Heatly
Photos: Luis Cabelo, Georgian Rugby Union, Etienne Michaelis, Madalina Donca