The National Rugby Center in Amsterdam saw two cracking games on Sunday as Netherlands finished fifth and Belgium finished seventh in the men's Rugby Europe Championship.
In the second game, Netherlands scored 28 points in the first half before eventually coming out on top over Germany 50-28 in the fifth place match.

The first points were on the board after just a few seconds, a Germany clearance kick being charged down and Netherlands scrum-half Hugo Schöller bagging a try. Full-back David Weersma converted.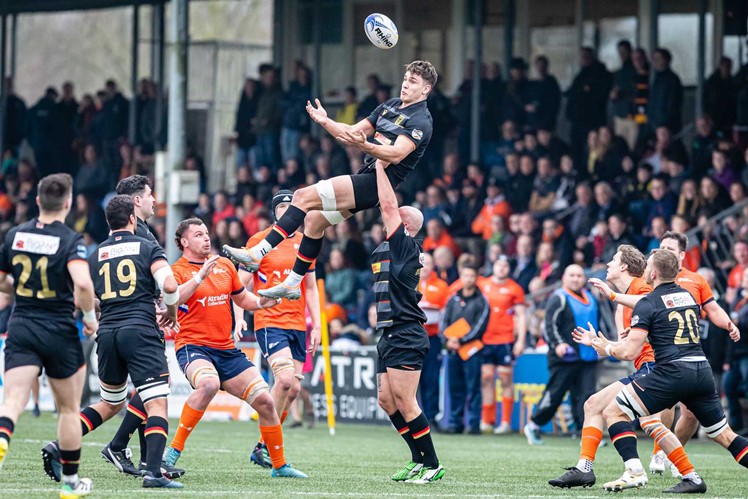 After six minutes they doubled their lead in front of their home fans when Willie Du Plessis, the stand-off, notched up a converted effort.

Netherlands skipper Hugo Langelaan, the loosehead prop, was the next try scorer and when it was converted it was 21-0 within the first quarter.


Five minutes before half-time, hooker Ross Bennie-Coulson completed Netherlands perfect first 40 minutes with a seven pointer.

Germany were shellshocked, but they started the second half on the front foot and a good break by centre Leo Wolf put replacement Nikolas Rinklin in for a try. Winger Edoardo Stella converted.

An excellent driving maul by Netherlands then saw Bennie-Coulson grab his second try. It was unconverted, but they were 33-7 up after 47 minutes.

With 25 minutes to go Christophe Raymond, the No.8, scored their sixth try and Weersma converted to make it a 33 point advantage.

Just before the hour mark Wolf grabbed Germany's second converted try before, in the 62nd minute, they were awarded a penalty try and it was 40-21. The Netherlands also lost a man to the sin bin at that time.

With 12 minutes to go - and with 14 men - try number seven came for the hosts when back-row Wolf van Dijk went over from a lineout drive. It was not converted.

There was still time for skipper Felix Lammers to score Germany's fourth converted try while things finished when replacement Mark Darlington scored a five pointer for the hosts.

After their second win in the tournament over Germany this year, Netherlands head coach Lyn Jones said: "I am very pleased and very relieved.

"It was a comprehensive win for the team and the players did excellently in the first half to lay the platform for this result."

His opposite number Mark Kuhlmann said: "We made too many mistakes early on, it was a deserved win for the Netherlands, it was disappointing.

"When we had the ball in hand in the second half we looked dangerous, but it was too late."

Earlier in the day, like Netherlands, Belgium had got off to a flying start in the seventh place match versus Poland.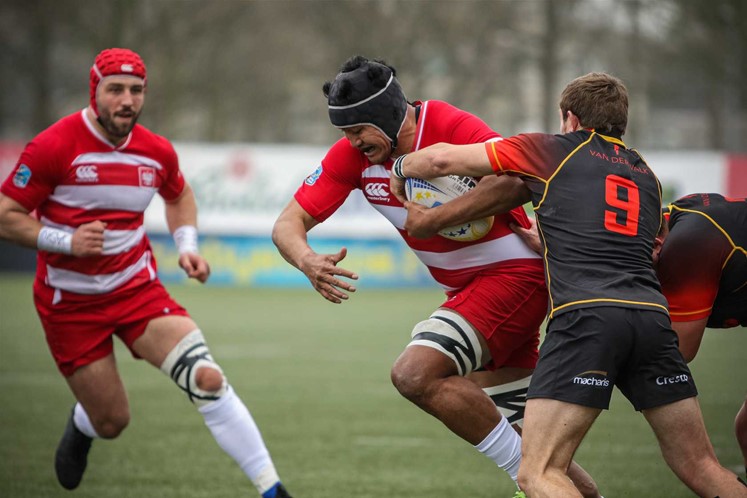 Within the first minute centre Guillaume Piron's grubber kick set-up winger Dazzy Cornez who collected the ball and went over for a try. It was unconverted.

Piotr Zeszutek, the Poland skipper then scored a try from No.8 after just five minutes and a conversion from full-back Wojciech Piotrowicz put them 7-5 up.

The points kept coming and, after 11 minutes, it was 8-7 to Belgium when centre Florian Remue kicked a penalty.

When Belgium had a man in the sin bin, Piotrowicz kicked a penalty of his own to put Poland 10-8 up.

When they were still down to 14 men, Remue's penalty gave Belgium an 11-10 lead after 28 minutes.

That was how it stayed until half-time and this was a pulsating encounter.

Ten minutes into the second half Poland lost a man to the sin bin, but the score stayed the same until, when it was back to 15 versus 15, Remue scored a cracking try and converted it.

With Belgium down to 14 again, Poland back-row Siokivaha Taufui Halaifuana went over for a converted try with five minutes to go and the game was on a knife edge.

Belgium managed to hang on for a very important win and seventh place.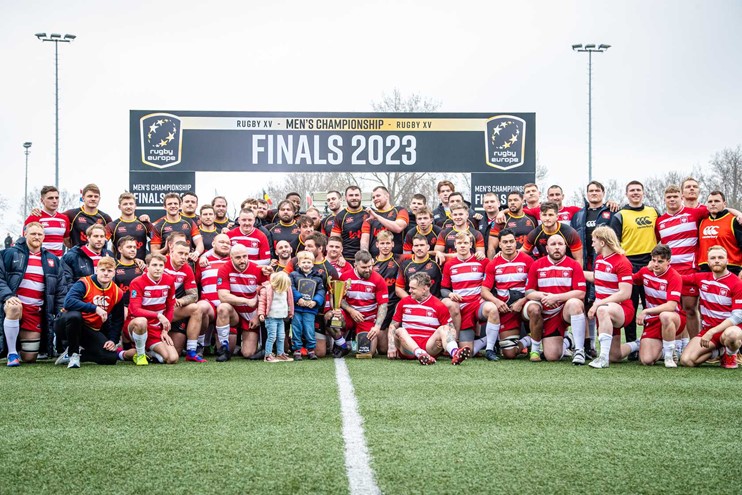 Mike Ford, the Belgium head coach who had seen his side lose to Poland in the Pool phase, said: "It was a great game, the score was always close, it could have gone either way.

"I am pleased for the players, it was nice to end a tough tournament for us with a win and this is a victory for all Belgian rugby fans."

Poland head coach Christian Hitt said: "When you create opportunities at this level you need to finish them off and unfortunately in this game we didn't.

"However, over the last few weeks we have shown that we can compete at this level."
By Gary Heatly
Photos: Dennis van de Sande, Wojciech Szymanski