Spain are expecting a "big challenge" from the Netherlands on Saturday as the hosts look to secure a win which would see them crowned Rugby Europe Championship 2020 winners and take them through to a World Cup qualifying event.
The Spanish are ranked 10th in the world with the Netherlands 17th, but they will certainly not be taking things for granted in the Estadio Pedro Escartín in Guadalajara (4pm CET kick-off).
After all, Russia caused Spain enough troubles in the opening 20 minutes of last week's match at the same ground to show that teams get themselves fired up to play against one of Europe's best sides.
The Russians were 7-3 up early on before Spain showed their class to secure a 56-7 bonus point triumph with second-row Anna Puig leading the way with three tries.
Lifting a trophy and going through to the European qualifying event for the World Cup later this year against Ireland, Italy and Scotland will be in the back of the Spanish players minds, but first and foremost they have to do a professional job in this match.
(Below: Spain train ahead of their game against Netherlands, by Helena Lanuza)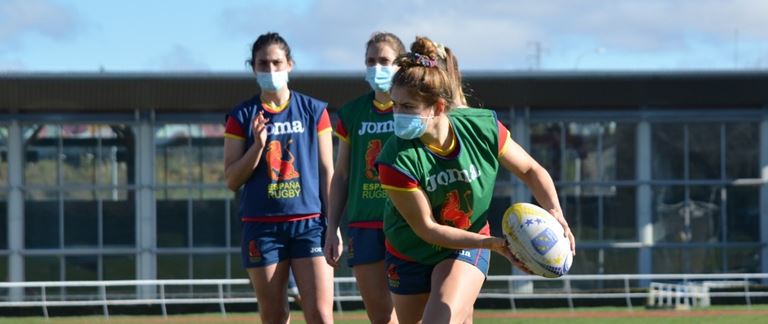 Spain head coach José Antonio Barrio said: "The match against the Netherlands will be a big challenge.
"We could win our eighth Rugby Europe Championship and be closer to the World Cup. We have to concentrate on our own game and show that we're ready for anything and that - despite injuries, Covid and other difficulties - we are a good side which is playing well.
"We don't have a lot of information on the Netherlands. We know that with the pandemic they stopped their national league, as did we, so both sides are facing the same problems in terms of a lack of recent competitive matches.
"They still have a mathematical possibility of winning the title though, so we're going to have to be at our best this Saturday."
As Barrio says, the Netherlands, who picked up a losing bonus point in a 27-21 defeat to Russia last March, still have an outside chance of winning the title.
(Below: Sylke Haverkorn takes a training schedule, image by Dennis van de Sande)

It would take one of the best performances in the team's history to do that though and head coach Sylke Haverkorn admits:  "It's been a tough couple of months for the team.
"Due to all the measures taken last year due to the pandemic, we had to be creative and flexible in our preparations.
 "In hindsight this has brought us closer together, it has made us stronger as a group.
 "Due to the cancellation of club rugby, we have been able to train more as a squad and fully focus on the development of the national team.
"All the key players from overseas also returned home in order to be at training and every player has worked so hard.
"The staff and I are also very much looking forward to this game.
"The team will have eight debutants this weekend, but we have been training for this one for a long time and we want to show Spain what we've got.
"We are planning to surprise them with our physicality and work at the lineout, we hope to disrupt the attacking platform they get from lineouts and take things from there, that is the plan."
Watch the game lLive on Rugby Europe TV
By Gary Heatly