It all begins on Saturday with two games and with the points from this year's Championship being added to those from 2021 and the top two from the combined table qualifying for Rugby World Cup 2023 - and a third team going through to another qualifying tournament - there really is a lot at stake over the next five rounds of action.
First up at 2.30pm local, 12pm UTC on Saturday is the match between Romania and Russia.
This one takes place in the Arc de Triumf Stadium in Bucharest and the teams finished second and fifth in last year's table respectively.
Despite finishing three places lower than Romania, Russia did manage to beat them 18-13 and that will give them hope as they get ready for this away game.
Romania head coach Andy Robinson said:  "We look forward to welcoming the Russian rugby team and their new coaching team to the new Arc de Triumf on Saturday.
"It will be great that we can play in front of spectators in our first match of the event as the Arc is an inspirational stadium. Last year the Championship was a very competitive competition with all teams capable of beating each other home or away - and this year's looks to be a very exciting one.
"For us the key this week is to keep the game plan simple and to make sure that we can apply our attack and defence fundamentals."
As Robinson mentions, Russia has a new coaching set-up headed up by South African Dick Muir.
"Many of the key players are missing, but this gives us the opportunity to use others," Muir said.
"Of the 23 rugby players who we have named to Saturday's match, seven are debutants, and we have a total of about 15 who have played less than three games for the team. So, we are not a very experienced team.
"We've seen quite a lot of what they do and I know Andy Robinson well as a coach, I know how he thinks and how he lines up the game. But rugby is rugby, it's going to be a very intense match, I think, and it's very important for us to get off to a good start.
"I must say that the Russian coaches and players I am working with are very willing, I enjoyed working with them and we have already been able to change some things.
"We haven't yet changed as many things as I'd like and the question is how we will handle those changes, but the willingness and enthusiasm of the players is tremendous."
The second match on Saturday is at 4pm local, 3pm UTC when Spain takes on the Netherlands.
Spain finished fourth last year and the Netherlands bottom while the former beat the latter 52-7 just before Christmas.
However, the Netherlands are improving all of the time ahead of the match at the Estadio Central UCM in Madrid.
Santiago Santos, the Spanish head coach said:  "We're very excited for the beginning of the Championship. We have five matches ahead that are five finals and if we're capable of winning four of them we will be on for the World Cup which is definitely our goal.
"About the Netherlands, we know each match is different, so we're not overconfident even though we were able to win our last match two months ago.
"We know they have incorporated some new players, so we expect a tough match. Our objective is to consolidate and take five points from the game, but we know that in order to do that we will have to work from the first minute and take it seriously."
His opposite number Zane Gardiner states:  "After a crazy 2021 where we just finished the Championship against Spain on December 18 we are straight back into it again with Spain again.
"Spain finished the 2021 Championship strongly and will be wanting to carry that momentum into this campaign, so we understand the challenge that awaits us in Madrid. Spain played well in Amsterdam and outplayed us in each facet of the game.
"This week has been about understanding where we can improve and setting clear goals so that we perform better against Spain in this game.
"The game will be emotional for both teams due to the tragic accident that happened after the match in December. Both teams will want to put in a strong performance to honour Kawa Leauma and his family."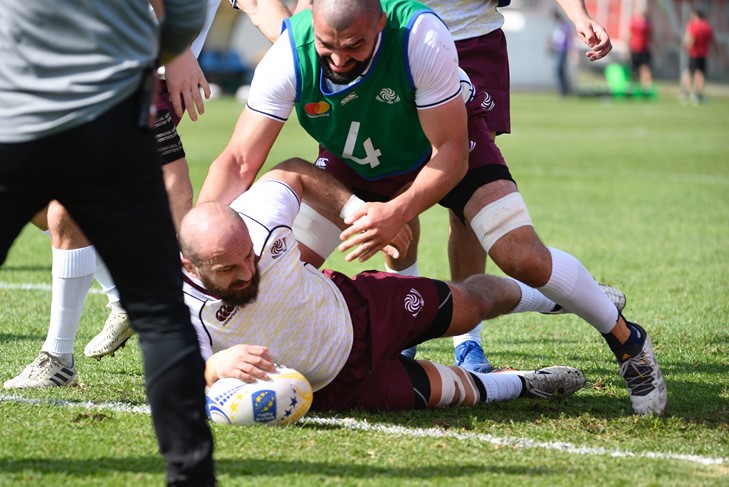 On Sunday weekend one of action rounds off with reigning champions Georgia take on Portugal.
Portugal finished third in the table and pushed Georgia hard in Lisbon last March before losing out 29-16 in the end.
As a result, the favourites will not be taking anything for granted in the Mikheil Meskhi Stadium in Tbilisi (3pm local, 11am UTC) and their head coach Levan Maisashvili said:  In the first week of our training camp the team trained well according to the set plan. It is unfortunate that due to Covid a few players had to leave the camp.
"So, we had to make some changes and fortunately we have players coming up from [Super Cup side] Black Lion.
"Overall, we do not have the desired squad, but the one that will play is a good side and other players will be given a chance to show themselves.
"Fan support is an important factor for us. This is an additional emotion for us."
Portugal head coach Patrice Lagisquet states:  "Our goal is to win three or four games in the Championship, the players have the capacity to play in every weather conditions, so we are confident.
"We had a great performance against Japan last season and we are confident for the games against Georgia this weekend and Romania on February 12.
"We know that we have a difficult schedule, it's not going to be easy, but if we want to play at a higher level, we need to be 100 percent prepared."