There are two big games taking place this Sunday in the Men's Rugby Europe Championship held over from 2020.
Like many things in life, the exciting XV-a-side tournament was disrupted by the global pandemic for a large chunk of the last calendar year, but not before Georgia had secured top spot with four wins from their first four games.
They saw off Romania 41-13, Spain 23-10, Belgium 78-6 and Portugal 39-24 during February and March to show their strength.
This Sunday they welcome Russia to the Mikhail Meskhi Stadium in Tbilisi (kick-off 3pm local time) aiming to secure a clean sweep.

The match will be broadcast on rugbyeurope.tv and will have English commentary, with Nick Heath and former England internationalist, Tom May, who enjoyed a nineteen-year career that incorporated spells at Newcastle Falcons, Toulon Rugby, Northampton Saints and London Welsh.
Of course, since they first played in this tournament last year, Georgia gained experience in the Autumn Nations Cup against some top sides and head coach Levan Maisashvili said: "We wanted to keep the same core team as we used in the Autumn Nations Cup for this game, but unfortunately this has not worked out.
"We are missing 10 players from the Autumn mainly because of injuries while the pandemic has also caused us issues in terms of player travel.

"This offers us an opportunity to test new players and they have to be ready for this.

"We only play a few internationals a year, so the players must step up and show us what they can do at this level."

Russia lost their first two matches in this competition to Spain and Belgium but rallied to defeat Portugal and Romania.
Their head coach Lyn Jones said: "The training camp in January is never easy as the weather in Russia does not allow players to fully show their skills, but believe me, all the guys are trying very hard and are really looking forward to playing against Georgia for two reasons.   
"Firstly, because this is 'The Lelos' we are coming up against and, secondly, because the Russian national team has not played a Test match in a very long time."
In the Estadio Central UCM in Madrid on the same day (kick-off 12.45pm local time) Spain host Portugal. 
Whoever wins the clash has a good chance of finishing second in the table behind Georgia with both teams having won two and lost two to date to sit on nine points.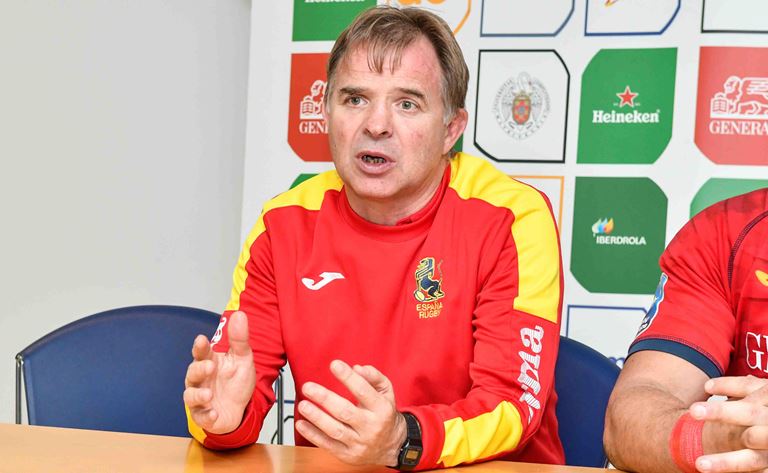 Wherever Portugal finish it will have been a very solid overall performance from them after being promoted to this level in 2019, but they want to end on a high note and their head coach Patrice Lagisquet states: "This match is very important because we are supposed to start the competition in March for qualification for Rugby World Cup 2023.

"We now live in a world of a lot of uncertainty and we have to adapt - we want to give supporters something to cheer about.

"It is a big game on Sunday against Spain, and we feel privileged to be able to play rugby just now and do what we love.

"We did great things against Brazil in November and I can see the players are very committed and motivated and that makes me happy."

Spain head coach Santiago Santos said: "The result of this game against Portugal is really important.

"If we win it could mean that we have three matches in March rather than four and that would give us an extra week of training and preparation.

"Our main focus is qualification for Rugby World Cup 2023 which would be historic for our country.
"The team is feeling positive right now and has trained well.

For us, being able to be together and play is huge and the next two years are very important for us."

Meanwhile, the third match which was due to take place on Sunday was between Romania and Belgium will now not take place.

Belgium's government would not allow their squad to leave the country to fulfil the fixture with Romania at the Ion Oblemenco stadium in Craiova due to the current Covid-19 situation in the country.
As a result of this intervention, Rugby Europe has declared Belgium forfeit and Belgium will now play the playoff game against Netherlands for a spot in the 2021 edition. This match must be played before June 13th 2021.